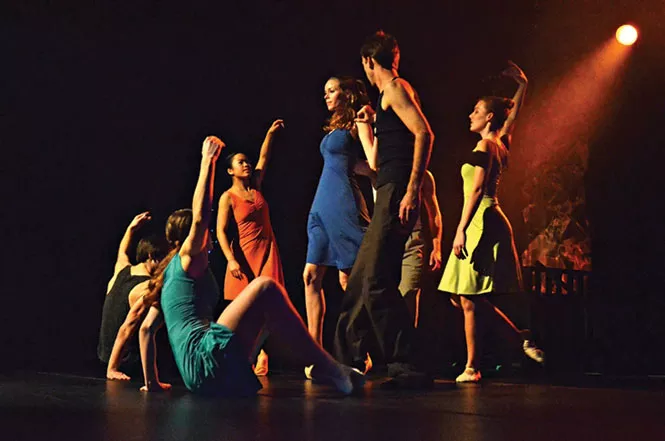 On a Sunday afternoon at the former home of Night Flight Comics in downtown's Library Square, in a space where bookshelves once stood, a rectangle of rubber Marley now covers the floor. Off to one side are a small raised stage and two portable ballet bars surrounded by various women's bags, cups of iced coffee and ballet slippers. A poster of Degas' ballerinas is tacked to the otherwise blank grey wall and, as if mirroring his painting, a dozen or so women are gathered on the makeshift stage—some stretching, others practicing their port de bras.
At this pop-up studio—a perfect setting it seems for a young urban dance troupe—Municipal Ballet Co. rehearses for its latest work, Sunlight Limited, under the company's founder and artistic director, Sarah Olivia Longoria. In the four years since Municipal Ballet's inception, Longoria has boldly plucked ballet from where it's been stuck in the 19th century, and thrown it smack in the middle of a 21st-century rock concert. It's an exciting evolution for ballet, and for Salt Lake's art scene.
Consider that, for the last 60 years, since George Balanchine created what's now called "contemporary ballet," the form has been modernizing, but its soundtrack has never quite caught up. Music is a critical component of dance, giving it as much emotion and substance at the choreography. For the last three generations, ballet's inability or unwillingness to modernize its music has left younger generations still believing that ballet, no matter how contemporary in its movement, is still a stodgy old art form made for grandparents and little girls in pink princess dresses.
Longoria, who for disclosure is married to City Weekly staff writer Colby Frazier, was one ballerina who felt puzzled by her art form's disconnect from the modern world. "Mixing ballet and rock is one of the main reasons I wanted to start this company," she says. "There was a time when I wasn't dancing anymore, and I remember driving around with my daughter and listening to this album by Department of Eagles, and I could imagine ballet to the whole soundtrack. I knew that ballet could be performed to contemporary music, and I didn't understand why no one was doing it."
Longoria realized that she might be able to fulfill her vision of modern ballet, in 2012 when she performed original choreography to modern music at the Craft Lake City DIY Festival and earned praise from festival-goers. Though that performance was a requirement for her graduate thesis—she was then a student at the University of Utah dance department—Longoria wondered if she could continue attracting a diverse, young and artistic audience. The following spring, Municipal Ballet held their first official evening-length performance at Sugar Space; and though Longoria was unable to procure a live band for that first performance, the show was a sold-out success.
Since then, Municipal Ballet has performed live with local bands St. Boheme and Holy Water Buffalo. And though Longoria has learned over the course of three years and four productions that performing with live musicians isn't always easy or predictable, she's still enthusiastic about working with her fellow performing artists. For the company's latest work, Sunlight Limited, Longoria is teaming up with musician Andrew Shaw, performing to both Shaw's solo work, Magic Mint, and his band, Color Animal (with band members Felicia Baca, Tyler Ford and Seth Howe).
As the dancers continue to go through their steps in the sunlit studio, and the band plugs in power cords and tests sound, Longoria waves over a tall man in a gray T-shirt. Andrew Shaw sits down, and seems genuinely thrilled to be part of the production. "It's overwhelming how much of an honor this is," he says with a grin, "to see how people interpret what I have done. They are the only ones outside of myself who have spent as much time with this music."
Shaw looks over at Longoria, and his face darkens slightly. "We'll find out how it works today. They've been practicing to the recordings and we're all kind of wondering what's going to be screwy."
"Tempos are interesting," agrees Longoria. "Dancers may even know tempos better than the musician, because it's in their whole body. You can only hold a leap so long."
Soon Longoria and Shaw excuse themselves. The dancers then move into position and the band charges, hot and fast, into their first song. At first, the dancers' movements seem too soft and abstract to keep up with the power from the guitars. Then, with a sudden shift of energy, four dancers drop to the ground, leaving one spinning maddeningly tight pirouettes toward the front of the stage. The rock 'n' roll ballet begins.