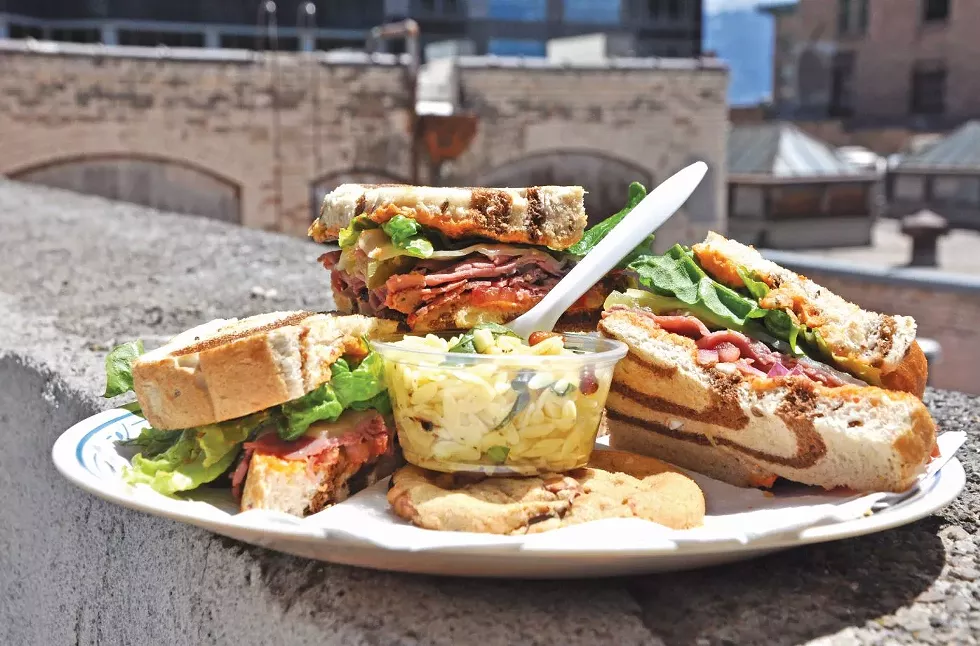 When taking stock of any American city's food scene, you'd be hard-pressed to find a food genre as ubiquitous as the sandwich. It's something that's available in every gas station and grocery store, and it's one of those items that quite literally everyone can make for themselves. In short—they were here before we were born, and they'll be here long after we're gone. The reason I want to impress upon you the sheer vastness of sandwich options consumers have, is so you can better appreciate how hard it is to make one that inspires dozens of lunchtime diners to waiting in a line that often spills out onto the sidewalk.
I'm talking about The Robin's Nest (311 S. Main, 801-466-6378), which has rightfully earned its place as one of downtown Salt Lake's most revered sandwich shops.
Owned and operated by SLC native Robin Paluso and her family, Robin's Nest strikes a unique tone among downtown lunch locales. It's got the hustle and bustle of any big-city deli, and its interior décor strikes a clever balance between the rustic-hip refurbished look—a big-ass rolling library ladder set to reach coffee bean dispensers 15 feet above the ground—and the crafty, DIY flourishes artfully arranged on every surface that isn't accommodating someone's meal.
Service is prompt and friendly, typically delivered by Robin's son, Josh, who is often handling the front of house orders. Despite the deluge of hungry customers who swarm the deli counter from open to close, his delivery is never robotic or rehearsed—he makes each order feel like you're about to eat the best thing you've ever had. Also, it doesn't hurt that he's got the hair and cheekbones of a Gucci model.
Perhaps the reason that Josh is always so confident in his delivery, is that the stacked menu on the wall behind him contains some of the most creative spins on classic sandwiches that I've ever seen. Like the restaurant's look, each sandwich has a balanced mix of old-school flavor combined with nuanced, deliberate rule-breaking. For example, The Heritage ($6.25 half; $8.25 full) pays obeisance to the holy trinity of Italian deli—genoa salami, mortadella and capicola ham—but serves it all up with melted provolone and a housemade olive spread packed between two thick slices of sourdough bread. Ask them to throw a bit of balsamic vinegar on that sucker, and you'll be ready to stand up and sing like Pavarotti.
Grilled cheese fans won't be disappointed with The Grill Me Cheesy ($3.25; $4.95), but those who are looking for a bit of sophistication with their gobs of melty cheese should look to the Gouda Smoker ($6.25; $8.25). Working with a foundation of roasted turkey breast, bacon, lettuce and tomato is always a good start, but this sandwich has made me realize that smoked Gouda should occupy a more central role in our grilled cheese zeitgeist. Topping the sandwich off with a housemade garlic barbecue spread resonanates with the smoked flavor of the Gouda and adds a hint of garlicky sweetness for good measure.
I don't often order roast beef sandwiches at delis—I'm a bit particular about how liberally the sliced meat is seasoned, and most places tend to screw it up—but The Cowboy ($5.95; $7.95) is a home run. The roast beef has the slightest hint of black pepper, which enhances the meat's natural flavor. It also parties quite nicely with the acidic dill pickle and the light bits of fennel seed from the marble rye, which makes the whole thing taste like a classic Reuben by way of the Wasatch Front. It's a small gripe, but I did find myself wanting just a bit more horseradish to hit me from its accompanying spread.
The sandwiches are the stars of the menu, but I have to give a quick shout-out to their combo meals, which are far more than just chips and a drink—though that's always an option. The side of pasta salad is a refreshingly subtle mix of orzo, pine nuts and shredded basil tossed in olive oil—it somehow manages to complement each sandwich perfectly. Perhaps my favorite part of the combo meal is the fact that it comes with dessert in the form of cookies, brownies or Bundt cakes. Why more places don't offer dessert with their combo meals is beyond me, and I love that the Nest has that covered.
As a dude who has eaten sandwiches far and wide, I feel confident in saying that The Robin's Nest is playing a game all its own, and it's working. Not only is their menu spectacular, but their whole vibe emanates nothing but respect for the food they're making—and the people they're making it for.

AT A GLANCE
Open:

Mon.-Fri. 10:30 a.m.-4 p.m.
Can't miss: Munching on the Cowboy
while riding into the sunset