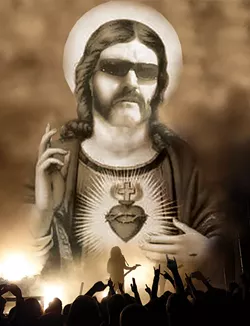 8.
Rocktober takes precedence over any Trucktober-related matters.
7.
And neither Glocktober nor Woktober are things—knock it off, gun and stir-fry nuts.
6.
It's acceptable to scream "SLAYER!!!" at all social gatherings and events.
5.
Certain cultures may substitute "SCRIPTURE!!!" should they feel the spirit.
4.
Possession of a vape stick, tribal tattoo or jean shorts with a wallet chain will get you ejected from Rocktober.
3.
Possession of all three, however, will help you transition nicely into Douchevember. Or South Salt Lake.
2.
Thou Shalt Have No Other Gods Before Lemmy.
1.
Celebrate every Rocktober like it's America's last. This year, it may be true.