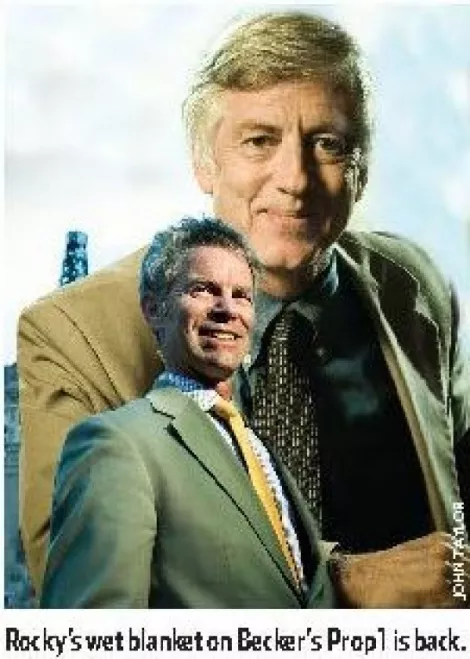 Salt Lake City Mayor Ralph Becker is banking on residents to approve Proposition 1, a $125 million bond on the Nov. 3 ballot to replace what is now a dilapidated police administration building with a shiny new one that includes an emergency-preparedness center.
But former Mayor Rocky Anderson is showing up as a prominent critic, just as he did in 2007 when he objected to a similar initiative only days before the election. "If you would have called me a year ago, I would have said the same thing," Anderson says.
Anderson says he's been vocal in his opposition to the current proposed location for the public-safety building: across the street from Library Square. Government buildings are dead and dreary at night, he says, and that corner would better be used for condos, restaurants, boutiques and other things that bring life to downtown.
But more importantly, Anderson says, if Proposition 1 passes, many large beneficiaries of public safety won't have to pay for their share. The average homeowner, for example, will pay about $75 in taxes per year toward the bond while the average business owner will pay $522 per year.
But what will nonprofits, hospitals and churches pay? Zero.
"I think it's fundamentally unfair that only some property owners end up carrying the burden for fire protection and policing for all property," Anderson told City Weekly. And the only way to have such costs born more evenly is by creating a special-service district, Anderson says.
Special-service districts can charge fees for services to entities that are otherwise tax exempt. Several special-service fire districts exist, but special-service police districts are more novel.
In 2007, while still mayor, Anderson kept his opposition under wraps to a then- $192 million bond that would have funded the same public-safety buildings the city now wants to build. That bond, crafted during his administration, also did not call for a special-service district. Anderson says that's because the Salt Lake City Council at the time never would have approved a special-service district. Anderson's opposition to the 2007 bond, he says, was the same as it is now, but it was misunderstood or ignored by news media, he claims. Instead, his opposition was characterized as pure sticker shock.
"I've been speaking out on this issue for about 10 years, and it's amazing to me how the mainstream media has consistently ignored this issue," he says. He says he first proposed a special-service district to better share police and fire costs in his first state of the city address in 2000. Why would the media ignore or distort his views? "Probably because of all the LDS Churchowned property in the city," he says.
Mayor Ralph Becker's spokeswoman, Helen Langan, says the city considered creating a special-service district to fund the new buildings, "but in the final analysis, it doesn't appear possible legally." The law allows for districts to provide "extended police service," like across city lines, so the Salt Lake City Police Department—which serves only one city—may not qualify. The city can't create a special-service district only to fund the bond because "the building of the [facility] is not a 'service' unto itself," reads a city legal opinion Langan released.
Large public works buildings have been funded by special-service districts, however. The so-called "burn plant," or waste incinerator in Davis County, for example, was built in the 1980s on a $54 million bond. That debt was paid through service fees levied by a newly created specialservice district. Nathan Rich, executive director of Wasatch Integrated Waste Management, which now operates the facility, says churches, hospitals and nonprofits pay waste disposal fees just like residents and businesses do.
Other former Salt Lake City mayors are in favor of the bond. Deedee Corradini says she's "totally in favor" of Proposition 1, primarily because the current public safety building is in such poor shape, leaving the city unprepared for a major disaster. "Public safety can not wait any longer," she says.
Former Mayor Palmer DePaulis said the police administration has been in the current building since he was in office and that location was only meant as a short-term solution. He said public buildings, retail and housing can mix happily in a vibrant downtown and doesn't worry about the proposed building being located so close to the library. Ted Wilson, also a former mayor, could not be reached for comment.