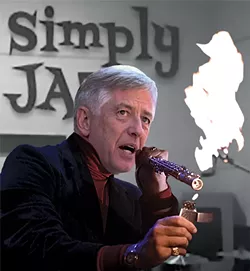 8.
Not vanquishing proven imbecile Sean Hannity in that idiotic debate 10 years ago.
7.
Continually inflicting jazz upon the citizens of Salt Lake City.
6.
Not dismantling the DABC after Brewvies' Deadpool victory.
5.
His 2012 presidential campaign— like just any narcissist can run to be Commander in Chief.
4.
Walking back statements comparing the LDS church to the Taliban.
3.
Conceding the war on disposable water bottles to Big Plastic.
2.
Again, the Salt Lake City Jazz Festival. Together, we can eradicate jazz music in our lifetime.
1.
Opting out of a third term, which led to mundane mayors Ralph Becker and Biskupski. It's Utah; you're supposed to cling to office until you're dead.