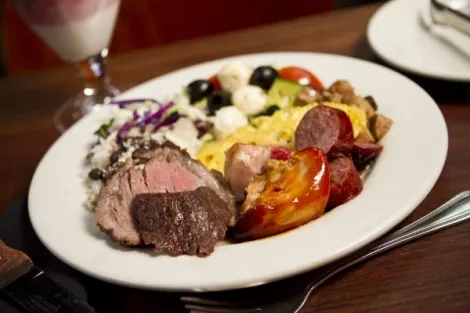 During my time in Brazil—living on a skimpy grad student's budget and studying capoeira—I'd frequently fill up at some of the inexpensive churrascarias around Rio and, later, Salvador (although they're much less common up north). Churrascarias—restaurants with grilled meats as their centerpiece—originated in the cattle-raising south of Brazil, and are popular in São Paulo, which is where Ivan Utrera hails from. He's founder and president of Rodizio Grill in Trolley Square, with additional locations in Colorado and Florida, and more slated to open this year back east.
With his movie-star good looks and outgoing personality, Utrera seems like he should be in the entertainment industry. And, in a way, I suppose he is. Dining at Rodizio Grill is, in part, entertainment: It's dinner and a show, where servers are likely to break out in batucada drumming at the drop of a skewer. Prior to Rodizio, Utrera was responsible for opening more than 300 Pizza Huts in Latin and South America as an executive for PepsiCo. Ultimately, he wound up in Utah, earning an MBA at BYU, and opened Rodizio in 1995.
A quick recap of what a churrascaria is, in case you've never been to one: Typically, these are all-you-can-eat restaurants where a succession of servers rotate from table to table, offering grilled meats from a skewer. The better churrascarias also feature extensive buffets that include a salad bar along with cooked foods like pasta, rice & beans and much more. The buffet at Rodizio is among the best I've ever seen—not just in quantity, but also in quality. Utrera confessed to me that it's not the meat—not even the unusual cuts like fraldinha—that are his biggest food expense. It's actually the hearts of palm at the salad bar, a must at any decent Brazilian eatery. I'd imagine the quail eggs don't come cheap, either.
I wouldn't exactly urge vegans and vegetarians toward Rodizio Grill. However, even non-meat lovers can have a great meal there. Salad-bar items range from caprese salads of fresh tomato, mozzarella and basil to fruit salads, beet salad, crab salad, mushroom salad, strawberry salad, chicken salad, potato salad and many more, including a respectable Caesar salad. For hot dishes from the buffet, you select from an array of items like pasta Alfredo, chicken or beef stroganoff, grilled veggies with Parmesan, weekly soup specials, whipped potatoes and traditional Brazilian dishes like feijoada—a black bean and meat stew—with customary sauteed collard greens and bacon alongside, and farofa (yucca flour) to sprinkle on top.
I've heard some folks complain that Rodizio Grill is too expensive. Are you kidding me? Yes, it's pricier than Chuck-A-Rama, but the food is of very high quality. Diners have a couple of options: The "full Rodizio" includes unlimited appetizers, salad bar, hot buffet and meats, and is priced at $17.99 for lunch and $25.99 for dinner (the menu is more extensive at dinner time). If you're not interested in the meat parade, you can have unlimited appetizers, salads and the hot buffet for $12.99 at lunch and $17.99 during dinner at the Trolley Square location. There is also a limited but respectable wine list, and an interesting selection of exotic cocktails, both alcoholic and nonalcoholic.
Comparatively speaking, this is a bargain. The same basic churrascaria dinner experience would cost you $59.95 at Plataforma restaurant in New York City, $58.50 at Los Angeles's Fogo de Chao and $48.99 at Texas de Brazil in Miami. It's even more expensive to eat at the Colorado and Florida Rodizio Grill locations than here, so I consider Trolley Square's Rodizio a pretty good bang for the buck. Oh, and the Utah Valley location is even cheaper.
Pacing, at a place like this, is essential. The buffet items are so tempting and tasty that plate overload is common. But moderation has never really been my strong suit, so I usually begin by pigging out on the hearts-of-palm salad, feijoada and beef stroganoff (a dish actually quite popular in Brazil), along with the irresistible cinnamon-glazed banana-fritter appetizers.
And then, here comes the meat. The onslaught of grilled, skewered goodness includes beef, pork, poultry, lamb, seafood and fruit—a selection that varies from night to night, depending on location and what's fresh and available. On each table is a little gadget that serves as a "stop" and "go" sign. Green signals the servers to keep coming by with meaty offerings, while red means that you're awaiting a second wind, or possibly napping. Putting the gadget down on its side alerts servers that you're ready to throw in the towel.
It's almost impossible to try everything. But there are a few Rodizio items you really don't want to miss. I'm crazy about bife com alho, which is braised, tender beef basted with garlic. I also need my fill of juicy, lean picanha, as well as Rodizio's excellent Brazilian pot roast, which doesn't come on a skewer; if it isn't offered, be sure to ask for it. The pork loin (lombo) is a bit routine; I much prefer the flavorful (but mild) Brazilian sausage called linguiça. There are a couple of poultry options, too, that I can't say no to. First is lean, bacon-wrapped turkey breast. Like just about everything wrapped in bacon, it's awesome. The marinated chicken called sobre coxa is also terrific. But, the one item I must have whenever visiting Rodizio Grill is coracão. Not everyone likes the texture, but I love the flavor and simplicity of grilled chicken hearts, served with a spritz of lime.
There are some killer desserts (extra charge) on the menu, like a three-layer chocolate cake and excellent caramel flan. But the best dessert of all comes gratis with every dinner: grilled pineapple (abacaxi) with a super-secret glaze. It's all muito bom!
RODIZIO GRILL
600 S. 700 East, Trolley Square
801-220-0500
749 W. 100 North, American Fork
801-763-4946
RodizioGrill.com