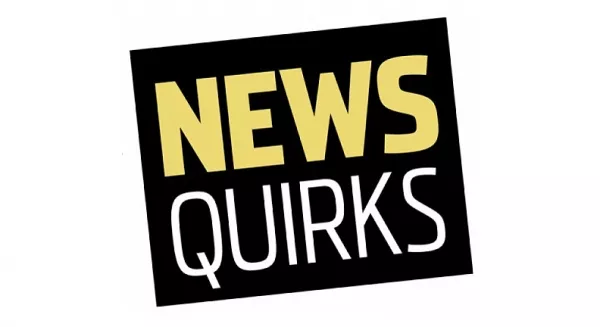 Curses, Foiled Again
Federal agents tracking a man who claimed he was selling 700,000 stolen identities identified Nathaniel Troy Maye, 44, as their suspect after a witness informed them he received a flash drive containing 50 identities from a man named "Maye" during dinner at a Morton's steak house. Using data on the flash drive, agents found a profile for "TROYMAYE" on social media website Instagram, where Maye had posted "a photo of a steak and macaroni and cheese meal" at Morton's at the time the witness said Maye gave him the flash drive. (South Florida Sun Sentinel)
Sheriff's detectives arrested convicted felons Mario Daniel McDonald, 23, and Joseph Wayne Edwards, 27, in Marion County, Fla., after spotting pictures of them on their gang-related Facebook profile page holding a shotgun. The two reported members of the Crazy White Boys Criminal Street Gang were charged with possession of a firearm by convicted felons. (South Florida Sun Sentinel)
Rogue Vehicle of the Week
A newspaper carrier was run over three times in Trois-Rivieres, Quebec, by her own car. The woman routinely jumps in and out her car as she makes her rounds, but when she accidentally put the transmission in "reverse" instead of "park," the open door knocked her to the ground as the car backed up. While trying to get up and reach for the gearshift, she slipped and was run over a second time. The same thing happened a third time, but her distress cries brought rescuers, who pulled her to safety. The car gained speed as it continued moving in a widening circle until police finally stopped it. (The Canadian Press)
Still Too Soon?
During the opening weekend of Iron Man 3, a man walked into a theater in Jefferson City, Mo., in full tactical gear and carrying what looked like a modified M-4 rifle and a 9 mm handgun. When police responded to emergency calls, theater manager Bob Wilkins explained the man was an actor taking part in a publicity stunt. He said he was aware of recent shootings in Aurora, Colo., and Newtown, Conn., insisting his "number-one priority" is "the safety and security of our guests," but added, "my job is to entertain people." (Columbia's KMIZ-TV)
Way to Go (But Not Far)
Intending to promote a charity that donates soccer balls to developing countries, Richard Swanson, 42, set out from Seattle trying to dribble a soccer ball 10,000 miles to Brazil for the 2014 World Cup. He'd gone only 260 miles when a pickup truck hit and killed him just outside Lincoln City, Ore. (Associated Press)
Careful What You Wish For
After persuading their mother to spend more than $30,000 on cosmetic surgery to enhance their breasts and bottoms to look like movie star Jennifer "J-Lo" Lopez, sisters Karen Lopez, 20, and Jennifer Lopez, 23, of Camberwell, South London, complained that their new bodies are attracting too much attention. "My bum is so big now it's kind of a curse because guys in clubs always want to have a feel of it," Karen said. "Even girls want a photo next to it." Jennifer was the first to have surgery, a $6,000 breast enhancement when she was 15. She later had fat pumped from her stomach to her bottom. Karen started with a $3,000 nose job when she was 14, then persuaded her 43-year-old mother to use her savings and earnings from a cleaning job to pay for a liposuction and bottom-enlargement operation. Both had seven procedures between them, trying to emulate J-Lo's "curvy" looks. "Sometimes it's too much," the British Jennifer Lopez said, noting men and women "come up and touch my bum." (Britain's Daily Mail)
Droning On
With the Federal Aviation Administration predicting that as many as 30,000 unmanned aerial vehicles could be flying in American skies by 2020, entrepreneurs are hoping to capitalize on the domestic drone boom.
British designer Adam Harvey said his "anti-drone wear" includes hoodies and scarves that will "thwart overhead thermal surveillance."
Domestic Drone Countermeasures offers products it claims will impede "all typical drone sensors," including cameras. "Everybody's going to have access to a drone," the Oregon company's lead engineer, Tim Faucett, said. "People are going to have good intentions with them, and people are going to have bad intentions with them."
Aerospace industry worker John Franklin is seeking backers for his "DroneShield," which would sound an alarm when a drone is nearby. "The customer base is really anybody who is concerned about their privacy," Franklin said, noting that he came up with the idea after buying a small drone for $300, crashing it in his neighbor's yard and then having to apologize. He said the incident made him realize how beneficial a drone detection system could be. (The Washington Times)
Here Comes the Sun
Officials investigating a house fire in Santa Rosa, Calif., blamed the blaze, which burned a hole through a wall's cedar siding, on sunlight reflecting off a dog's shiny water bowl. After the fire was extinguished, Bennett Valley Fire Department engineer Rene Torres returned the 9-inch steel water bowl to its original position and noticed it concentrated light on the area that was charred. "It really could have burned that house down," he said. (Santa Rosa's The Press Democrat)
Hoping to economize on trash collection, the city of Venice, Fla., began testing solar-powered trash cans that can hold five times the trash a regular can can and provide "energy to compact the trash inside," Public Works director John Veneziano said, noting the new bins need emptying less often, saving staff and travel costs. "If we went with these cans on a widespread basis, you could potentially cut down on that work effort by up to 80 percent." The solar-powered cans, which cost more than $4,000 each, also use a Wi-Fi signal to notify workers when they're full and need emptying. (Sarasota's WSSB-TV)
Love & Marriage
Anthony Hill and Christina Salinas Hill started arguing when he wanted to leave California's Penn Valley Rodeo early, but she wanted to stay. The argument escalated after the husband and wife got home, owing, he said, to a series of stressful events in their lives, including the fact that her ex-husband lives with them. The ex-husband tried to separate them, but while struggling, she reportedly bit Hill's penis. After receiving treatment, Hill said his only regret was calling 911. "I've assaulted her before in arguments," he said. "We work it out, and I went beyond that." (Sacramento's KOVR-TV)
Compiled from the press reports by Roland Sweet. Authentication on demand.