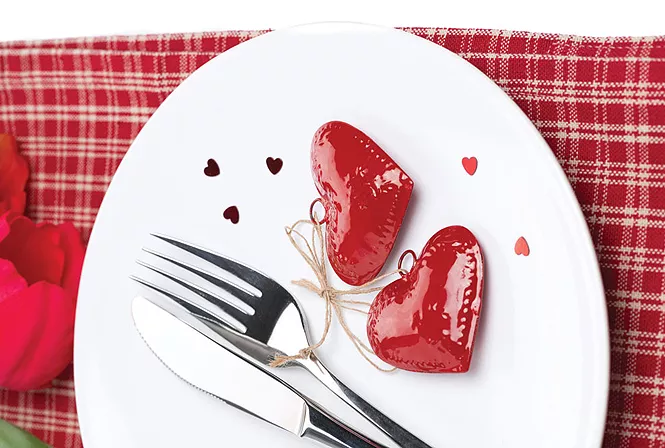 Remember Valentine's Day when we were kids? Things seemed so much simpler then. My mom would buy me a box of cheap Valentine's Day cards and I'd sign them and give them out to my classmates. And there was candy. I don't remember there being any gender distinctions involved; boys and girls both gave and received V-Day cards to and from one another. Everyone—in my small grade-school circle, at least—was my valentine.
Today, things are a little stickier and trickier. Many of us have one very special valentine, and the stakes on Cupid's big day are high. There are just so many ways to screw it up. Someone I'm very close to still seems to be scarred from her lover treating her to Chuck-A-Rama on a day devoted to love and lust. And I've had my share of failures as well.
I'm always of the opinion that cooking up a special dinner for your valentine can be a bull's-eye from Cupid's quiver. Nothing says, "be my valentine" better than a meal cooked with love. However, not everyone cooks, nor does everybody have the time. And so, dining out at a good restaurant on Valentine's Day is a logical choice.
Here's the info I've received on special restaurant menus and such for this Valentine's Day. Choose wisely.
At Bleu Bistro (1615 Foothill Drive, 801-583-8331)—Salt Lake City's new-ish live-music and dining venue—is offering a four-course Valentine's dinner that includes shrimp bisque with Creole spices; shitake & white truffle oil risotto cakes; an entree choice of beef tenderloin medallions, chicken picatta or grilled king salmon; and housemade chocolate mousse or cheesecake for dessert. Dinner is $40 per person for food, and $20 for optional wine pairings.
Chef Robert Perkins' four-course menu at Franck's Restaurant (6363 S. Holladay Blvd., Salt Lake City, 801-274-6264, FrancksFood.com) virtually guarantees Valentine's Day satisfaction with items like sous-vide organic ocean trout and apple-butter-basted Nobashi shrimp, and plum-braised Wagyu beef cheek with royal trumpet mushrooms and Pinot sauce. Follow it with a decadent dessert of chocolate panna cotta, dark-chocolate cake, raspberry mousse and mascarpone. Dinner is $75 per person.
In Ogden, Chef James Bradford is pulling out all the stops at Hearth on 25th (195 25th St., 801-399-0088, Hearth25.com).Its heart-stopping seven-course menu is offered from noon to 9 p.m. on Feb. 13 and 14. Menu selections include butter-poached shrimp cocktail; cherry-chocolate salad; tomato bisque; grass-fed elk medallions with espresso-onion ash rub; beef Wellington; chicken cassoulet; curried scallops; dessert choices and much more. Dinner is $67 per person, and $25 for optional wine pairings.
Log Haven restaurant (6451 E. Millcreek Canyon Road, Salt Lake City, 801-272-8255, Log-Haven.com)is turning Valentine's Day into an extended romantic holiday with special menu offerings and live music every night from Feb. 12 to 15. Romantic weekend dinner selections from Chef Dave Jones include lobster-crab cakes; wild-mushroom soup with almond milk and Sandeman sherry;grilled bone-in filet mignon with pink-peppercorn sauce; Valrhona Chocolate flourless cake and white-chocolate Mikado; and specialty cocktails and "mocktails" like the Ginger Dream and Cranberry Kiss. Menu pricing is à la carte.
The Paris Bistro (1500 S. 1500 East, Salt Lake City, 801-486-5585, TheParis.net) invites its guests to celebrate Valentine's Day on Feb. 13 or 14 in The City of Light with a "la vie en rose" five-course menu. The menu includes items such as Thai-spiced lump blue crab cake; creamed beet-root velouté; pan-roasted Chilean sea bass and Maine lobster with lobster nage; honey-braised Mary's all-natural chicken; Angus Prime rib roast "Oscar"; warm molten chocolate cake with orange-blossom gelato and more, as well as suggested wine pairings. Dinner is $75.95 per person.
On Feb. 13 and 14, Rodizio Grill (600 S. 700 East, Salt Lake City, 801-220-0500, RodizioGrill.com) is offering a special Valentine's Celebration Menu with two options: For $35.99 per person, enjoy one nonalcoholic drink, the extended Full Rodizio menu featuring Kurobuta wild boar and grilled peppered pork belly, plus a select dessert.Or, for $99.99 per couple, indulge in the Together Forever package, which includes special seating in Rodizio's private Club Room accompanied by live music and a red rose in a keepsake vase, plus unlimited appetizers, the gourmet salad bar, two nonalcoholic drinks, the Extended Full Rodizio menu featuring a prime-rib carving station, bacon-wrapped steak and more. Finish your romantic dinner with a choice of two select desserts.
The Valentine's weekend menu (Feb. 13-16) at Solitude Mountain Resort's St. Bernard's restaurant (12000 Big Cottonwood Canyon Road, 801-535-4120, SkiSolitude.com/dining) with optional wine pairings features many choices, including Kumamoto oysters with rice-wine mignonette and Asian pear; Utah steelhead trout tartar; fresh ricotta & sweet-potato gnocchi; roasted Piemontese beef-marrow bones; classic lobster bisque with grilled langoustine; roasted pheasant breast with herb-butter duxelles; risotto with seared diver scallops; and grilled Piemontese beef bavette steak with duck-fat-roasted fingerling potatoes. Dinner is $75 per person, and $45 for optional wine pairings.
From Feb. 12 through 14, Tucanos Brazilian Grill (162 S. 400 West, Salt Lake City, 801-456-2550, Tucanos.com) is offering special Valentine's Day lunches ($19.95) and dinners ($29.95) that include the full churrasco buffet, as well as V-Day selections such as rosemary-herb salmon, roasted rib-eye, grilled shrimp, chocolate Brazilian truffle and a complimentary rose.
Tuscany (2832 E. 6200 South, Salt Lake City, 801-277-9919, TuscanySLC.com) is offering a four-course Valentine's Day menu that includes options such as spicy chocolate-braised pork cheeks, mushroom pot de crème, strawberry-kale salad, house-smoked King salmon, surf & turf of braised beef short rib and grilled jumbo prawns, chicken Milanese, white-chocolate cheesecake with raspberry sauce, Cupid's red velvet cake and more. Dinner is $65 per person.
At Zucca Trattoria (1479 E. 5600 South, 801-475-7077, MyZucca.com) in South Ogden, a special Valentine's menu will be offered Feb. 13 and 14, in addition to Zucca's regular dinner menu. The four-course Valentine's Day gourmet menu is $50 per person, with optional wine pairings available for an additional $15.
Happy Valentine's Day to all of you, wherever you decide to dine.