In 2008, the winds of Barack Obama's campaign helped carry Utah's usually beaten and kicked-down Dems to a historic win. For the first time in decades, the Democrats' presidential candidate took Salt Lake County, staking a blue flag into the heart of one of the nation's reddest states. Obama won by a margin of just 296 votes, but the Democratic tide was sufficient to elect a Democratic majority on the county council—the first time in over a decade—and re-elect Democratic Salt Lake County Mayor Peter Corroon.
But if the efficiency of the Obama machine won moderates and independents in Salt Lake County—as it did nationwide—by campaigning on "Change We Can Believe In," the 2012 election stands ready to throw that change back in the faces of Democrats in local races, since Mitt-mania will be a driving force in getting the Republican vote this fall.
The popularity of Mitt Romney, Utah's adopted son, famed for saving the 2002 Salt Lake City Olympic Winter Games, means nothing but trouble for Democrats, jeopardizing progressive races at every level of government. But, for Democrats, the biggest prize at stake is the Salt Lake County Mayor's Office.
With Corroon stepping down, Utah Democrats are having their most competitive race in years with state Sens. Ross Romero and Ben McAdams, both representing Salt Lake City, vying to be mayor of Salt Lake County.
It's a race of dueling styles and backgrounds. On progressive issues, the two may be photocopies of each other as far as voting records go, but stylistically, it's a fire & ice matchup. Romero, a Catholic Latino, has connections that crisscross with power moneyhouse Zions Bank and local Latino communities. He was also a partner in one of the state's oldest law firms and has eight years of experience doing the diplomatic work of a behind-the-scenes mover and shaker for Democrats on the Hill.
McAdams is a comparative rookie on the Hill, having just finished his third session, since he was appointed to fill the seat of retiring Sen. Scott McCoy in 2009 before being elected in 2010. In the past two sessions alone, however, the Mormon Democrat has passed 20 bills—nearly three times as many as Romero's eight since Romero joined the Legislature in 2005. McAdams also made a name for himself when—as senior adviser to Salt Lake City Mayor Ralph Becker—he helped push Salt Lake City's landmark nondiscrimination ordinance, which protects lesbian, gay, bisexual and transgender citizens in the city.
For both men, giving up a seat on the Hill to be the boss of the county represents the opportunity to enact policy without having to kiss any Republican rings. With both candidates' experience working on statewide issues at the Legislature, they're well-positioned to change the debate on state policy by pushing Utah's most populous county to be the insurgent Democratic voice on major issues in a way that won't be drowned out by the Republican Party's megaphone in state government.
But some say that pitting the party's brightest candidates against each other is a not-so-bright move that could weaken the party and weaken the winner's chances in prevailing against the Republican candidate in the fall election.
Nevertheless, the immediate question facing the two blue contenders is: Which of these smart asses can pass the test?
Sen. Ross Romero: "I am Salt Lake County."
Sen. Ross Romero is the epitome of a professional. With chops that extend to community banking and employment law, and with nearly a decade of legislative experience, this is definitely not Romero's first rodeo. But it may be his most important, as Romero is "all in," by his own account. Thanks to the sometimes-cruel calculus of legislative redistricting, Romero will not have a seat in the 2013 Legislature and will be out of politics without a win in the county mayor's race.
Which is exactly why Romero was not in the best seat at a recent University of Utah forum exploring questions of racism, white privilege and oppression. All of the panelists not running for major office were talking in grave tones about racism on campuses and communities across the country. Stuck in the middle was Romero, the one with the most to lose for being pegged by voters simply as a "diversity" candidate (exactly the label Romero avoided in an interview the day prior with City Weekly). But he's also the one who, if elected, could do the most to help the county come to terms with its complex and ever-growing, ever-changing demographics.
A polished candidate, Romero is incredibly articulate, but also measured in his words. As other panelists began digressing on race in America, Romero was cautious with his answers, while his hands punctuated his rhetoric.
At one point, while speaking of unity, his fingers knit together and shook—meaning "collaboration" in the political sign language of the first President George Bush. He later briefly raised the purposeful thumbs-up of President Bill Clinton to punctuate a point. When a student in the crowd suggested that Utah is post-racial and discrimination might not be a factor in the workforce, Romero's voice stayed steady but his arms crossed his chest.
"I don't think we're at that point yet," Romero said, referencing the defeat of Senate Bill 51, which would have provided discrimination protections to LGBT Utahns.
"That bill failed," Romero said. "So what is the inverse of that? That we are for discrimination in employment and housing for certain segments of the population? I am not for discrimination, so I have to repudiate that."
But in that challenge also lie two dilemmas for Romero. As Senate Minority leader (meaning the leader of the minority party in the State Senate, e.g., the Democrats), Romero is also the first minority (in reference to his Latino heritage) in a leadership position in the Senate. Yet he doesn't want to be defined by diversity.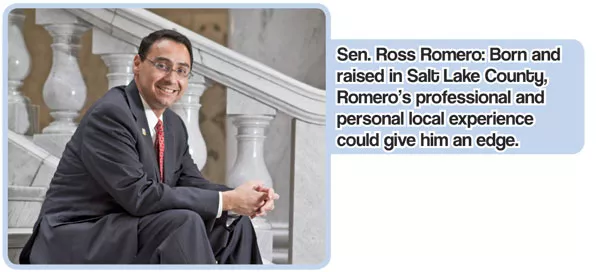 His second dilemma is that as a leader in the Legislature, Romero puts himself front and center for his colleagues' bills and takes the punches for them—even the nondiscrimination bill, sponsored by Romero's mayoral challenger McAdams. Taking a bruising for his colleagues' legislation, Romero says, is what leads to his own bills often being sacrificed at the conservative altar.
In the 2012 session, every bill Romero proposed was voted down or died in committee. The death of some were understandable, such as the bill to open up Republican caucus meetings to the general public—that bill never made it to a committee hearing. But others were more frustrating, such as a bill he pushed to let restaurants sample wine before they purchase it for their business. The bill didn't allow for the swallowing of the wine, but nevertheless drew complaints it would encourage consumption. Still, the House spit the bill back rather than vote to pass it into law. It was the same for his bill to restrict teens from operating cell phones while driving and another to require new legislators to sit through a brief session on diversity and sensitivity training.
During a committee hearing on the sensitivity bill, one Republican, Sen. Casey Anderson, R-Cedar City, a freshman senator, had to have the concept of "gender identity" explained to him—that transgender individuals may self-identify with a gender different from the physical anatomy they were born with. The teachable moment was enough for Anderson to vote in favor of the bill, but none of his Republican colleagues did (they also didn't ask any questions before voting Romero's bill down).
Despite his businesslike approach, Romero does crack a sly grin at the suggestion that his bill may have taught one conservative on the Hill something about diversity.
"I don't look at myself as running on diversity—but I will say this: Our nation is changing," Romero says. "The demographics of our nation are changing, the demographics of our state and particularly of our county are changing. So, do I represent Salt Lake County? Absolutely." He pauses. "Do I represent the state of Utah? Probably not quite yet. ..."