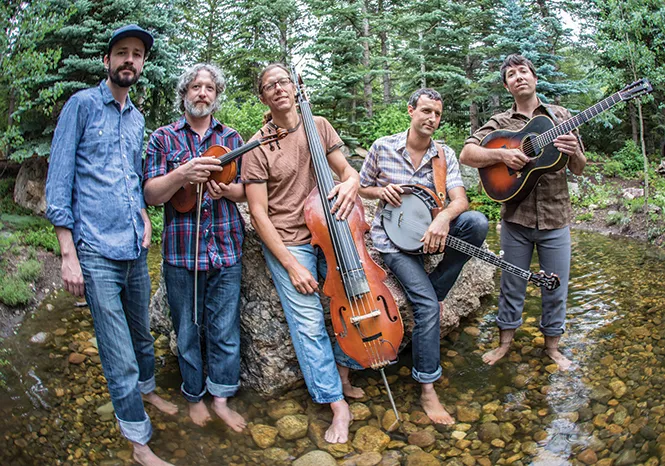 There might as well be a musical genre for bands named after foods. They may sound as disparate as the smoking hot psych blues of erstwhile Jefferson Airplaner Jorma Kaukonen's Hot Tuna, the "polyethnic Cajun slamgrass" of Leftover Salmon, or the ska punk of Skankin' Pickle—but why categorize music by groups that create a similar impression on the ear? Or who already share the same fanbase? That assumes that people always want to listen to the same thing, and it takes away the element of surprise.
In music, as in life, diversity is the key to keeping things interesting. Case in point: the San Francisco Bay Area progressive bluegrass band Hot Buttered Rum. Their story is, in part, an illustration of the way a very traditional, even old-timey genre like bluegrass has, in recent decades, moved across audiences, generations and sheer geography from its roots in Appalachia to find eager listeners among the more widespread jam-band scene.
The quintet was founded in the early 2000s by a cadre of high school and college friends "endeavoring to combine the lonesome strains of Appalachian bluegrass with the sounds of some of California's own acoustic music, past and present," says Erik Yates, who sings and plays banjos, guitars and woodwinds. Musicians who've inspired them include bluegrass greats Doc Watson and the Stanley brothers, and, closer to home, Tim Bluhm (The Mother Hips) and David Grisman.
The progressive strain of bluegrass, also known as "newgrass," shares with the traditional form of the genre an emphasis on instrumental virtuosity, and ensemble playing, often on acoustic instruments with a repertoire based on folk music and other traditional genres. Newgrass adds electric instruments, rock or jazz-style compositions and playing style, and extended improvisations. You can see how the latter, in particular, found favor with jam-band audiences.
Neither jam band nor newgrass is geographically specific. But Yates maintains there is something essentially Californian about HBR's sound, which has helped them find a unique niche in a jam-friendly genre that has exploded with new artists over the past several decades. "We didn't realize this at first, of course—we were just being ourselves," Yates says. "In our minds, we were playing bluegrass music, but what everyone else heard was this weird sort of mix. We've started trying to listen for this blend now, specifically, and honing in on actually going further with it."
Paradoxically (or not), it's the blending that distinguishes them as Californian. But the fact that it wasn't some kind of conscious, strategic move keeps it genuine; they're just making the music they find themselves drawn toward. Yates says: "There's an openness to different rhythmic feels and subject matter. In general, I would describe most West Coast bands as genre-benders—though, that's rarely our intention."
The band has found success performing at music festivals, but when you look at which festivals, that's an indication of their eclectic style as well: Newport Folk Festival, Telluride Bluegrass Festival, the traditionally indie-rock dominated South by Southwest, and jam band mecca Bonnaroo. The same applies to the list of musicians they've played with, including Phil Lesh of the Grateful Dead, Ben Harper, newgrass banjo master Bela Fleck and '60s bluegrass legend Peter Rowan.
Newgrass, and traditional bluegrass music for that matter, has plenty of energy, but seems to have an added element recorded live. Of Hot Buttered Rum's seven full-length releases, three have been live discs. HBR is following a new direction with a series of EPs on different themes. The first is what Yates calls "our darker, earlier stuff," recorded with producer Tim Carbone of New Jersey newgrass band Railroad Earth. The second, which he says is "a real, honest-to-God bluegrass album," had help from producer Sally Van Meter and guest artist/vocal coach Laurie Lewis. The third ventures into unexplored musical territory with innovative jam ideas and arrangements from Kyle Hollingsworth of the String Cheese Incident.
Hot Buttered Rum co-headlines with Colorado bluegrass band Head for the Hills on New Year's Eve and New Year's Day. The bands will perform separately and together for songs on entertaining themes, again bending expectations for live performances. "We thought it'd be fun to have something more than just two blank-slate shows with Head for the Hills," Yates says, "so we settled on doing one night as an old-school ski night and another as prom night. We're also going to get some material up that uses all nine musicians at once, some covers and originals that we'll just play once."
Audiences are asked to "dress in your finest threads" to celebrate New Year's Eve, or wear a one-piece snow suit on Jan. 1. When asked to hint about the cover tunes, Yates won't budge, but says there's a "fan component" to the selection process on the band's Facebook page.
Hot Buttered Rum & Head for the Hills
The State Room
638 S. State
Thursday-Friday
Dec. 31-Jan. 1 at 9 p.m.
$45 (Thursday), $30 (Friday)
VIP packages available at TheStateRoom.com