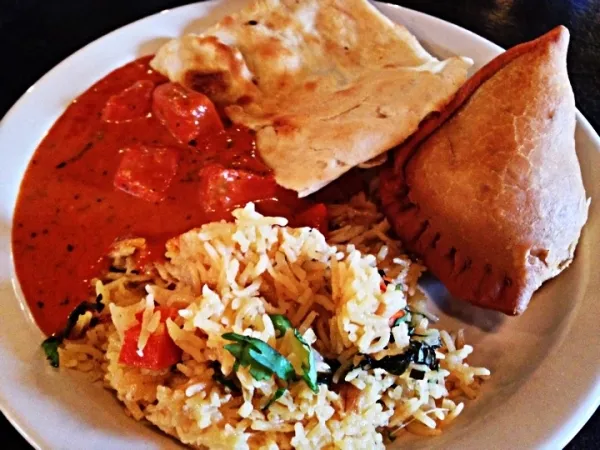 During the Great Depression, people found a way to come up with the 10 cents for admission to the movies because it was a chance to escape their lives and dream about other possibilities, if only for a moment. In today's world, there are many chances to escape—movies, TV, the Internet—but you can also visit other places through food.

While I haven't been able to travel to India yet, I have found a way to "escape" there: Saffron Valley East India Cafe. There was already a Saffron Valley location in South Jordan, and this restaurant took over the old Pagoda location in the Avenues early this year. They describe themselves as "taking Indian cuisine to a new level, while still holding true to its traditional roots."

Part of these traditional roots is the regional lunch buffet on Sundays, where diners can enjoy the home-style cooking, restaurant favorites and street foods of various regions of India. You can "travel" through the Andhra, Punjabi, Lucknow, Bengal, Tamil Nadu, Kerala, Karnataka and Goa regions of India—one region each week. Think of the bragging rights on social media; the fact that you really only went to the Avenues can easily be left out.

If you can't make the Sunday buffet, the weekday buffet is an amalgamation of regions. I loved sitting there with the delicious tomato-based shahi veg korma, wondering which region it came from. The same thoughts came with the tikka masala, samosas and tamarind chutney. If there had been room for kadai paneer and bhindi masala, I would have played the same game again.

But whatever day you come, and whatever region is represented, it's hard to go wrong with anything at Saffron Valley.

SAFFRON VALLEY EAST INDIA CAFE
26 E St.
801-203-3325
1098 W. South Jordan Parkway
801-438-4823
SaffronValley.com