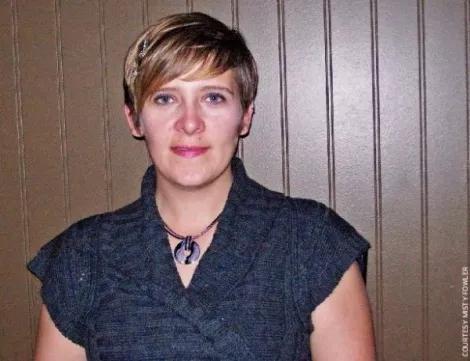 Salt Lake City political blogger and LGBT-rights advocate Misty Fowler blogs at Saintless.com. In honor of Valentine's Day and that crazy little thing called love, Fowler speaks out about the virtues of being bisexual.
What's your definition of sexuality?
An inherent attraction to someone else. It's something that excites your insides of yourself. It encompasses everything from procreation to fulfilling needs to just being with another person.
How long have you known you were bisexual?
Since I was 17, I had an attraction to women but I was homophobic—based on my upbringing. I was 20 years old and began experimenting, but I previously had a couple of bisexual experiences. I realized it wasn't just something I was doing for my partner. It took about a year of various experiences to come to terms with it.
I learned to focus on a relationship level. A man or a woman can be the same, because every person is unique. It's not their outside physical appearances that really matters.
What are you up against as a bisexual?
When I say I'm bisexual, some people see me as a slut, someone who is just wanting to sleep around. I hate that misrepresentation. The mainstream perspective is that bisexuals actually have a preference [toward one gender but are just playing around with the opposite gender]. But, I consider myself truly bisexual, with no preference. If I'm in a relationship with a girl, I don't think I'm missing out of what I get from a guy, and vice versa. It's about a connection to a person; physical and sexual parts are secondary to that.
Is it hard to be accepted as a bisexual?
Society is a lot more accepting of two women than two men. It's easier for women to sneak under the radar with things as common as hand-holding—society wouldn't be against that. But with men, when it comes to what society deems acceptable, they have to live a more hidden life. If a guy were truly bi, he might be more tempted to pursue an attraction to women and not guys than a woman would be. Men have a lot harder time fighting society than women.
What are the benefits of bisexuality?
Personally, I think everyone should do it. My options are more open; I have a bigger dating pool. Beyond that, it expands the way I view people in general, by broadening my respect for people at large.