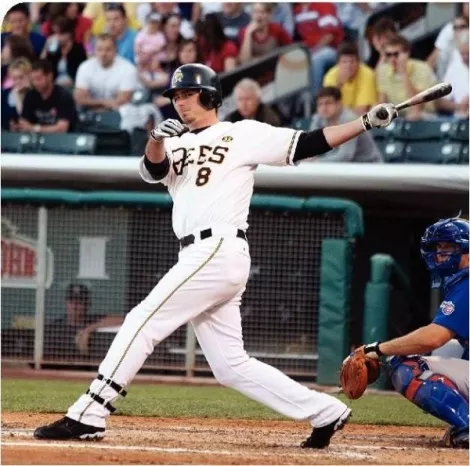 Brandon Wood's swing is a major-league swing. His hands start low, about chest level, and never vary from that plane as his wrists break and his arms whip around his body. His posture around the plate is relaxed—shoulders slumped, feet body-width apart, knees slightly bent. When he steps into his swing, he cocks his knee back and juts out his hip. This puts his rotation point well in front of his body's center of gravity—the new vogue for power hitters—creating tremendous torque with his relatively slim 6-foot, 3-inch frame.

Although it's a major-league swing, in August he displayed it in the batting cage at Spring Mobile Park, dressed in Salt Lake Bees warm-up gear. Wood was in a bit of a funk at the time; through the first three games of a four-game home stand against the Nashville Sounds, Wood was 2 for 12, with no RBIs and two strikeouts. But in the cage, the right-handed third baseman was chopping, pulling, slapping and crushing balls, seemingly to whatever corner of the ballpark he willed them to go.

After he finished and before taking fielding drills, Wood jogged to the dugout. The 24-year-old Austin, Texas, native wore big, black sunglasses, answering questions while prodding his soul-patched chin with the tip of his Mizuno glove.

"I feel good, you know," he says when asked about this season. "I've been up and down from the Angels (the Bees are the Triple-A affiliate of the Los Angeles Angels of Anaheim). Obviously, the ultimate goal is to be in the big leagues, to stick there and play there. Being down here, I just want to make sure I keep my swing together."

If Wood seems cocksure, that's because he is not your average minor leaguer. In 2005, with the Rancho Cucamonga Quakes, Wood hit .321 and a California League record 43 home runs. In 2006, Baseball America ranked Wood the third best prospect in the game, behind Delmon Young (now a potential Gold Glover for the Minnesota Twins), and Justin Upton (currently hitting .301 for the Arizona Diamondbacks). In three years since, Wood has consistently hit over .270 in the minors, with 25-plus home runs a season. He has been talked up in the press as a potential superstar, even as former teammates like Howie Kendrick and Kendry Morales have found a more permanent home on the Angels' roster.

As Wood mentioned, he's had a few stints in the majors, including two this year. The latest one began July 11, with a nationally televised game against the Yankees. Not only did Wood make some impressive defensive plays, but in the fifth inning he murdered a pitch from Andy Pettite, sending it deep into the stands.

Then, over the next 21 days, Wood went without a single hit, and was optioned back to the Bees.

To be fair, that lack of productivity wasn't entirely Wood's fault. Most days he wasn't in the starting lineup; when he did start, he often played out of position at first base. (The Angels are ridiculously deep at third, with both All-Star Chone Figgins and breakout player Erick Aybar.) Wood is quick to point out these circumstances, just as he's quick not to lay blame on anyone in the Angels organization, particularly manager Mike Scioscia. However, he's not shy about expressing his overall frustration.

"Yeah, it gets frustrating, especially when you know where you want to be. But, I know I can play at the big league level. I know I can perform," he says.

The distance between triple-A and the majors is vast, especially when it comes to pitching quality. The nasty breaking balls, streaking curves and dizzying changeups have exposed a flaw in Wood's game: Despite solid mechanics, Wood has trouble recognizing pitches as they barrel towards him in the batter's box, which leads to a high strikeout percentage (a dismal 38 percent in his last stint with the Angels).

"It goes without saying, but it bears repeating: playing in the majors is really, really hard," says Kevin Goldstein, who covers the minor leagues for Baseball Prospectus. But Goldstein and many other scouts still believe that Wood will have a career in the majors—although, as Goldstein notes, it wouldn't be the first time a promising player was a bust. Wood may even be back up with the Angels this season, when rosters expand in September (calls to Angels management went unreturned). But, expectations for what kind of player he will ultimately be are being severely downgraded.

When asked what he thinks about the possibility of being nothing more than a journeyman, Wood shakes his head. "No," he says, spitting a stream of tobacco juice into the red dirt at his feet.

Of course, how could anyone constantly ruminate on such a thing? In baseball, as in life, great expectations do not always translate into greatness. Plus, in baseball, shortcomings are more easily quantifiable.

In the last game against Nashville, Wood stepped to the plate in the seventh inning with the Bees leading 9-5. On the first pitch, Wood pulled the ball 350 feet over the left field wall. If he had hit that ball in Angels Stadium, it would have been buried in the crowded bleachers. But at Spring Mobile, it landed in the grass and bounced past the concourse. A couple of kids chased after it into the dark.