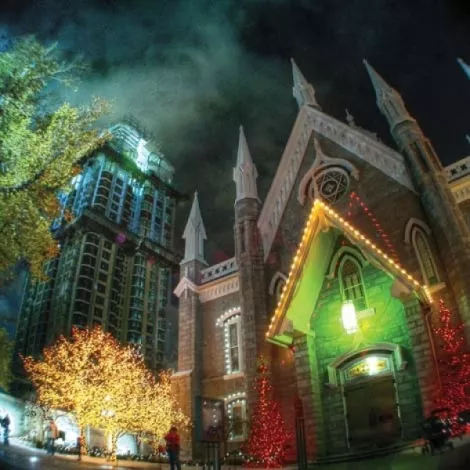 SWilsonAP
Temple Square
Salt Lake City neighborhoods have a rich history behind them going back to the 19th century. The city's little pockets, while historic, are also constantly evolving, particularly now, as various capital projects and developments move toward completion.
Defining what exactly is a "neighborhood" depends on whom you ask. But it comes down to hubs where people come together. And what brings people together are shops, diversions, eateries and services—accessible to all Salt Lakers, no matter where they call home.
DOWNTOWN
If there's one area changing dramatically around the city, it's downtown. The gigantic City Creek project will be opening in the next couple of years, as will other notable high rises. Quite a few small businesses have been opening along Main and State streets in anticipation. City Creek is a project of the LDS Church, leading some to wonder—just who exactly is going to be taking over in the area?
Babs De Lay, Salt Lake Planning & Zoning Commission chair and principal broker of Urban Utah Homes & Estates, says, "I asked this question of someone not in 'the brotherhood' who is working in the City Creek project: Are you expecting families dressed in gingham with eight kids to be living in those condos across from the temple? He said, 'No'; they were marketing to international business people—like friends of Mitt Romney. These kinds of people would help bring future development and business to Utah."
Why you should go: It's the center of the city, for God's sake. And speaking of that guy, you really should stop by Temple Square (15 E. South Temple, events ticket office: 801-570-0800). Regardless of your religious affiliation, Temple Square is the symbol of this city around the world and has amazing 19th-century architecture built by those who settled this place. Just don't get suckered into writing your address down while there (unless you actually do want a visit from LDS missionaries). Also, check out Abravanel Hall (123 W. South Temple, 801-323-6800) to hear the Utah Symphony; Capitol Theatre (50 W. 200 South, 801-355-2787) to see Ballet West or a touring Broadway show; or the Rose Wagner Performing Arts Center (138 W. Broadway [300 South], 801-323-6800) for a variety of performances.
BROADWAY
Broadway is becoming the place where urban hipsters and artists congregate. "If you've been on gallery stroll," De Lay says, "you will have noticed that most of the hip artists have moved out of Pierpont, making that an unknown zone of 'what's next' and vacant spaces. The hip artists and steampunks have moved to 300 South between 200 East and 500 East. As long as the city doesn't interfere, that is a new bustling small business area that's impacting all of downtown."
Why you should go: The Broadway Centre Cinema (111 E. 300 South, 801-321-0310) is a major art-house cinema in the city. Also, check out shops such as Slowtrain, (221 E. Broadway, 801-374-2611, SlowtrainMusic.com) which offers CDs and LPs by day, and occasional live music in an all-ages atmosphere at night. Check their Website for details.
GATEWAY/ GATEWAY SOUTH
Tami Cromar had one very good reason for choosing an old engine repair shop at 770 S. 300 West (801-834-6111) for her My Dough Girl gourmet cookie shop. "I couldn't afford anything else." There seemed to be plenty of drawbacks to the choice. The shop hadn't been touched in 60 years, and it wasn't close to any other shops.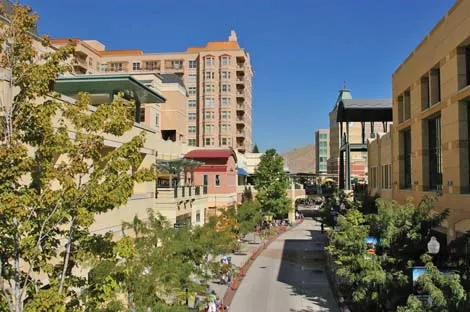 Nevertheless, Cromar opened the business in December 2008. Not only has My Dough Girl thrived, it turns out Cromar may have been riding the crest of a wave that could result in big changes in the blocks south of the Gateway and Pioneer Park, which some are already referring to as it's own area: the Gateway South. "I think this neighborhood is really up and coming," she says.
Cromar says a mini-Gateway mall as well as a Super Target are planned for the area, but in the meantime, she's getting a lot of traffic from busy 300 West, as people are coming in to buy cookie flavors such as chocolate-cinnamon dough with a molten chocolate-mint center or mangoes and dark chocolate in a citrus dough. The cookies are given female names such as Vivianna or Margo and matched up with a 1940s-style pin-up to give each creation its own image.
"We get a lot of traffic from people who are driving back-and-forth between the Gateway and Costco and back," Cromar notes. "We also got tons of traffic from the Farmers Market. It turned out to be a really great location."
Why you should go: The Discovery Gateway children's museum (444 W. 100 South, 801-456-KIDS) as well as Hansen Planetarium (110 S. 400 West, 801-456-7827) are both located in The Gateway mall. Just across the street from the mall is EnergySolutions Arena (301 W. South Temple, 801-325-2000), where the Jazz play their NBA home games. Pioneer Park, south of the mall, hosts the popular Farmers Market during the summer and early fall. One can also find a block at 200 West between 600 and 700 South containing Legends Pub and Grill (801-355-3598), a sports bar, and Brewvies (801-355-5500), where you can drink a beer (or a cocktail, thanks to their newly acquired liquor license) and eat nachos while watching a movie or playing pool. Across the parking lot is Doctor John's (801-746-1417), open 24 hours and carrying lingerie and other adult-style novelties.
ROSE PARK

Before the real-estate bubble collapsed, Rose Park was supposed to be the "next big thing" because it's a residential area near the city center with affordable prices. De Lay continues to see Rose Park as an up-and-coming neighborhood. "It is the cheapest area close to downtown," she says, "and TRAX will be finished along North Temple and make Rose Park much more accessible and transit-oriented."
Ron Jarrett, chair of the Rose Park Community Council, says, "I would like to think it is still looking to a bright future. As with most communities right now, we have a number of homes for sale and a few vacant homes just sitting. Perhaps the weeks and months ahead will change that."
While Jarrett says, "We are mostly a residential neighborhood" that has "very few businesses in our exact area," he points out, "We are seeing growth all around us." For example, in the spring, Salt Lake County will open a large recreation center just blocks from the neighborhood.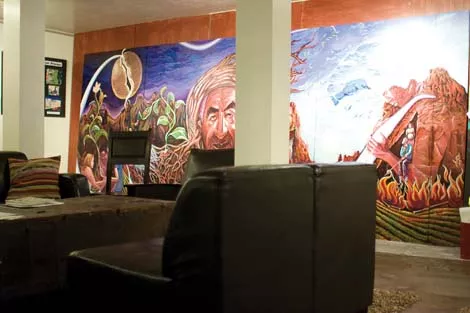 As far as places to visit in the area greater Rose Park area, Jarrett recommends the Red Iguana restaurant (736 W. North Temple, 801-322-1489) and says, "Mestizo's Coffeehouse (pictured at left, 641 W. North Temple, 801-596-0500) is a good place to have a great cup of coffee or something to eat, plus they are a very strong art influence in the community."
Why you should go: The Utah State Fairpark (155 N. 1000 West, 801-538-8400) is home to the state fair in September as well as a variety of other types of shows throughout the year, including the annual Salt Lake City stop for the Warped Tour every summer. Stop by Panaderia Flores (1625 W. 700 North, 801-533-0209) for excellent empanadas and other baked goods.
GLENDALE
If anybody ever tries to tell you Salt Lake City is a homogenous place, just drive them through the Glendale area. From California Avenue to Redwood Road, one can see a United Nations of stores representing the different communities of immigrants that now call Salt Lake City home. From African, Eastern European and Latino to Polynesian and Asian, it can all be found in this section of the city.
One example of the way the neighborhood has changed over the years can be found at Super Mercado de las Americas (1179 S. Navajo St., 801-972-4585). In 1988, Sue and Craig Stahle bought the store that had served the neighborhood since the 1960s and operated it as a typical supermarket until 2002 when, as Sue puts it, "We saw that the market was changing. We saw that the neighborhood was changing."
The Stahles decided to change the name of the store and the merchandise to focus on the growing Hispanic community in the area. Even though the Stahles couldn't get anyone to lend them any money to make the changeover, they pulled it off while still managing to keep other members of the community coming to the store.
"It was a classic case where I looked at my customer and saw a need," Craig says. "Diversity can either be celebrated or decried. We prefer to celebrate it."
Sue serves as chair of the Mayor's Business Advisory Board and sees even more changes coming to the neighborhood, saying, "I have a sense there's something in the air about pulling smaller communities together and bringing life back to the different districts in the city."
Why you should go: To take a ride on the water slides at Raging Waters (1200 W. 1700 South, 801-972-3300) or tour the International Peace Gardens (1060 S. 900 West, 801-974-2411).
AVENUES

The original offbeat, countercultural, cool neighborhood to live in has been undergoing its own transformation as more and more McMansions invade the upper "Aves," while other places around town seem to be in the process of becoming "the next Avenues." Are the "Aves" still as cool?
"The Avenues is still cool," De Lay maintains. "The upper Avenues have seen some massive new homes in the last decade that are now coming down in price by the hundreds of thousands of dollars each month, affecting all values in the Aves. Salt Lake City is doing some extensive mapping of commercial areas up there in order to amend/change/create new regulations to preserve neighborhood commercial use. Protecting these funky little areas will help keep the neighborhood diverse."
Why you should go: Take a tour of the Governor's Mansion (603 E. South Temple, 801-538-1005) and drive around the lower Aves to see many other examples of great architecture from Salt Lake City's early days. The Cathedral of the Madeleine (331 E. South Temple, 801-328-8941) and First Presbyterian Church
LIBERTY PARK/TROLLEY SQUARE
In over four years at Trolley Square, Tabula Rasa: Social Stationers (801-575-5043) has been offering top-of-the-line pens, stationery and other products, while the mall itself has been changing. Plans for major renovations were somewhat sidetracked by the economic downturn, but Sean Bradley, store manager of Tabula Rasa, says, "I think we're at a turning point for the better," noting that Pottery Barn recently went through a major expansion and a large Whole Foods project is being built on the north side of the block.
Furthermore, "The inside renovation of the mall is complete. There are a lot of updates, but this building still has the same wonderful historical touches it's always had. We're still part of a neighborhood that has the kind of charm you just can't find in a lot of other places."
That sort of old-fashioned connection is a big part of what Tabula Rasa sells—the human touch of a written note in an increasingly impersonal electronic age. "There's no substitute for being able to feel a piece of beautiful paper and read something someone has written to you," Bradley says. "There's something incredibly intimate about it that makes a huge impression on people."
Why you should go: At Liberty Park during the summer, go on the carnival rides or take a trip around the pond in a paddle boat, see the birds at Tracy Aviary (801-596-8500), located in the park. A couple of blocks east, check out Gilgal Sculpture Garden (749 E. 500 South), a place where a home-grown artist with a fixation on LDS Church founder Joseph Smith carved a variety of unique creations in his own back yard.
FOOTHILL
Mormon pioneers first entered the Salt Lake Valley through Emigration Canyon, and this was where Mormon leader Brigham Young stopped to say, "This is the place," or words to that effect.
Why you should go: See how the early settlers lived by stopping by This Is The Place Heritage Park, (2601 E. Sunnyside, 801-582-1847) or go across the street to see the animals at Hogle Zoo (2600 E. Sunnyside, 801-582-1631). Head south to Foothill Village (1300 S. Foothill Drive), an outdoor mall with interesting boutiques and shops such as Salt Lake Running Company (1356 S. Foothill Drive, 801-582-1919) for gear, clothing and information about the local running community, or grab a cool Italian treat at Bella Citta Gelato & Café. (1330 S. Foothill Drive, 801-938-5163).
SUGAR HOUSE

Sugar House was the hot section of the city for much of the early 2000s, going from a quirky area full of independent stores operating on a shoestring to a place that developers couldn't wait to gentrify. Bad timing reigned supreme, as one of the most interesting commercial blocks of the neighborhood got torn down just when the recession hit; then, the developer's plans stalled. The result is "the Sugar Hole."
Nevertheless, De Lay thinks Sugar House can crawl out of its hole, stating, "With patience, the Sugar Hole will be developed and Sugar House will continue to be one of the stellar examples of a great mix of commercial and residential with such a great walkable feel to it.
"I always wonder about SugarHouse Park and how stodgy the management of the park has been," she says. "It's an under-used gem. There is a tunnel proposed under 1300 East to get directly from Hidden Hollow up to the park that will help a lot with safety and pedestrian issues. UTA and Salt Lake City are attempting to get the trolley back up and running to Sugar House."
Why you should go: Talk a walk, feed the geese or play any number of sports at SugarHouse Park before heading over to 1100 East-Highland Drive to see various shops that survived the redevelopment project, including second-hand stores like Pib's Exchange (1147 Ashton Ave., 801-484-7996) offering clothing that's both edgy and classic. If you prefer sexy clothing, the Blue Boutique (1383 E. 2100 South, 801-485-2072) has survived the Sugar Hole and, after much fuss, relocated across from SugarHouse Park.
9TH & 9TH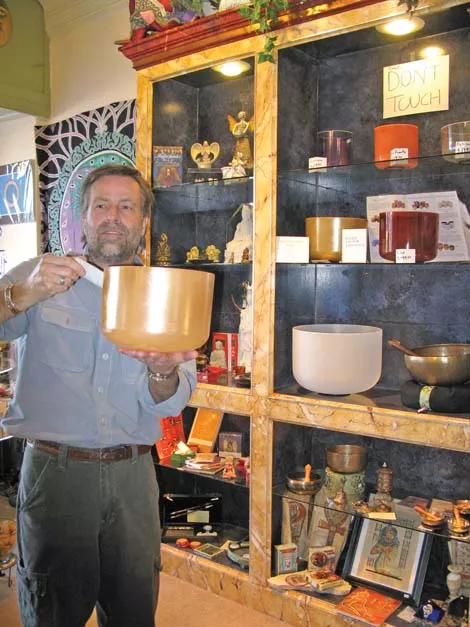 This hip area is so named because it radiates around the intersection at 900 East and 900 South. A variety of businesses surround that intersection, all within easy walking distance of each other, and all situated within a historic residential neighborhood.
Why you should go: An awesome collection of quartz-crystal singing bowls at Dragon Dreams Gifts (pictured at left, 920 East 900 South, 801-509-1043). Enjoy a spine-tingling stretch at Centered City Yoga (918 E. 900 South, 801-521-9642) or shop for a fresh new style at Peach Boutique (914 E. 900 South, 801-355-1777). The Square Nest (931 East 900 South, 801-363-3240) offers unique furniture, seasonal decor, dishes and gifts. Take in an arthouse movie at the historic Tower Theatre (876 E. 900 South, 801-321-0310), which also runs weekend midnight movies.
15TH & 15TH
Much like 9th & 9th, this is a hub of eateries and shops at 1500 East and 1500 South in an otherwise residential neighborhood. Not far off, the corner of 1700 East and 1300 South is also becoming an interesting spot.
Why you should go: Pick up something to read at independent bookstore The King's English (1511 S. 1500 East, 801-484-9100) before stopping in for traditional Middle Eastern cuisine at Mazza's (1515 S. 1500 East, 801-484-9259; their second location is at 912 E. 900 South, 801-521-4572). Not far away, Eggs In The City (1675 E. 1300 South, 801-581-0809) is a popular brunch place.
SOUTH STATE STREET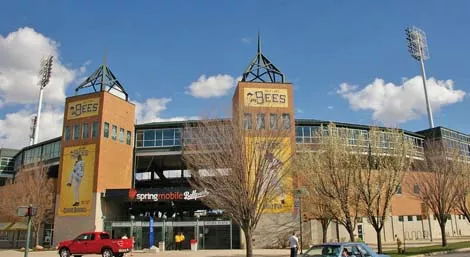 If there is an area of Salt Lake City that earns the adjectives "gritty" and "real," it's this section of State Street from 600 South to Interstate 80.
Why you should go: Between April and September, Spring Mobile Ballpark (pictured at left, 77 W. 1300 South, 801-350-6900) is a beautiful place to take in a ballgame played by the Bees, the AAA affiliate of the Los Angeles Angels of Anaheim. The Grand Theatre (1575 S. State, 801-957-3322) on the South City campus of Salt Lake Community College hosts a variety of performances.
To quench your thirst, State Street bars Bar DeLuxe (801-521-5255) Burt's Tiki Lounge (801-521-0572), The Bayou (801-961-8400), The Spot (801-355-7768), and The Republican (801-595-1916) can all be found within a three-block range between 600 South to just beyond 900 South.
UNIVERSITY
Like most college neighborhoods, the University of Utah's entertainment offerings and interesting businesses can be found along the fringes of the campus.
Why you should go: You can watch the often nationally ranked Runnin' Utes football team play at Rice-Eccles Stadium (451 S. 1400 East, 801-581-5445), which was also the location of the opening and closing ceremonies for the 2002 Olympic Winter Games. The Huntsman Center (1825 E. South Campus Drive, 801-581-1314) is the home of the Ute basketball squad, while Kingsbury Hall (1395 Presidents Circle, 801-581-7100) and Pioneer Memorial Theatre (300 S. 1400 East, 801-581-6961) host plays, musicals, bands, comedians and other types of entertainment.
MARMALADE/ CAPITOL HILL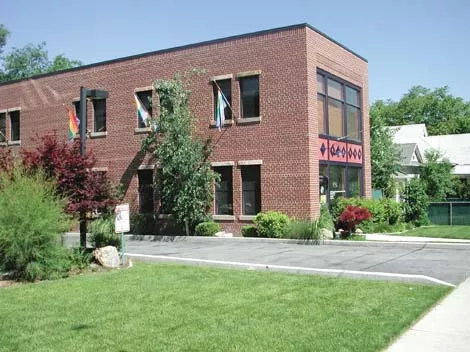 This area has become known as Salt Lake City's premier "gayborhood" because of the many members of the LGBT community taking up residence there, not to mention the Utah Pride Center (pictured at left, 361 N. 300 West, 801-539-8800) being located in the area. However, this neighborhood is also changing as many new condo developments are coming online. "The Marmalade is still considered one of many gayborhoods in the Salt Lake Valley, as is 9th & 9th," De Lay says. "The population has been changing in Marmalade because newer condos, townhomes and homes have been built there in the last few years. A lot of students are buying this inventory and changing the neighborhood up."
Why you should go: Check out the newly restored Utah Capitol (pictured below, 350 N. State, 801-538-3074) building or go for a walk through Memory Grove (pictured at left). The Salt Lake Acting Company (168 W. 500 North, 801-363-7522) hosts plays throughout the year in a converted LDS ward house, including the annual summer presentation of Saturday's Voyeur, a satirical look at living in Utah.
Geoff Griffin & Kathleen Curry are Salt Lake City freelance writers.