Page 2 of 2
LIBERTY PARK/TROLLEY SQUARE
In over four years at Trolley Square, Tabula Rasa: Social Stationers (801-575-5043) has been offering top-of-the-line pens, stationery and other products, while the mall itself has been changing. Plans for major renovations were somewhat sidetracked by the economic downturn, but Sean Bradley, store manager of Tabula Rasa, says, "I think we're at a turning point for the better," noting that Pottery Barn recently went through a major expansion and a large Whole Foods project is being built on the north side of the block.
Furthermore, "The inside renovation of the mall is complete. There are a lot of updates, but this building still has the same wonderful historical touches it's always had. We're still part of a neighborhood that has the kind of charm you just can't find in a lot of other places."
That sort of old-fashioned connection is a big part of what Tabula Rasa sells—the human touch of a written note in an increasingly impersonal electronic age. "There's no substitute for being able to feel a piece of beautiful paper and read something someone has written to you," Bradley says. "There's something incredibly intimate about it that makes a huge impression on people."
Why you should go: At Liberty Park during the summer, go on the carnival rides or take a trip around the pond in a paddle boat, see the birds at Tracy Aviary (801-596-8500), located in the park. A couple of blocks east, check out Gilgal Sculpture Garden (749 E. 500 South), a place where a home-grown artist with a fixation on LDS Church founder Joseph Smith carved a variety of unique creations in his own back yard.
FOOTHILL
Mormon pioneers first entered the Salt Lake Valley through Emigration Canyon, and this was where Mormon leader Brigham Young stopped to say, "This is the place," or words to that effect.
Why you should go: See how the early settlers lived by stopping by This Is The Place Heritage Park, (2601 E. Sunnyside, 801-582-1847) or go across the street to see the animals at Hogle Zoo (2600 E. Sunnyside, 801-582-1631). Head south to Foothill Village (1300 S. Foothill Drive), an outdoor mall with interesting boutiques and shops such as Salt Lake Running Company (1356 S. Foothill Drive, 801-582-1919) for gear, clothing and information about the local running community, or grab a cool Italian treat at Bella Citta Gelato & Café. (1330 S. Foothill Drive, 801-938-5163).
SUGAR HOUSE

Sugar House was the hot section of the city for much of the early 2000s, going from a quirky area full of independent stores operating on a shoestring to a place that developers couldn't wait to gentrify. Bad timing reigned supreme, as one of the most interesting commercial blocks of the neighborhood got torn down just when the recession hit; then, the developer's plans stalled. The result is "the Sugar Hole."
Nevertheless, De Lay thinks Sugar House can crawl out of its hole, stating, "With patience, the Sugar Hole will be developed and Sugar House will continue to be one of the stellar examples of a great mix of commercial and residential with such a great walkable feel to it.
"I always wonder about SugarHouse Park and how stodgy the management of the park has been," she says. "It's an under-used gem. There is a tunnel proposed under 1300 East to get directly from Hidden Hollow up to the park that will help a lot with safety and pedestrian issues. UTA and Salt Lake City are attempting to get the trolley back up and running to Sugar House."
Why you should go: Talk a walk, feed the geese or play any number of sports at SugarHouse Park before heading over to 1100 East-Highland Drive to see various shops that survived the redevelopment project, including second-hand stores like Pib's Exchange (1147 Ashton Ave., 801-484-7996) offering clothing that's both edgy and classic. If you prefer sexy clothing, the Blue Boutique (1383 E. 2100 South, 801-485-2072) has survived the Sugar Hole and, after much fuss, relocated across from SugarHouse Park.
9TH & 9TH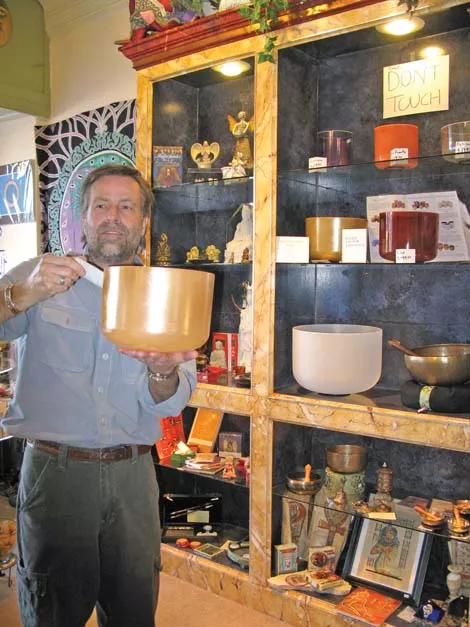 This hip area is so named because it radiates around the intersection at 900 East and 900 South. A variety of businesses surround that intersection, all within easy walking distance of each other, and all situated within a historic residential neighborhood.
Why you should go: An awesome collection of quartz-crystal singing bowls at Dragon Dreams Gifts (pictured at left, 920 East 900 South, 801-509-1043). Enjoy a spine-tingling stretch at Centered City Yoga (918 E. 900 South, 801-521-9642) or shop for a fresh new style at Peach Boutique (914 E. 900 South, 801-355-1777). The Square Nest (931 East 900 South, 801-363-3240) offers unique furniture, seasonal decor, dishes and gifts. Take in an arthouse movie at the historic Tower Theatre (876 E. 900 South, 801-321-0310), which also runs weekend midnight movies.
15TH & 15TH
Much like 9th & 9th, this is a hub of eateries and shops at 1500 East and 1500 South in an otherwise residential neighborhood. Not far off, the corner of 1700 East and 1300 South is also becoming an interesting spot.
Why you should go: Pick up something to read at independent bookstore The King's English (1511 S. 1500 East, 801-484-9100) before stopping in for traditional Middle Eastern cuisine at Mazza's (1515 S. 1500 East, 801-484-9259; their second location is at 912 E. 900 South, 801-521-4572). Not far away, Eggs In The City (1675 E. 1300 South, 801-581-0809) is a popular brunch place.
SOUTH STATE STREET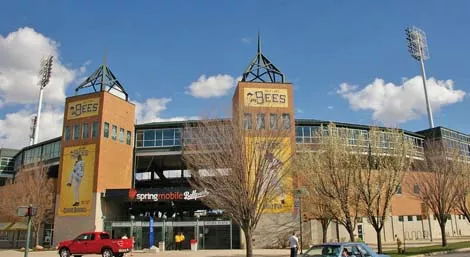 If there is an area of Salt Lake City that earns the adjectives "gritty" and "real," it's this section of State Street from 600 South to Interstate 80.
Why you should go: Between April and September, Spring Mobile Ballpark (pictured at left, 77 W. 1300 South, 801-350-6900) is a beautiful place to take in a ballgame played by the Bees, the AAA affiliate of the Los Angeles Angels of Anaheim. The Grand Theatre (1575 S. State, 801-957-3322) on the South City campus of Salt Lake Community College hosts a variety of performances.
To quench your thirst, State Street bars Bar DeLuxe (801-521-5255) Burt's Tiki Lounge (801-521-0572), The Bayou (801-961-8400), The Spot (801-355-7768), and The Republican (801-595-1916) can all be found within a three-block range between 600 South to just beyond 900 South.
UNIVERSITY
Like most college neighborhoods, the University of Utah's entertainment offerings and interesting businesses can be found along the fringes of the campus.
Why you should go: You can watch the often nationally ranked Runnin' Utes football team play at Rice-Eccles Stadium (451 S. 1400 East, 801-581-5445), which was also the location of the opening and closing ceremonies for the 2002 Olympic Winter Games. The Huntsman Center (1825 E. South Campus Drive, 801-581-1314) is the home of the Ute basketball squad, while Kingsbury Hall (1395 Presidents Circle, 801-581-7100) and Pioneer Memorial Theatre (300 S. 1400 East, 801-581-6961) host plays, musicals, bands, comedians and other types of entertainment.
MARMALADE/ CAPITOL HILL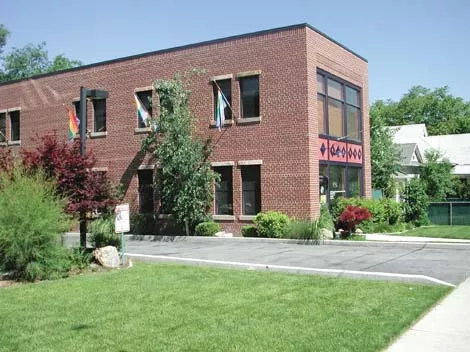 This area has become known as Salt Lake City's premier "gayborhood" because of the many members of the LGBT community taking up residence there, not to mention the Utah Pride Center (pictured at left, 361 N. 300 West, 801-539-8800) being located in the area. However, this neighborhood is also changing as many new condo developments are coming online. "The Marmalade is still considered one of many gayborhoods in the Salt Lake Valley, as is 9th & 9th," De Lay says. "The population has been changing in Marmalade because newer condos, townhomes and homes have been built there in the last few years. A lot of students are buying this inventory and changing the neighborhood up."
Why you should go: Check out the newly restored Utah Capitol (pictured below, 350 N. State, 801-538-3074) building or go for a walk through Memory Grove (pictured at left). The Salt Lake Acting Company (168 W. 500 North, 801-363-7522) hosts plays throughout the year in a converted LDS ward house, including the annual summer presentation of Saturday's Voyeur, a satirical look at living in Utah.
Geoff Griffin & Kathleen Curry are Salt Lake City freelance writers.