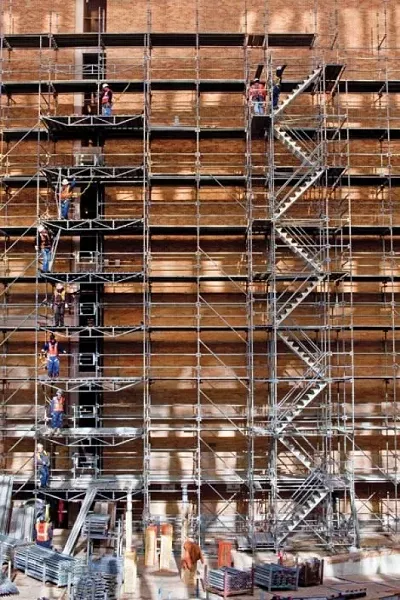 A neighborhood is more than a collection of zoned streets and domiciles; it lives and breathes, shaped by its unique residents and architecture. Even with social media and technology altering the definition of what is meant by "community," Salt Lake City's neighborhoods, represented by 34 community councils, remain as vibrant and distinct as ever.
How do you get in tune with the city's 180,000 (and the Wasatch Front's 2.1 million) residents? One way to navigate is to locate a neighborhood epicenter—where news is told, not posted, and status is seen, not read.
Coffee shops represent a natural hub. The caffeinated air of buzzing conversations is welcoming and inclusive. Local bars and taverns offer other ways to meet and greet and exchange views over a beer. Best of all, talk to local shopkeepers; no one knows neighborhoods better than the those who spend their hours toiling in the city's commercial centers. Catch them at a slow time to encourage them to recount urban tales and point out hidden gems.
High Rising SLC
Some call downtown and its surrounding area "Small Lake City," referring to the city's numerous random interconnections. "Small," however, would not describe the city's recent upward spiral—depicted by the "Downtown Rising" campaign that marks the addition of two new office towers, several proposed arts buildings and a multibillion-dollar shopping mall and condo project under development as we speak. But even after the 2012 unveiling of the City Creek Center, downtown will still be clean, walkable and friendly—truly, a little big city.
The crown jewel of downtown, City Creek is expected to be finished March 22, 2012, says Jason Mathis, Downtown Alliance executive director. The 20-acre multi-use complex spread over three blocks of downtown is being developed by the LDS Church at a cost of several billion dollars. It will feature 80-plus businesses and anchor department stores including Nordstrom and Macy's, as well as 11 restaurants, 800 residencies and offices, a sky bridge, a Bellagio-inspired "water and fire" exhibit and a meandering creek. Mathis says its massiveness won't detract from the neighborhood feel; the developers seek to make it "expressive of Utah and authentic to who we are."
City Creek represents "an unprecedented commitment to our community and will reshape downtown in significant ways," Mathis says. One way is environmentally. It's going to be one of the first neighborhoods in the country to receive Leadership in Energy & Environmental Design certification.
Downtown/City Creek
Naming a central hub for downtown is cause for debate, no matter whom you ask. Some will argue that Lamb's Grill (169 S. Main, 801-364-7166)—a Main Street institution since 1919, with its lunch counter and cozy wooden booths—is the meeting place for downtowners wanting to chat and/or strike business deals. Others will vote for Judge Café (8 E. Broadway, 801-485-2808), located in the historic Judge Building, which offers a similar historic appeal. The retro Beehive Tea Room (12 West Broadway, 801-328-4700), with all its eclectic charm, is the perfect spot to meet for book club or an online date. Pubs like Murphy's (160 S. Main, 801-359-7271), Junior's Tavern (30 E. Broadway, 801-322-0318), Cheers to You (315 S. Main, 801-575-6400) and the Beerhive Pub (128 S. Main, 801-364-4268) attract sundry but exceedingly loyal crowds.
Just outside the downtown hustle is Nostalgia Coffee & Deli (248 E. 100 South, 801-532-3225), where owner Kathryn Webb reflects on her love of downtown: "I really like that I can go to Gallivan Center (239 S. Main, 801-535-6110, which is currently undergoing a remodel but will be open in 2011 for concerts, festivals and outdoor ice skating) or on Gallery Stroll (GalleryStroll.org) and see customers and friends—a lot of the same faces," Webb says.
Webb's top recommendations for downtown are the winter lights, summer flowers and year-round fountains of Temple Square (15 E. South Temple, 801-240-1706); Utah Artists Hands (61 W. 100 South, 801-355-0206) for shopping and supporting local artists.
Also try: Abravanel Hall (123 W. South Temple, 801-323-6800) featuring the Utah Symphony & Utah Opera; Capitol Theatre (50 W. 200 South, 801-355-2787), home to Ballet West and Broadway Across America productions; Rose Wagner Center for the Performing Arts (pictured at left, 138 W. Broadway, 801-323-6800) for emerging performance art; The Salt Lake Art Center (20 S. West Temple, 801-328-4201) for contemporary visual art.
Hidden gem: Utah Book & Magazine (327 S. Main, 801-359-4391) is jam-packed full of surprises, from used books and comics to vintage adult magazines. If you come here at 6 a.m., you might catch the owner playing poker with friends.
Pioneer Park/The Gateway
Pioneer Park/The Gateway represents downtown's "other" anchor. Pioneer Park has undergone a recent face lift, making it more inviting to the influx of condo dwellers who buy refurbished warehouses and lofts in the area. "We're all just local guys. It's grown up organically. There's no huge vision, like at City Creek," says Tony Caputo, owner of Tony Caputo's Market & Deli (pictured at left, 314 W. Broadway, 801-531-8669), about the Pioneer Park area. The community comes together—be they captains of industry or average Joes—in brief bursts here. "We want people to enjoy their meal ... then get the hell outta here," Caputo says, with a chuckle.
"The Downtown Farmers Market (DowntownSLC.org/Farmers-Market) is one of the biggest gatherings, period," Caputo says. But, aside from this seasonal Saturday morning event and other special events, the park continues to be a haunt for the homeless. Local police installed surveillance cameras to scare off drug dealers, so the park is essentially safe—it just needs to be used by a greater number of residents every day of the week, not just on Saturdays.
The neighborhood boasts eateries galore, including locally grown food purveyors Tin Angel Cafe (365 W. 400 South, 801-328-4155) and Bruge's Waffles & Frites (336 W. Broadway, 801-363-4444) to say nothing of the myriad dining options available in The Gateway (ShopTheGateway.com). The Art Access Gallery (230 S. 500 West, 801-328-0703) and Brewvies Cinema Pub (677 S. 200 West, 801-355-5500) offer enticing visual art and movies, respectively.
An emerging coffee-shop hub is none other than The Rose Establishment (pictured at left, 235 S. 400 West, 801-990-6270), which opened in October 2010 in the former Big City Soup location. "Many say we complete their neighborhood," says owner Erica O' Brien, who sought an industrial artistic space—a fixer-upper—as a backdrop for her coffee-drinking clientele.
Also try: Discovery Gateway (444 W. 100 South, 801-456-5437) for interactive, educational and fun children's science-based activities and Hansen Planetarium (110 S. 400 West, 110 S. 400 West, 801-456-7827) to learn about the stars or see an IMAX film in 3-D.
Hidden gem: SLC Pepper Mural (400 W. 250 South). Jann Haworth, one of the co-designers of the iconic Sgt. Pepper's Lonely Hearts Club Band Beatles record album of the '60s, makes her home in Utah. She redesigned the album cover in 2004 as a 50-foot-by-30-foot civic wall mural in downtown Salt Lake City with a new set of "heroes and heroines of the 21st century" in stencil graffiti, replacing the personalities depicted in the original. The Beatles' jackets remain as metal cutouts with head and hand holes, allowing visitors to become part of the piece by taking photos.
East Broadway/Library Square
Joe Evans owns Nobrow Coffee & Tea Company (315 E. Broadway, 801-364-3448), a gathering spot for artists, musicians and other residents. It's also community-oriented, with various meetings, band practices and Tuesday "Draw Night" for artists. Evans is nothing if not a neighborhood booster, urging patrons to shop with his neighbors: "Slowtrain (221 E. Broadway, 801-364-2611) is the best indie record store in town. There's no way not to have fun at Ken Sanders Rare Books (268 S. 200 East, 801-521-3819), Kayo Gallery (177 E. Broadway, 801-532-0080) or all the antique shops. You can't forget the Broadway Centre Cinemas (111 E. Broadway, No. 150, 801-321-0310) for independent films."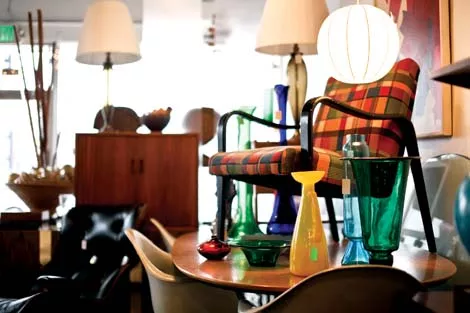 The Green Ant (pictured at left, 179 E. Broadway, 801-595-1818) adds to Broadway's vintage flair with its ever-evolving collection of mid-century modern furniture. A block farther south, you'll find the Salt Lake City Main Library (210 E. 400 South, 801-524-8200). However, this isn't your parents' library filled with hushing librarians and dusty books; it's the hip cultural jewel of Salt Lake City. John Bolton of the Salt Lake Roasting Company (whose coffee shop is located inside the library, 801-532-0450), has served roasted beans and coffee at his landmark shop (320 E. 400 South) for a quarter century. He was honored to open a satellite shop inside the dazzling library complex in 2003. "It's an incredible facility," Bolton says. Changes are in the air on the square: The area is bracing for a controversial $125 million voter-approved Public Safety Building and Emergency Operations Building set to be completed in 2013. Additionally, TheLeonardo (209 E. 500 South, 801-531-9800), slated to become the first science-tech-art center in the country, is set to open April 15, 2011.
Hidden gem: The library's roof platform. "It's a fun, cheap date with a beautiful vista of urban mountains," Bolton says.
West Siders
A kaleidoscope of culture, from colorful ranch-style homes to the wafting smells of ethnic cooking, the west side is a hidden gem in and of itself.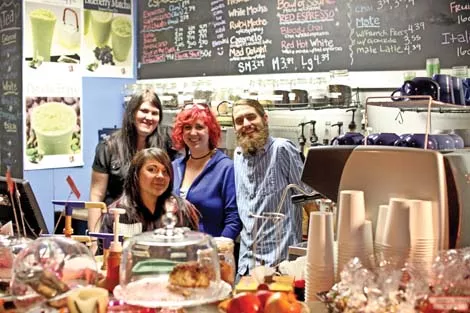 Rose Park
Mestizo Coffeehouse and Art Gallery (pictured at left, 641 W. North Temple Suite 700, 801-596-0500) wants to bridge the east and west sides of the city. So, it's no surprise it's a cultural hub. "We have every kind of little group out there—atheists to a Presbyterian Church to transgender groups," says coffeehouse manager David Galvan. "That's why I moved over here, to get beyond a homogeneous atmosphere. [The neighborhood is] really cohesive," Galvan says.
Construction of a viaduct for a new airport TRAX line has parts of North Temple closed until it is completed in the fall of 2011. However, businesses are still vibrant and open for business.
Galvan recommends Red Iguana (736 W. North Temple, 801-322-1489) for its mole; the Northwest Multipurpose Center (1300 W. 300 North, 801-596-0072) for sports and recreation and the Jordan River Parkway, spanning 40 miles, for amazing bike rides. Also try September's 11-day state fair extravaganza at the Utah State Fairpark (155 N. 1000 West, 801-538-8400).
Hidden gem: Steenbilk's Park "Dairy Cats" (1100 W. 800 North): four bronze cats, poised to lick the milk pails, pay tribute to the area's historic dairy.
Glendale
This 'hood is as vibrant and diverse as the International Peace Gardens (1060 S. 900 West, 801-974-2411), with its United Nations of landscaping; this cultural diversity is celebrated at Sorenson Unity Center (1383 S. 900 West, 801-535-6533), offering community resources and a gathering center. A magnet for immigrant culture, Glendale's markets, restaurants and bakeries cater to a Spanish-speaking population. One of the largest ethnic stores in town, Super Mercado de las Americas (pictured at left, 1179 Navajo St., 801-972-4585) is worth a stop. During a hot summer day, cool off at Raging Waters (1200 W. 1700 South, 801-974-3300) followed by milkshakes and burgers at Hook and Ladder (1313 California Ave., 801-972-2336), located in the historic Fire Department No. 13.
Hidden gem: The huge-portioned Mexican comfort food at La Frontera (1236 W. 400 South, 801-523-3158).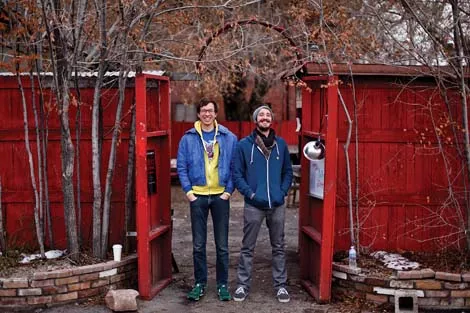 Industrial Artist District
To untrained eyes, the brick-and-concrete warehouse district south of The Gateway looks a tad depressing. However, because the neighborhood is on the fringes, the rents here are within means of many starving artists, making it a natural hub for artists and musicians. All-ages music venue Kilby Court (pictured at left, 750 S. Kilby Court [330 West], 801-364-3538) owner Will Sartain coined it the "industrial artist district" for good reason.
"I'm really proud of the neighborhood," Sartain says. On Kilby Court alone, "there's also a skate ramp, a screen-print gallery, a T-shirt shop and musicians' rehearsal space." Around the corner, The Pickle Company (741 S. 400 West, 801-916-1308) boasts art studios and performance art space. "The neighborhood isn't a place you go just to go, [it's best] when there's events." Also try Frida Bistro (545 W. 700 South, 801-983-6692) for upscale Mexican cuisine in a vibrantly colorful atmosphere.
Hidden gem: Get a deal and dig on some tunes at Salty Streets Flea Market (on Kilby Court, the first Sunday of the month during the summer), thrift shopping on a whole new level. Some of the city's best bands (including Red Bennies and Laserfang) play a set on the dead-end street, while up to 30 vendors sell everything from beat-up vinyl to snowboards.
Southern Pride
There aren't too many places more boastful about their offerings than those south of downtown.
L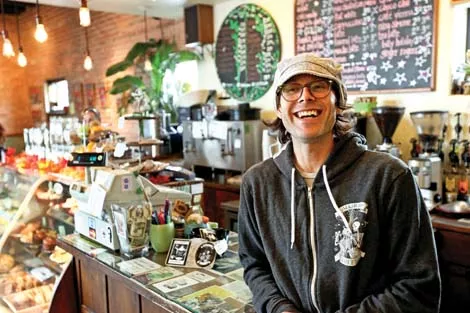 iberty Wells
Called "Sugar Hood" by locals, the area west of Sugar House and north of Interstate 80 is better known as Liberty Wells. "[The neighborhood has] always been a gathering place and still is—from Native Americans to the Mormon's First Encampment to now," says Jason Briggs, owner of Alchemy Coffee (pictured at left, 390 E. 1700 South, 801-322-0735). He's seen drastic change the past five years. "We've kicked out all the meth-heads and, now, all the quaint houses are being quickly bought by first-time homebuyers."
Briggs suggests getting involved in a class at Red Kiln Pottery (393 E. 1700 South, 801-484-4016) or getting a tattoo at Apparition Ink (380 E. 1700 South Suite 2, 801-487-0635). "There's a lot of high-intention stuff going on in the neighborhood," says Briggs. And, Alchemy itself buzzes with monthly art shows and Tuesday's open mic.
Also try: Salt Lake Bees baseball at Spring Mobile Ballpark (77 W. 1300 South, 801-350-6900) or a play/ performance at Salt Lake Community College's Grand Theatre (1575 S. State, 801-957-3322).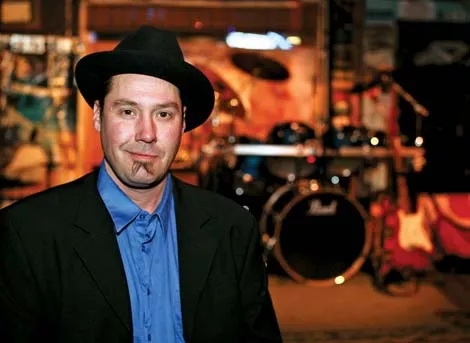 Salt Lake City's best bar crawl is centralized around middle State Street, and the people who live there are as diverse as the bars. Legendary Burt's Tiki Lounge (pictured at left, 726 S. State, 801-521-0572) is "so Salt Lake and so not," says bartender Scotty Kerbein. Out-of-towners feel comfortable here. "If you want to get into something that's seedier and has more history, you come down here," says Kerbein, who claims a saloon stood in the same spot as Burt's 150 years ago. "They were basically doing the same thing then that I'm doing today."
Besides Burt's, he recommends The Bayou (645 S. State, 801-961-8400) for its beer selection or The State Room (638 S. State, 800-501-2885) for live music, which in recent months has featured acts such as Brandi Carlile, OK Go and Yard Dogs Road Show, among others. Locals walk over for their taco fix at the 800 South and State Street concentration of "the city's finest taco carts." Also, more than 10 tattoo parlors, including Big Deluxe (662 S. State, 801-595-1186), dot the area.
Hidden gem: The florescent rooster at Earl Jones' studio (an old gas station at 404 E. 1700 South): It's lit during figurative-drawing classes. They put the model on an old car lift—pretty cool stuff," Alchemy Coffee's Briggs says.
Trolley Square
Trolley Square, originally built to serve as a car barn for Salt Lake City's historic trolley lines from 1908-1945, has gone through several owners and renovations since it opened as a mall in 1971. The most recent remodel began in 2007 and is mostly complete. "Despite all the remodeling, there are still a lot of really cool old buildings. They're gorgeous," says Chris Haas, head brewmaster of Desert Edge Brewery at The Pub (pictured at left, 600 S. 700 East, 801-521-8917).
Through it all, Haas says Trolley has "always had a strange collection of eclectic merchants," with Desert Edge in residence for 30 years along with other stalwarts like stationery and gift shops Tabula Rasa (552 S. 602 East, 801-575-5043) and Cabin Fever (552 S. 602 East, 801-363-0828).
Haas enjoys the fact that the surrounding residential neighborhood attracts a wide range of people—young folks in rentals to historic home-loving couples. "All the coolest things seem hidden because it's residential"—referring to tucked-away Gilgal Garden (749 E. 500 South), a sculpture garden and labor of love by the late Thomas Child and horticultural haven Western Gardens (550 S. 600 East, 801-364-7871).
Hidden gem: Downstairs in Trolley Square: "There's a 'not-quite museum,' with historic pictures and plaques of the old trolley-barn buildings," Haas says.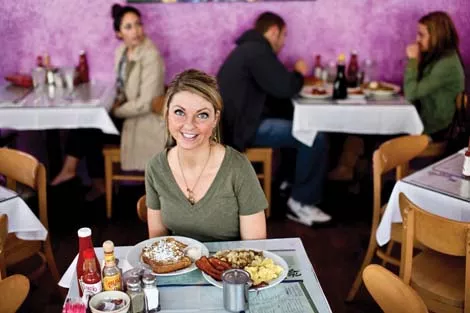 Liberty Park
Randi Petersen, owner of The Park Cafe (pictured at left, 604 E. 1300 South, 801-487-1670), lives just two blocks from the restaurant. "Everyone's really nice; it's a big community that takes care of each another," Petersen says. Locals often bump into one another while waiting for, or eating, weekend breakfasts—a great place to meet a new friend. "I personally know of over 100 friendships that have formed here," Petersen says.
Aside from dining at The Park Cafe, the main attraction is Liberty Park, at 80 acres. "Sometimes, public parks can be sketchy—not here," Petersen says. Liberty has an amusement park, horseshoe pits, year-round tennis courts, old trees, a public swimming pool and the "Seven Canyons" water feature.
A beloved pond featuring paddleboats and an island gazebo has been closed due to a June 2010 oil spill in Red Butte Canyon that made its way into the pond. Intensive cleanups have been under way ever since, with a re-opening set for early summer 2011. Petersen says to check out Tracy Aviary (589 E. 1300 South, 801-322-2473) where there is always "some neat bird exhibit."
Also try: Southeast Asian Market (422 E. 900 South, 801-363-5474) for fresh produce and exotic sauces, Beans & Brews (906 S. 500 East, 801-521-5221) for sipping java with the locals and Herman Franks Dog Park (1300 S. 700 East) to let your furry friends play off-leash.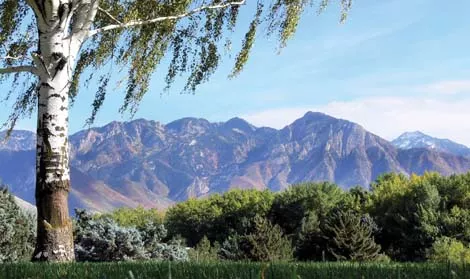 Sugar House
Local merchants are moving forward after the community outcry over what's commonly called the "Sugarhole," a stalled private development that forced shops to relocate and left a ragged lot in its wake. Sugarhouse Coffee (2011 S. 1100 East, 801-486-3311) owner Bob Evans thinks whatever ends up being built on the Sugarhole won't change the 'hood's vibrancy. "Sugar House is still the neighborhood to be in," he says, especially with the promise of the Sugar House streetcar to be funded with a $26 million transit award. Evans says Sugar House is known for its active community council and merchant group. Some of his favorite haunts are Trifecta (1940 S. 1100 East, 801-364-4606) for floral art; Pib's Exchange (1147 Ashton Ave., 801-484-7996) for eclectic and hipster used clothing; and parks including Fairmont Park's skate park, soccer field and swimming facility and Sugar House Park (pictured above) for large get-togethers. Also try: Blue Boutique (1383 E. 2100 South, 801-485-2072) for lingerie, adult toys and a huge selection of cute shoes, or Omar's Rawtopia (2148 Highland Drive, 801-486-0332) for raw, vegan-friendly fare.
Up, Up & Away
Some people like to get high—high above the inversion and downtown's bustle. There are several distinct neighborhoods that fit the bill.
Capitol Hill/ Marmalade
Emily Gassmann, owner of Em's (pictured at left, 271 Center St. 801-596-0566), says that in addition to bureaucrats clad in gray suits slipping over to her eatery from the nearby Capitol, her eclectic clientele from the neighborhood includes "hipsters, retirees, gays, straights, conservatives, people bringing in pears from their garden ... jeez, everyone you could imagine." After you enjoy her modern organic cuisine, Gassmann suggests seeing a play at Salt Lake Acting Company (168 W. 500 North, 801-363-7522. Also, City Creek Canyon is great for a hike or bike ride. Or, take in the architecturally beautiful, marbled interior of the Utah Capitol (350 N. Main, 801-538-3000) or the serene Memory Grove (135 E. North Temple) for a stroll, picnic or to see engaged couples posing for pictures.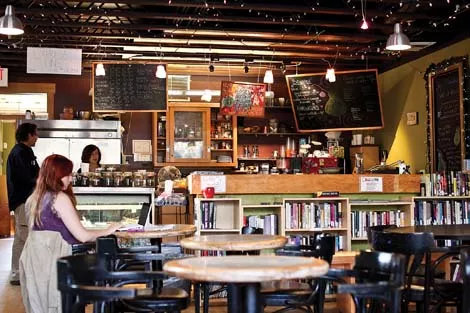 Down the hill and to the west, you'll find that a wall of Cafe Marmalade (pictured at left, 361 N. 300 West, 801-746-2884) is covered floor to ceiling with books—Utah's largest LGBT library. "It's true, [Marmalade District] is the 'gayborhood,' especially for younger folks," says cafe manager Jazzlyn Huerta. The cafe adjoins the Utah Pride Center (361 N. 300 West, 801-539-8800). "I feel like it's the safest neighborhood," says Huerta. "And, ACLU Utah and the Humanities Center being here helps." People regularly stroll around the sometimes-cobbled streets named after marmalade fruits. Huerta recommends Club Jam (751 N. 300 West, 801-891-1162) for a night out.
Hidden gem: Gassman recommends a Clint Street historic homes walking tour on Capitol Hill. Huerta adds, "The beautiful sandstone staircase around Apricot and Center Street. Locals walk their dogs there and just admire its beauty."
Avenues
"The Avenues is a self-sufficient neighborhood," says Dean Pierose, owner of Cucina Deli (pictured at left, 1026 E. Second Ave., 801-322-3055). "If you work from home, you don't have to cross South Temple." With its delicious lunches and bottomless cups of coffee, Cucina—open 365 days a year—is a great place for locals to meet up. "At least once a week, a dog escapes from a nearby home and comes to Cucina, because that's where [owners] go several times a week—they know it," Pierose says with a laugh.
"The Shoreline Trail right above the Avenues is great for biking and hikes," Pierose recommends. "And, definitely visit Utah's largest cemetery (Salt Lake Cemetery, 200 N St., 801-596-5020) because there's just tons of history [and interesting tombstones—Mormon and gentile]."
Also check out some beautiful architecture in the area with Governor's Mansion (603 W. South Temple, 801-538-1005), the Masonic Temple (50 E. South Temple, 801-363-2550) and the Cathedral of the Madeleine (331 E. South Temple, 801-328-8941).
Hidden gem: "We sometimes watch the sun set over the governor's mansion from the wall at Eighth Ave. and A Street," Pierose says.
University/Foothill
The dine-in underground pizzeria The Pie (pictured at left, 1320 E. 200 South, 801-582-0193) is a U of U staple, where students (and their professors) eat, drink beer and run into random friends. "I really like the area because of the young culture. Some of them aren't even going to school, " says manager David Smalley. "It's a cool cultural hub in a conservative state. "
Smalley's neighborhood recommendations focus on fun. "Go to Graywhale (208 S. 1300 East, 801-583-3333), a record store with occasional free shows. See a play at Pioneer Memorial Theatre (300 S. 1400 East, 801-581-6961) or unique musical performances at Kingsbury Hall (1395 Presidents Circle, 801-581-7100)." Sporting events are fun, too. "On game days at Rice-Eccles Stadium (451 S. 1400 East, 801-581-5445), everybody is wearing red—it just explodes," Smalley says.
Also try: Red Butte Garden, a great place to catch a summer concert in the amphitheater—last year's acts included Willie Nelson, John Prine and Joss Stone; Utah Museum of Fine Art (410 Campus Center Dr., 801-581-7332); and the Utah Museum of Natural History (in the process of relocating to new quarters near Research Park in 2011 and being renamed the Rio Tinto Center).
Nothing's sweeter after a bike ride up Emigration Canyon than a creamy gelato. Bella Citta Gelato & Cafe (1330 S. Foothill, 801-938-5163), in Foothill Village, is a neighborhood gathering spot. The shopping mall, with its one-off boutiques, "is a huge draw," says manager Alex Eskamani, making it a perfect shopping magnet for the surrounding neighborhoods. Foothill Village is also home to MacCool's Public House (pictured at left, 1400 Foothill Drive, No. 166), which has the ambiance to match its Irish fare—plenty of potatoes, cheese and, of course, corned beef and beer. Eskamani also recommends Hogle Zoo (2600 E. Sunnyside Ave., 801-582-1847) and This is the Place Heritage Park (2601 E. Sunnyside Ave., 801-582-1847) for family outings and historical fun.
Hidden gem: Tutoring Toy (1400 Foothill Drive, No. 108, 801-581-1060) has toys sure to please kids of every age, from teething rings to board games to science kits.
By the Nubmers
It's as easy as 1-2-3, A-B-C—in fact, even easier. Whether it was clever marketing or organic process, many neighborhoods with double-numbered street intersections have sprouted up. Either way, they're some of the most eclectic in town.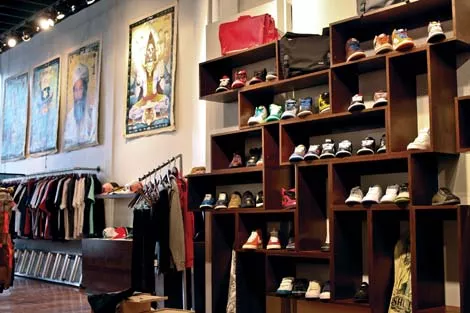 2nd & 2nd
The smallest-numbered and smallest-size 'hood, 2nd & 2nd still packs character and charm. While the buildings date to the 1800s, the locals are young and hip, drinking beers or smoking hookahs on the block. Second to East Broadway, they're art-crazy. During Gallery Stroll, clothing store FICE (pictured at left, 160 E. 200 South, 801-364-4722) has exhibitions and occasional concerts in back. Copper Palate Press (160 E. 200 South, 801-633-9470), a screen-printing cooperative, is located behind FICE and several artists live and work in lofts.
Hidden gem: Este Pizza Company's (156 E. 200 South, 801-363-2366) first-Monday Motorcycle Night. "It's the new hipster thing to be into motorcycles," manager Brook Lund says.
9th & 9th
There's a certain pride that 9th & 9th dwellers have about their eclectic 'hood, especially after 9th & 9th's 2007 face lift. Its proximity to Liberty Park, its streets that now have bike lanes, its brick rambler homes, its kinetic sculptures—"The Nine Muses"—and green benches make a welcoming environment. The wrought-iron "9th & 9th" sign beckons those driving eastward on 900 South to visit the intersection's restaurants and shops.
On any given day, you could lounge around for hours with the locals at Coffee Garden (898 E. 900 South, 801-355-3425) after a yoga session at Centered City Yoga (pictured at left, 918 E. 900 South, 801-521-9642) or take a date for dinner and an indie flick—at Pago (878 S. 900 East, 801-532-0777) then Tower Theatre (876 E. 900 South, 801-521-0310).
15th & 15th
15th & 15th is "the shopping oasis in the middle of a neighborhood," most shops locally owned with many owners living in the 'hood," says King's English Bookshop (1511 S. 1500 East, 801-484-9100) manager Anne Holman. "We're surrounded by long-standing homes and families that have been here for generations. In the mornings and afternoons, people are coming and going—it's a walkable community," Holman says.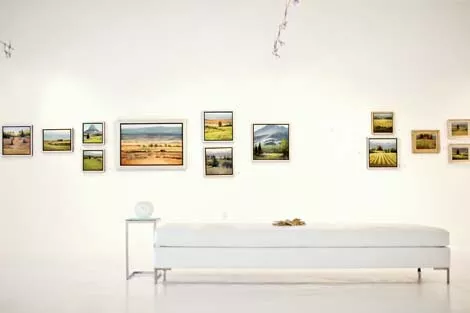 Spending a day in the neighborhood entails King's English storytime and book-browsing or evening-ending book readings by local and national authors. "If you go to Mazza (1515 S. 1500 East, 801-484-9259), you're getting the best food in the city. 15th Street Gallery (pictured at left, 1519 S. 1500 East, 801-468-1515) also makes for a really nice [gallery] stroll," Holman says.
Hidden gem: Garfo Art Gallery's (1838 S. 1500 East, 801-474-3796) many excellent art installations.
21st & 21st
Nothing beats weekend brunch at Blue Plate Diner (pictured below, 2041 S. 2100 East, 801-463-1151)—try its eggs Benedict. There's also shopping for eclectic prints and posters at artist Leia Bell's Signed & Numbered (2105 E. 2100 South, 801-593-2096). Get lost in the horticultural jungle at Cactus & Tropicals (2735 S. 2000 East, 801-485-2542).