Page 2 of 4
West Siders
A kaleidoscope of culture, from colorful ranch-style homes to the wafting smells of ethnic cooking, the west side is a hidden gem in and of itself.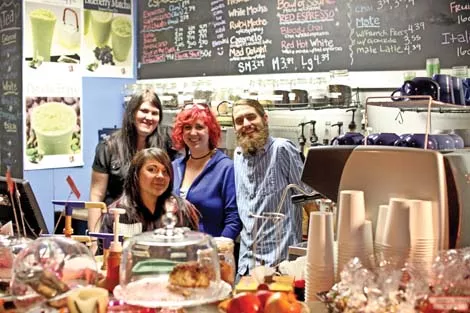 Rose Park
Mestizo Coffeehouse and Art Gallery (pictured at left, 641 W. North Temple Suite 700, 801-596-0500) wants to bridge the east and west sides of the city. So, it's no surprise it's a cultural hub. "We have every kind of little group out there—atheists to a Presbyterian Church to transgender groups," says coffeehouse manager David Galvan. "That's why I moved over here, to get beyond a homogeneous atmosphere. [The neighborhood is] really cohesive," Galvan says.
Construction of a viaduct for a new airport TRAX line has parts of North Temple closed until it is completed in the fall of 2011. However, businesses are still vibrant and open for business.
Galvan recommends Red Iguana (736 W. North Temple, 801-322-1489) for its mole; the Northwest Multipurpose Center (1300 W. 300 North, 801-596-0072) for sports and recreation and the Jordan River Parkway, spanning 40 miles, for amazing bike rides. Also try September's 11-day state fair extravaganza at the Utah State Fairpark (155 N. 1000 West, 801-538-8400).
Hidden gem: Steenbilk's Park "Dairy Cats" (1100 W. 800 North): four bronze cats, poised to lick the milk pails, pay tribute to the area's historic dairy.
Glendale
This 'hood is as vibrant and diverse as the International Peace Gardens (1060 S. 900 West, 801-974-2411), with its United Nations of landscaping; this cultural diversity is celebrated at Sorenson Unity Center (1383 S. 900 West, 801-535-6533), offering community resources and a gathering center. A magnet for immigrant culture, Glendale's markets, restaurants and bakeries cater to a Spanish-speaking population. One of the largest ethnic stores in town, Super Mercado de las Americas (pictured at left, 1179 Navajo St., 801-972-4585) is worth a stop. During a hot summer day, cool off at Raging Waters (1200 W. 1700 South, 801-974-3300) followed by milkshakes and burgers at Hook and Ladder (1313 California Ave., 801-972-2336), located in the historic Fire Department No. 13.
Hidden gem: The huge-portioned Mexican comfort food at La Frontera (1236 W. 400 South, 801-523-3158).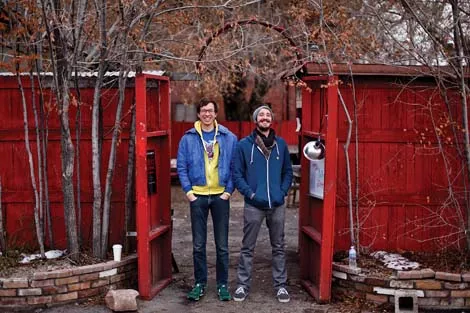 Industrial Artist District
To untrained eyes, the brick-and-concrete warehouse district south of The Gateway looks a tad depressing. However, because the neighborhood is on the fringes, the rents here are within means of many starving artists, making it a natural hub for artists and musicians. All-ages music venue Kilby Court (pictured at left, 750 S. Kilby Court [330 West], 801-364-3538) owner Will Sartain coined it the "industrial artist district" for good reason.
"I'm really proud of the neighborhood," Sartain says. On Kilby Court alone, "there's also a skate ramp, a screen-print gallery, a T-shirt shop and musicians' rehearsal space." Around the corner, The Pickle Company (741 S. 400 West, 801-916-1308) boasts art studios and performance art space. "The neighborhood isn't a place you go just to go, [it's best] when there's events." Also try Frida Bistro (545 W. 700 South, 801-983-6692) for upscale Mexican cuisine in a vibrantly colorful atmosphere.
Hidden gem: Get a deal and dig on some tunes at Salty Streets Flea Market (on Kilby Court, the first Sunday of the month during the summer), thrift shopping on a whole new level. Some of the city's best bands (including Red Bennies and Laserfang) play a set on the dead-end street, while up to 30 vendors sell everything from beat-up vinyl to snowboards.
Southern Pride
There aren't too many places more boastful about their offerings than those south of downtown.
L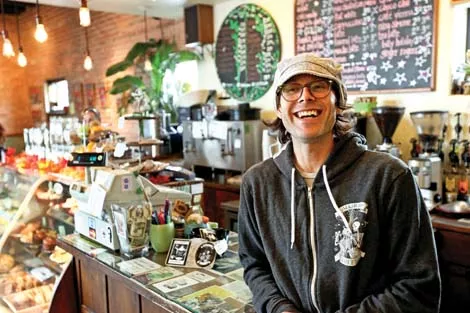 iberty Wells
Called "Sugar Hood" by locals, the area west of Sugar House and north of Interstate 80 is better known as Liberty Wells. "[The neighborhood has] always been a gathering place and still is—from Native Americans to the Mormon's First Encampment to now," says Jason Briggs, owner of Alchemy Coffee (pictured at left, 390 E. 1700 South, 801-322-0735). He's seen drastic change the past five years. "We've kicked out all the meth-heads and, now, all the quaint houses are being quickly bought by first-time homebuyers."
Briggs suggests getting involved in a class at Red Kiln Pottery (393 E. 1700 South, 801-484-4016) or getting a tattoo at Apparition Ink (380 E. 1700 South Suite 2, 801-487-0635). "There's a lot of high-intention stuff going on in the neighborhood," says Briggs. And, Alchemy itself buzzes with monthly art shows and Tuesday's open mic.
Also try: Salt Lake Bees baseball at Spring Mobile Ballpark (77 W. 1300 South, 801-350-6900) or a play/ performance at Salt Lake Community College's Grand Theatre (1575 S. State, 801-957-3322).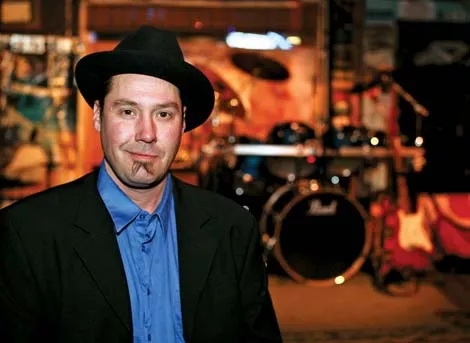 Salt Lake City's best bar crawl is centralized around middle State Street, and the people who live there are as diverse as the bars. Legendary Burt's Tiki Lounge (pictured at left, 726 S. State, 801-521-0572) is "so Salt Lake and so not," says bartender Scotty Kerbein. Out-of-towners feel comfortable here. "If you want to get into something that's seedier and has more history, you come down here," says Kerbein, who claims a saloon stood in the same spot as Burt's 150 years ago. "They were basically doing the same thing then that I'm doing today."
Besides Burt's, he recommends The Bayou (645 S. State, 801-961-8400) for its beer selection or The State Room (638 S. State, 800-501-2885) for live music, which in recent months has featured acts such as Brandi Carlile, OK Go and Yard Dogs Road Show, among others. Locals walk over for their taco fix at the 800 South and State Street concentration of "the city's finest taco carts." Also, more than 10 tattoo parlors, including Big Deluxe (662 S. State, 801-595-1186), dot the area.
Hidden gem: The florescent rooster at Earl Jones' studio (an old gas station at 404 E. 1700 South): It's lit during figurative-drawing classes. They put the model on an old car lift—pretty cool stuff," Alchemy Coffee's Briggs says.