Page 3 of 4
Trolley Square
Trolley Square, originally built to serve as a car barn for Salt Lake City's historic trolley lines from 1908-1945, has gone through several owners and renovations since it opened as a mall in 1971. The most recent remodel began in 2007 and is mostly complete. "Despite all the remodeling, there are still a lot of really cool old buildings. They're gorgeous," says Chris Haas, head brewmaster of Desert Edge Brewery at The Pub (pictured at left, 600 S. 700 East, 801-521-8917).
Through it all, Haas says Trolley has "always had a strange collection of eclectic merchants," with Desert Edge in residence for 30 years along with other stalwarts like stationery and gift shops Tabula Rasa (552 S. 602 East, 801-575-5043) and Cabin Fever (552 S. 602 East, 801-363-0828).
Haas enjoys the fact that the surrounding residential neighborhood attracts a wide range of people—young folks in rentals to historic home-loving couples. "All the coolest things seem hidden because it's residential"—referring to tucked-away Gilgal Garden (749 E. 500 South), a sculpture garden and labor of love by the late Thomas Child and horticultural haven Western Gardens (550 S. 600 East, 801-364-7871).
Hidden gem: Downstairs in Trolley Square: "There's a 'not-quite museum,' with historic pictures and plaques of the old trolley-barn buildings," Haas says.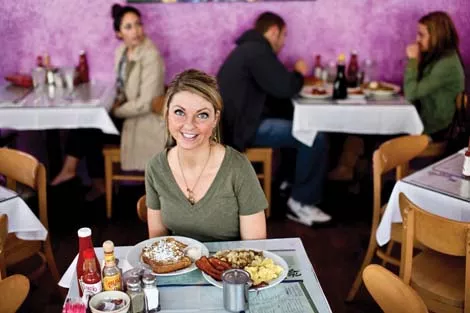 Liberty Park
Randi Petersen, owner of The Park Cafe (pictured at left, 604 E. 1300 South, 801-487-1670), lives just two blocks from the restaurant. "Everyone's really nice; it's a big community that takes care of each another," Petersen says. Locals often bump into one another while waiting for, or eating, weekend breakfasts—a great place to meet a new friend. "I personally know of over 100 friendships that have formed here," Petersen says.
Aside from dining at The Park Cafe, the main attraction is Liberty Park, at 80 acres. "Sometimes, public parks can be sketchy—not here," Petersen says. Liberty has an amusement park, horseshoe pits, year-round tennis courts, old trees, a public swimming pool and the "Seven Canyons" water feature.
A beloved pond featuring paddleboats and an island gazebo has been closed due to a June 2010 oil spill in Red Butte Canyon that made its way into the pond. Intensive cleanups have been under way ever since, with a re-opening set for early summer 2011. Petersen says to check out Tracy Aviary (589 E. 1300 South, 801-322-2473) where there is always "some neat bird exhibit."
Also try: Southeast Asian Market (422 E. 900 South, 801-363-5474) for fresh produce and exotic sauces, Beans & Brews (906 S. 500 East, 801-521-5221) for sipping java with the locals and Herman Franks Dog Park (1300 S. 700 East) to let your furry friends play off-leash.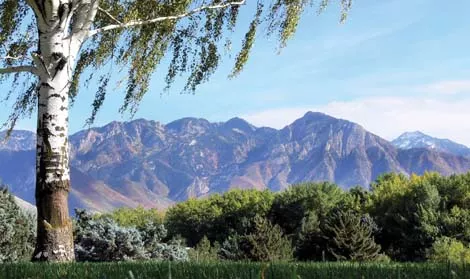 Sugar House
Local merchants are moving forward after the community outcry over what's commonly called the "Sugarhole," a stalled private development that forced shops to relocate and left a ragged lot in its wake. Sugarhouse Coffee (2011 S. 1100 East, 801-486-3311) owner Bob Evans thinks whatever ends up being built on the Sugarhole won't change the 'hood's vibrancy. "Sugar House is still the neighborhood to be in," he says, especially with the promise of the Sugar House streetcar to be funded with a $26 million transit award. Evans says Sugar House is known for its active community council and merchant group. Some of his favorite haunts are Trifecta (1940 S. 1100 East, 801-364-4606) for floral art; Pib's Exchange (1147 Ashton Ave., 801-484-7996) for eclectic and hipster used clothing; and parks including Fairmont Park's skate park, soccer field and swimming facility and Sugar House Park (pictured above) for large get-togethers. Also try: Blue Boutique (1383 E. 2100 South, 801-485-2072) for lingerie, adult toys and a huge selection of cute shoes, or Omar's Rawtopia (2148 Highland Drive, 801-486-0332) for raw, vegan-friendly fare.
Up, Up & Away
Some people like to get high—high above the inversion and downtown's bustle. There are several distinct neighborhoods that fit the bill.
Capitol Hill/ Marmalade
Emily Gassmann, owner of Em's (pictured at left, 271 Center St. 801-596-0566), says that in addition to bureaucrats clad in gray suits slipping over to her eatery from the nearby Capitol, her eclectic clientele from the neighborhood includes "hipsters, retirees, gays, straights, conservatives, people bringing in pears from their garden ... jeez, everyone you could imagine." After you enjoy her modern organic cuisine, Gassmann suggests seeing a play at Salt Lake Acting Company (168 W. 500 North, 801-363-7522. Also, City Creek Canyon is great for a hike or bike ride. Or, take in the architecturally beautiful, marbled interior of the Utah Capitol (350 N. Main, 801-538-3000) or the serene Memory Grove (135 E. North Temple) for a stroll, picnic or to see engaged couples posing for pictures.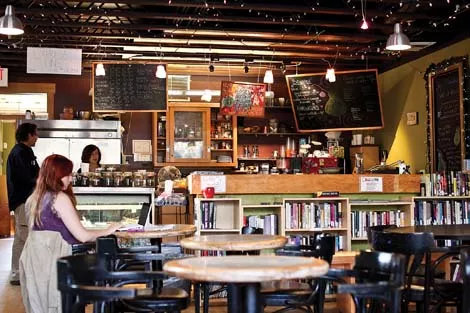 Down the hill and to the west, you'll find that a wall of Cafe Marmalade (pictured at left, 361 N. 300 West, 801-746-2884) is covered floor to ceiling with books—Utah's largest LGBT library. "It's true, [Marmalade District] is the 'gayborhood,' especially for younger folks," says cafe manager Jazzlyn Huerta. The cafe adjoins the Utah Pride Center (361 N. 300 West, 801-539-8800). "I feel like it's the safest neighborhood," says Huerta. "And, ACLU Utah and the Humanities Center being here helps." People regularly stroll around the sometimes-cobbled streets named after marmalade fruits. Huerta recommends Club Jam (751 N. 300 West, 801-891-1162) for a night out.
Hidden gem: Gassman recommends a Clint Street historic homes walking tour on Capitol Hill. Huerta adds, "The beautiful sandstone staircase around Apricot and Center Street. Locals walk their dogs there and just admire its beauty."