Page 4 of 4
Avenues
"The Avenues is a self-sufficient neighborhood," says Dean Pierose, owner of Cucina Deli (pictured at left, 1026 E. Second Ave., 801-322-3055). "If you work from home, you don't have to cross South Temple." With its delicious lunches and bottomless cups of coffee, Cucina—open 365 days a year—is a great place for locals to meet up. "At least once a week, a dog escapes from a nearby home and comes to Cucina, because that's where [owners] go several times a week—they know it," Pierose says with a laugh.
"The Shoreline Trail right above the Avenues is great for biking and hikes," Pierose recommends. "And, definitely visit Utah's largest cemetery (Salt Lake Cemetery, 200 N St., 801-596-5020) because there's just tons of history [and interesting tombstones—Mormon and gentile]."
Also check out some beautiful architecture in the area with Governor's Mansion (603 W. South Temple, 801-538-1005), the Masonic Temple (50 E. South Temple, 801-363-2550) and the Cathedral of the Madeleine (331 E. South Temple, 801-328-8941).
Hidden gem: "We sometimes watch the sun set over the governor's mansion from the wall at Eighth Ave. and A Street," Pierose says.
University/Foothill
The dine-in underground pizzeria The Pie (pictured at left, 1320 E. 200 South, 801-582-0193) is a U of U staple, where students (and their professors) eat, drink beer and run into random friends. "I really like the area because of the young culture. Some of them aren't even going to school, " says manager David Smalley. "It's a cool cultural hub in a conservative state. "
Smalley's neighborhood recommendations focus on fun. "Go to Graywhale (208 S. 1300 East, 801-583-3333), a record store with occasional free shows. See a play at Pioneer Memorial Theatre (300 S. 1400 East, 801-581-6961) or unique musical performances at Kingsbury Hall (1395 Presidents Circle, 801-581-7100)." Sporting events are fun, too. "On game days at Rice-Eccles Stadium (451 S. 1400 East, 801-581-5445), everybody is wearing red—it just explodes," Smalley says.
Also try: Red Butte Garden, a great place to catch a summer concert in the amphitheater—last year's acts included Willie Nelson, John Prine and Joss Stone; Utah Museum of Fine Art (410 Campus Center Dr., 801-581-7332); and the Utah Museum of Natural History (in the process of relocating to new quarters near Research Park in 2011 and being renamed the Rio Tinto Center).
Nothing's sweeter after a bike ride up Emigration Canyon than a creamy gelato. Bella Citta Gelato & Cafe (1330 S. Foothill, 801-938-5163), in Foothill Village, is a neighborhood gathering spot. The shopping mall, with its one-off boutiques, "is a huge draw," says manager Alex Eskamani, making it a perfect shopping magnet for the surrounding neighborhoods. Foothill Village is also home to MacCool's Public House (pictured at left, 1400 Foothill Drive, No. 166), which has the ambiance to match its Irish fare—plenty of potatoes, cheese and, of course, corned beef and beer. Eskamani also recommends Hogle Zoo (2600 E. Sunnyside Ave., 801-582-1847) and This is the Place Heritage Park (2601 E. Sunnyside Ave., 801-582-1847) for family outings and historical fun.
Hidden gem: Tutoring Toy (1400 Foothill Drive, No. 108, 801-581-1060) has toys sure to please kids of every age, from teething rings to board games to science kits.
By the Nubmers
It's as easy as 1-2-3, A-B-C—in fact, even easier. Whether it was clever marketing or organic process, many neighborhoods with double-numbered street intersections have sprouted up. Either way, they're some of the most eclectic in town.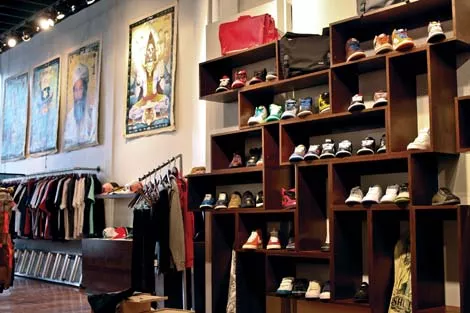 2nd & 2nd
The smallest-numbered and smallest-size 'hood, 2nd & 2nd still packs character and charm. While the buildings date to the 1800s, the locals are young and hip, drinking beers or smoking hookahs on the block. Second to East Broadway, they're art-crazy. During Gallery Stroll, clothing store FICE (pictured at left, 160 E. 200 South, 801-364-4722) has exhibitions and occasional concerts in back. Copper Palate Press (160 E. 200 South, 801-633-9470), a screen-printing cooperative, is located behind FICE and several artists live and work in lofts.
Hidden gem: Este Pizza Company's (156 E. 200 South, 801-363-2366) first-Monday Motorcycle Night. "It's the new hipster thing to be into motorcycles," manager Brook Lund says.
9th & 9th
There's a certain pride that 9th & 9th dwellers have about their eclectic 'hood, especially after 9th & 9th's 2007 face lift. Its proximity to Liberty Park, its streets that now have bike lanes, its brick rambler homes, its kinetic sculptures—"The Nine Muses"—and green benches make a welcoming environment. The wrought-iron "9th & 9th" sign beckons those driving eastward on 900 South to visit the intersection's restaurants and shops.
On any given day, you could lounge around for hours with the locals at Coffee Garden (898 E. 900 South, 801-355-3425) after a yoga session at Centered City Yoga (pictured at left, 918 E. 900 South, 801-521-9642) or take a date for dinner and an indie flick—at Pago (878 S. 900 East, 801-532-0777) then Tower Theatre (876 E. 900 South, 801-521-0310).
15th & 15th
15th & 15th is "the shopping oasis in the middle of a neighborhood," most shops locally owned with many owners living in the 'hood," says King's English Bookshop (1511 S. 1500 East, 801-484-9100) manager Anne Holman. "We're surrounded by long-standing homes and families that have been here for generations. In the mornings and afternoons, people are coming and going—it's a walkable community," Holman says.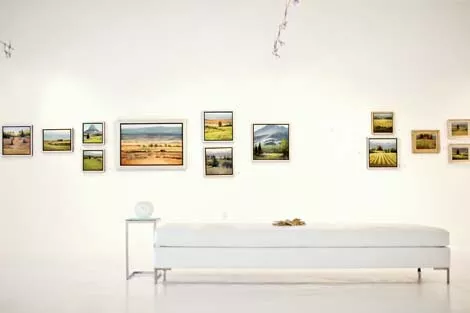 Spending a day in the neighborhood entails King's English storytime and book-browsing or evening-ending book readings by local and national authors. "If you go to Mazza (1515 S. 1500 East, 801-484-9259), you're getting the best food in the city. 15th Street Gallery (pictured at left, 1519 S. 1500 East, 801-468-1515) also makes for a really nice [gallery] stroll," Holman says.
Hidden gem: Garfo Art Gallery's (1838 S. 1500 East, 801-474-3796) many excellent art installations.
21st & 21st
Nothing beats weekend brunch at Blue Plate Diner (pictured below, 2041 S. 2100 East, 801-463-1151)—try its eggs Benedict. There's also shopping for eclectic prints and posters at artist Leia Bell's Signed & Numbered (2105 E. 2100 South, 801-593-2096). Get lost in the horticultural jungle at Cactus & Tropicals (2735 S. 2000 East, 801-485-2542).