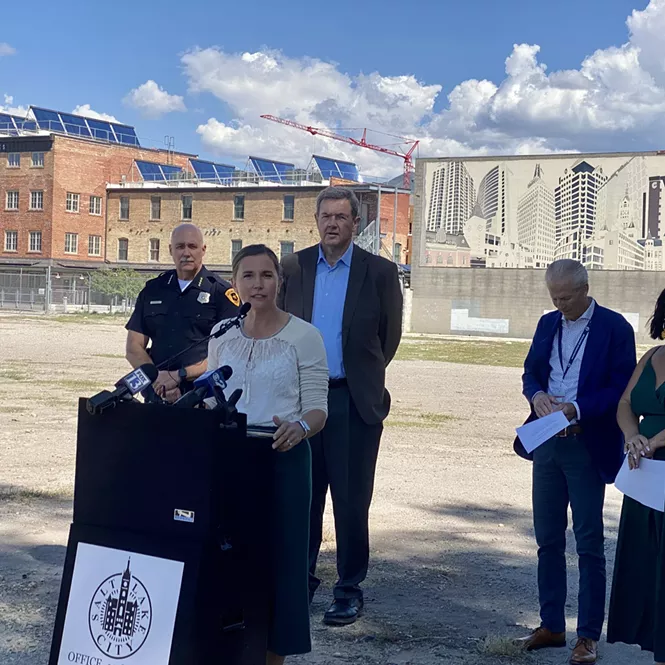 Benjamin Wood
Salt Lake City Mayor Erin Mendenhall announces the launch of a sanctioned camping pilot near Salt Lake Central Station on Thursday, Sept. 14, 2023.
DEPOT DISTRICT—A vacant plot of city-owned land west of downtown will host up to 50 temporary shelters this winter in the state's first test of sanctioned camping for Utahns experiencing homelessness.
News of the project was first reported by Building Salt Lake on Wednesday, before city and state leaders held a press conference at 600 South and 300 West. Describing something more akin to a tinier home village than the tent yard at a KOA, state homeless services coordinator Wayne Niederhauser said the campsite will consist of a cluster of small structures, each with four walls and a roof, locking doors, windows, heating and cooling units, storage space and electrical outlets. He estimated the cost-per-unit at between $10,000 and $15,000, though the specific models will be dependent on a public bidding process.
The campsite is planned to operate in Salt Lake City for six months, Niederhauser said, at which point it will close and the state will launch and operate a permanent sanctioned camping site at an as-yet-unannounced location.
"Our anticipated opening [for phase 2] will be in the spring," he said. "These units are mobile, so we'll be able to take them from here and move them to the more permanent site ."
Mayor Erin Mendenhall said planners looked at similar sanctioned camping programs operating around the country, and that city departments from law enforcement to the yellow-coated Downtown Ambassadors will be working to ensure the success of the pilot and that it remains safe for both the unsheltered residents who use its services and the surrounding neighborhood.
"Out of sight, out of mind is not a solution and it is not humane," Mendenhall said. "We are excited to prove, here, that this model can work in the state of Utah with the right partnerships and the right leadership."
The temporary site is located between the historic Rio Grande Depot and the Utah Transit Authority's Salt Lake Central Station on 600 West. Despite it's proximity to downtown and it's obvious potential for transit-oriented development, the parcel has sat stagnant for years under the control of the city's Redevelopment Agency (RDA).
Mendenhall said it became clear that the state's sanctioned camping program would not be ready by the coming winter, leading to a review of city-owned properties that could quickly fill in. The space will be activated under temporary orders, she said, rather than a permanent change to the area's zoning as would occur with the siting of a new homeless resource center.
"This was the location we felt that we could most efficiently get the services to—including power, which we still have to do," she said.
But while this particular site may not permanently host sanctioned camping, Mendenhall said she hopes a successful launch can lead to other projects like it—and the similar-but-unrelated Tiny Home Village on Redwood Road—not just within the city but in cities throughout Utah.
"People are losing housing in every city in the state of Utah and they shouldn't have to leave their communities and come into Ogden, Salt Lake City or St. George to get services," Mendenhall said. "They should be able to stabilize in their community."
City Councilmember Victoria Petro said that expanding housing options for those experiencing homelessness has been a priority since she was first elected. She said the closest she's personally come to the issue of homelessness is as a case worker, but suggested that it must be "absolutely excruciating" for the unsheltered themselves.
"The experience of it has to be one of the toughest crucibles of modern life," Petro said.
Petro suggested that Salt Lake City has been "underwater" on homelessness, but added that the sanctioned camping pilot is representative of the city touching ground and pushing back up to the surface.
"We know this isn't a silver bullet," she said. "We know that there is no such thing as a silver bullet when it comes to a humanitarian crisis, and this homelessness crisis in particular."
Sign up for the City Weekender newsletter to get City Weekly content delivered to your inbox each Thursday.