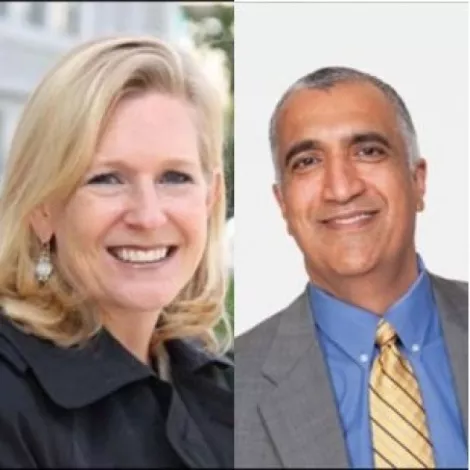 When it came time to vote at the March 23, 2010, Republican caucus meeting at West Jordan High School, an elderly man approached Salt Lake County District Attorney Lohra Miller.
"You're pretty," he said.
"And I'm intelligent, too," Miller fired back.
It's not only looks and smarts that will matter to voters when they decide on incumbent Miller or Democratic candidate and Salt Lake City prosecutor Sim Gill for Salt Lake County District Attorney. Gill hopes "the litany" of critical headlines from Miller's first term in office, which rattle like Marley's chains behind her, will also be a factor. But whether the bitter, often personal invective that characterizes the opinion of Miller from within the legal community and law enforcement even registers in the south end of the valley—where she says the core of her support resides—is hard to tell.
Walking to her campaign office above the Wells Fargo building garage in downtown Salt Lake City, Miller wearily opines that many of her problems stem from "misinterpretation." She cites a recent lawsuit from the Utah Defense Lawyers Association challenging her office's decision to charge defendants $25 for discovery. It accuses her of having a public relations operation that rivals the Los Angeles County District Attorney in size. In reality, Miller says, she has had only three staffers, all of whom served at separate times.
She also points out that her predecessor, Democrat David Yocom, had his own "perception issues." The District Attorney's office that Miller says she inherited "was a good ol' boys club," which is why Gill's slogan, "A return to integrity," amuses her.
"I stepped on a few toes," she says. "I suspect you don't make change without paying." Most notable among those toes were veteran prosecutor Kent Morgan's, whose firing, subsequent re-hiring and eventual settlement with the county cost taxpayers $325,000. Her critics say her fight with Morgan over allegations that he leaked information to a criminal defendant was vindictive, because Morgan ran against her for the Republican district attorney nomination in 2006.
Miller says she didn't plan to run for a second term because the negative publicity during her first term "was tough on my kids and hard on my husband." But then, she secured a $750,000 grant for her plan to reform the criminal justice system across multiple agencies and reduce the burden of recidivism by getting one third of all criminal cases dealt with within 30 days.
Gill says he decided to stand a second time when he saw "the brain drain" of experienced attorneys leaving an office he had himself served in for 15 years. "There's an undercurrent of fear of reprisals [at the District Attorney's office], of being retaliated against for speaking your mind," he says. He points to several anonymous internal complaints at the District Attorney's office about a comment made by a deputy DA who Miller had hired, to wit: "No soccer mom ... will vote for someone with brown skin and the name of Simarjit." Gill questions both the offices's leadership and its future if such comments pass as "responsible behavior." Miller angrily counters that Gill is deliberately misconstruing a condemnation of racism as being racist.
The contrast between the erudite, Indian-born Gill and the statuesque blonde who, pre-DA, could often be found at her lunch hour in West Jordan hunting birds with her falcon, could not be more striking. While one of their few similarities is that both candidates are criticized in the legal community for micromanaging cases—something they adamantly deny—one fundamental difference is in courtroom experience. Gill is an experienced felony prosecutor, while Miller, with her background in misdemeanor cases in justice courts, is not. She says she started to do a domestic-violence felony prosecution after becoming district attorney, but running a $20 million budget, 230-employee entity left her "too busy" to make it to court.
There is also another notable difference in this year's election: Republican support. Many of the municipal and legal backers she had in 2006 have now defected to Gill.
Former longtime county prosecutor Bud Ellett introduced Miller to people in the District Attorney's office in 2002, when she decided to run the first time. But he describes the handling of the Morgan affair as "atrocious," and he is a vocal Gill supporter who accuses Miller of lowering the morale of the office.
Taylorsville Mayor Russ Wall is one of three Republican mayors who switched to Gill to join the long list of Democratic mayors who support him. Wall says, "She went very aggressively against a police officer," who killed a Taylorsville resident in a car crash. After 18 months and Taylorsville having to spend over $100,000 in costs related to the case, Miller's office slapped the cop with traffic offenses. But when Wall asked her to prosecute an Internet-gambling company on Taylorsville soil, he says, she refused. "I don't believe she delivered on her promises, on her commitment to be fair."
Miller admits she was surprised by several endorsements for Gill by municipalities where she and her husband had worked. "I think they expected me to be more proactive looking out for their interests."
Wall muses dryly, "She said she was a friend of the police—she wasn't fond of our department."
One indicator of police support is the crucial endorsement of the Fraternal Order of Police [FOP], which represents the rank and file of officers. The story behind its dual endorsement of Miller and Gill in early October 2010 echoes other controversies surrounding Miller and allegations of behind-the-scenes shenanigans.
Previously, individual FOP lodges had endorsed candidates, effectively canceling each other out. This summer, the FOP's board decided on a new policy, says FOP president Chad Soffe. The seven-member executive board and a representative from each of the 18 Salt Lake valley lodges would listen to the candidates and recommend one to its members. The lodges would then vote and the committee would make the final decision.
Initially, Gill got the recommendation. But after the candidates were informed of the recommendation, Miller intensively lobbied the individual lodges. Soffe calls Miller's lobbying the act of "a seasoned politician saying I need to talk to everybody." At the same time, another FOP board member could not find the new policy on one of several laptops he was using, resulting in the FOP returning to its original policy. The vote shifted back to the lodges, who, by a slender majority, voted for Miller.
Whether there was a conspiracy or not, with board members conflicted over the result, the FOP endorsed both candidates.
Gill contested the procedure to FOP's board, but won't comment on the endorsement process. Rather than stir the pot, he prefers to ponder the possibility of success. "When I win, I will be the first Indian-born district attorney in the United States' history," he says.
Miller's rueful advice for Gill in that eventuality? "Enjoy the good times."%uFFFD