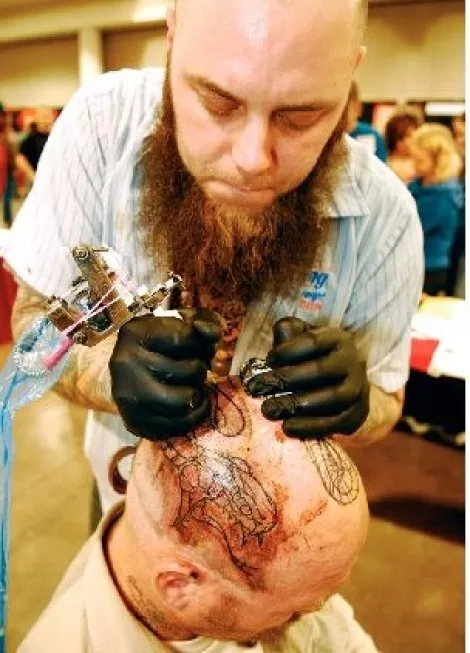 Your body is a temple, says Corinthians.
But most temples are intricately decorated: What would the Sistine Chapel be without Michelangelo's artistic brush? In the spirit of beautifying the "temple" and ornate skin decor, tattoo artists and piercers will join the tattooed and blank canvases alike descending upon Salt Lake City by the thousands to add a colorful flair.
Flaco Productions—CJ Starkey and Nate Drew of Lost Art Tattoo shops (in Salt Lake City and Ogden)—presents the seventh annual convention at the Salt Palace. Compared to other cities' tattoo conventions, Starkey says, "It's becoming one of the biggest successes in the country."
The convention center's floor is transformed into an open-air flesh free-for-all, attracting renowned tattoo artists from the U.S. and beyond. The sounds of a thousand buzzing, tiny ink-filled needles and just-as-tiny squeals from the pricked will fill the air. M.C. Chris Longo will hold daily contests for Tattoo of the Day as well as for Sleeve, Portrait, Black & Grey and Booth categories, to name a few.
The convention is more than just tattoos, however. The "Coquille or Be Killed" art show, with 100 select 8x10 pieces on coquille paper, is new this year. "Picking different mediums [for artistic expression] has become a big thing in the industry," Starkey says. Also, the "Pick Your Seat" exhibit will display and sell 80 artist-painted toilets; most are usable and under $800.
Even if you aren't inclined to get tattooed, bare-skinned strangers squirming under the needle is incredible people-watching potential.

Salt Lake City International Tattoo Convention @ Salt Palace Convention Center, 100 S. West Temple, 801-534-4777, Feb. 12-14, SLCTattoo.com