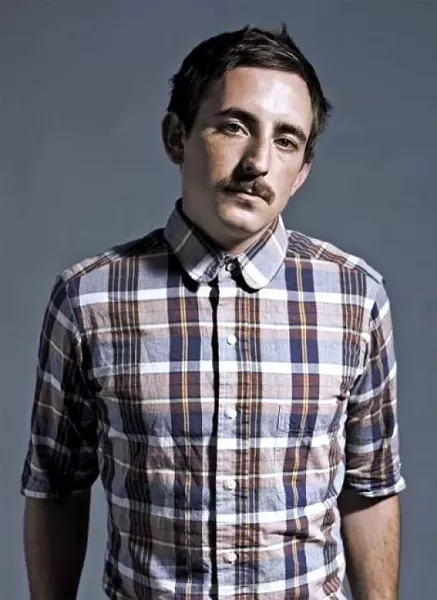 Saturday 12.26 SAMMY BANANAS
Now that this decade is coming to a close, perhaps
Sammy Bananas
' part in '90s revivalism won't seem premature. Besides, the newest artist on indie-dance/hip-hop tastemaker Fool's Gold is reminding folks that the grunge-era also spawned numerous smooth jams and party starters from the likes of En Vogue. Bananas' remix of "Never Gonna Get It" appears on
Braids & Fades
, a four-track soul-sister companion piece to High Top Fades (2008), which funks-up songs suitable for any Jock Jams compilation. Thanks largely to a dope remix of N.E.R.D.'s "Everyone Nose," the rising artist started gaining name recognition that's led to projects remixing Kanye West and Kid Cudi. His sound is fresh, clean and nostalgic for a generation that grew up on his source material.
W Lounge, 358 S. West Temple, 9 p.m.
THE HEATERS, TAUGHTME, FUTURE OF THE GHOST
Has it really been four years since The Heaters got together? Seems like only yesterday the local garage rockers were helping us work up a sweat at Todd's Bar & Grill, stomping out stripped-down jams in skinny jeans with Stooges swagger. The group—Joe Denhalter, Liam Hesselbein, Christopher Volume, Taylor Smith and Milad Mozari—lived fast and died young, er, broke up in 2007. Its members, now scattered across the country and focused on other projects, are reuniting tonight for a special holiday performance along with Future of the Ghost and San Francisco's TaughtMe. The evening doubles as a sweater party, so don all ye Cosby apparel. You might want to layer, though. Things are going to heat up. Urban Lounge, 241 S. 500 East, 10 p.m.
DJ R.O.B.
The Onion's entertainment arm AV Club recently published its annual roundup of worst/funniest/most unusual band names (my personal favorite: Vagina Panther). Next year, the writers should expand their scope to include DJs whose tags are apparently even harder to come by. On paper, an artist like DJ R.O.B. gets lost among a sea of other Robs and Roberts. Fortunately for him, the Las Vegas-based artist has forged relationships with high-profile clubs whose guests never forget a night with R.O.B. His residency at the Palms Casino & Resort is to diverse crowds, and he prides himself on a keen ability to read the audience. If the party people respond to a rock jam, he'll throw another down, and if the hip-hop heads come 'round, he'll cater to their needs, too. R.O.B.'s attentive style ensures a little something for everyone. Downstairs, 625 Main, Park City, 9 p.m. DownstairsParkCity.com
Tuesday 12.29-Thursday 12.31
EVE
For many, 2009 was a rollercoaster ride that ultimately left folks drained and dreaming for something stable up ahead. With that in mind, organizers for Salt Lake City's annual New Year's Eve celebration decided to break with tradition, start from scratch and throw the ultimate bash to usher in 2010. The decision meant tossing out First Night, a veritable institution around these parts, but judging by the lineup, members of the Downtown Alliance made a wise move. Arguably the most brilliant part of Eve, as its originators dubbed the event, is that is spans three days and nights. The added dates make it a whole lot easier to squeeze into competing holiday plans. Busy on NYE? No problem. One Eve wristband ($15) grants attendees all-access entrance from tonight through Thursday. The three-day event also involves multiple venues within walking distance of one another. Entertainment options abound, but this is the music section so listen up for the aural pleasures on tap: Eve kicks off today with Sober Down, Future of the Ghost, Atherton and Charley Jenkins at Gallivan Center; DJ Supa Mario, Royal Bliss and a Battle of the Tribute Bands perform on Pierpont Avenue. On Wednesday, School of Rock All Stars, Discourse, Muscle Hawk and Paul Jacobsen & Madison Arm headline Gallivan, while DJ Brisk and DJ Jazzy Jeff join the Battle of the Tribute Bands at Pierpont. On NYE proper, Sister Audio, Double Or Nothing, Michael Gross & The Statuettes, Tolchock Trio, Neon Trees (above) and Caleb Chapman & Voodoo Orchestra play Gallivan; DJ Jello and DJ Juggy spin at Pierpont with Battle of the Tribute Bands wrapping up on Pierpont. DJs will also be performing every day at an all-ages zone with live graffiti painting on Gallivan Avenue.
Note: City Weekly is an Eve sponsor.
Complete details available online at EveSLC.com



Coming Up


Eve
(Multiple Venues, Dec. 30-31);
DJ Mom Jeans
(Downstairs, Dec. 31);
Justin Rinker, Sektor 7
(W Lounge, Dec. 31);
Donald Glaude, DJ Dan
(Great Saltair, Dec. 31);
Wainwright Family Christmas
(Eccles Center, Dec. 31);
Hangover Ball
(Abyss, Jan. 1);
Super Diamond
(Depot, Jan. 2);
Eek-a-Mouse, James Shook
(Urban Lounge, Jan. 2);
Reverend Horton Heat
(The Depot, Jan. 3);
David Gans
(The State Room, Jan. 5);
Reel Big Fish
(Murray Theater, Jan. 9)