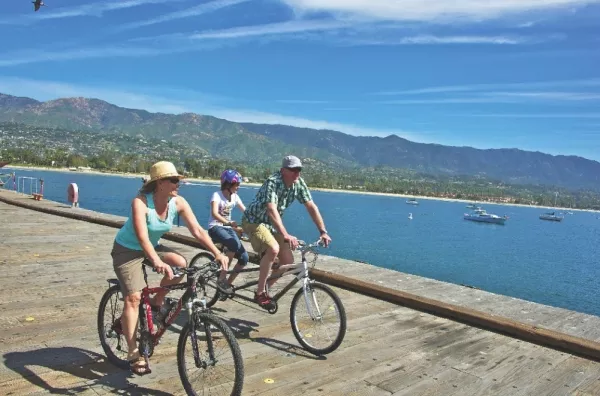 Each coastal town in Southern and Central California has its own unique vibe, and Santa Barbara is no exception. Although it's billed as the glamorous "American Riviera" for the elite, it's actually a very accessible beach town, open to visitors of all types.
While Santa Barbara hosts polo matches with English royalty, it's also a place to find a quaint B&B near the beach, walk to wine tasting rooms in the "Funk Zone" or camp out in a canyon. Even when you head up and down State Street—the main drag, just like in SLC—you'll find a Saks Fifth Avenue just steps away from a bargain discounter.
Car Free
A big part of what makes Santa Barbara enjoyable is you don't need a car to get around. Many of the hotels have bikes on hand, and it's easy to ride around the downtown and beach areas. There are also electric trolleys, pedicabs and hybrid taxis to take you where you want to go.
The Santa Barbara Car Free project lets visitors get great discounts on hotels, restaurants and activities for going car free. If you fly into LAX, you can take Amtrak or the Santa Barbara Airbus to the station in the center of town.
You can get discounts by showing an Amtrak ticket, proving that you arrived in some car-free way, or you can simply go to SantaBarbaraCarFree.org and print out and sign the pledge that you'll experience Santa Barbara sans car.
Of course, the best way to get around is out on the water. Book a cruise, or try kayaks and paddle-boarding through Santa Barbara Sailing Center (Harbor Way, right side of public boat-launch ramp, 805-962-2826, SBSail.com) located in the harbor.
Don't Go Sideways
It's been almost 10 years since the movie Sideways brought attention to the Santa Barbara wine scene, but you don't have to wander through the vineyards of the nearby Santa Ynez Valley like Paul Giamatti and Thomas Haden Church. Now, visitors can simply walk across the street from the beach to the Funk Zone (FunkZone.net), and find tasting rooms for several wineries. No need to worry about who's driving, as you can walk from one tasting to the next on the Urban Wine Trail (UrbanWineTrailSB.com). Tastings typically start at $8.
Downtown Dining
Many different restaurants are available along the coastline and up and down State Street. It's just a matter of seeing what strikes you while walking or biking along. Persona Neapolitan Pizzeria (905 State, 805-899-4999, PersonaPizzeria.com) takes the popularity of wood-fired Neapolitan pizza and makes it easy and affordable, with a 12-inch Margherita starting at just $6.95, or you can go down the line, cafeteria style, and add your choice of toppings.
There are many American shops that do "English fish & chips," but very few that match what you'd find in Britain. Mac's Fish & Chip Shop (503 State, 805-897-1160, MacsSB.com) falls into the rare latter category, with great cod and sides like mushy peas that are the best we've ever found outside Queen Elizabeth's domain. Get fish, chips and a side for around $10.
Santa Barbara weather provides for comfortable evenings out on the elegant patio at Aldo's Italian Ristorante (1031 State, 805-963-6687, SBAldos.com), where you can enjoy a glass of local wine, with pasta entrees starting at $16.
Santa Barbara Sleep
Many Santa Barbara accommodations sit in residential neighborhoods just a block from the beach. As you walk or bike to the beach, you'll feel right at home. The Old Yacht Club Inn (431 Corona Del Mar Drive, 805-962-1277, OldYachtClubInn.com) really was a yacht club at one time before becoming a bed & breakfast with all sorts of nautical-themed charm, an afternoon wine reception and breakfast of mascarpone-stuffed French toast and poached pears. Rooms start at $119.
The Eagle Inn (232 Natoma Ave., 805-965-3586, TheEagleInn.com) is also part of a quaint neighborhood and has the classic California mission décor and modern rooms—some with jacuzzi tubs. It's the perfect neighborhood to ride through on the complimentary beach cruisers on the way to downtown or the water. Your stay comes with breakfast, where you can try jalapeño waffles. Rooms start at $175.
To enjoy the beautiful countryside surrounding Santa Barbara, head a few miles north to El Capitan Canyon (11560 Calle Real, 866-352-2729, ElCapitanCanyon.com) for "glamping" in a private canyon filled with options ranging from large canvas tents to cabins that can sleep a whole family. Pick up barbecue dinners, firewood and s'mores packets at the on-site store, cook them over your own fire pit, and then head inside to soak in a deep-sunk tub. Accommodations start at $145.
Santa Barbara can be anyone's American Riviera in a town that is beautiful, charming, cultural and accessible—and in a setting where the weather can't be beat.
The Travel Tramps blog about their treks at CityWeekly.net and host The Travel Brigade Show podcast. Follow them on Twitter @travelbrigade.