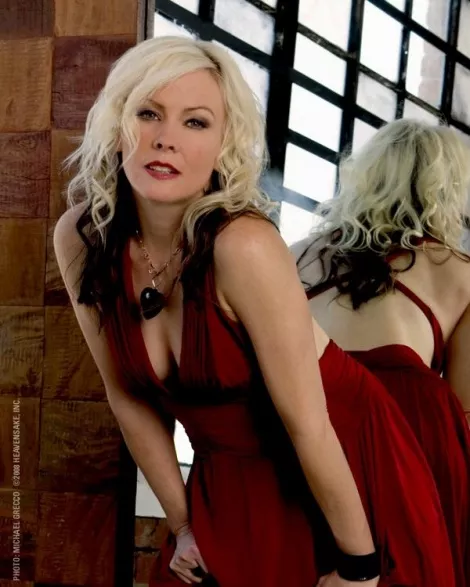 Thursday 12.10
SANTAPALOOZA
Terri Nunn has a soft spot for alt-rock. The leader of '80s pop outfit Berlin recently shared some of her favorite songs as part of iTunes' "celebrity playlist" series, including in the mix Jane's Addiction, Alice in Chains, Nine Inch Nails and Foo Fighters. Nunn's taste might seem surprising for those familiar only with her breathy Top Gun theme, but she propelled plenty of punk/new-wave hits with enough attitude to hold her own against all those angsty young men. Seriously. Take another listen to "No More Words" and "Metro"—tough, yet danceable! Check out Nunn and Berlin tonight when they headline Santapaolooza, a benefit concert with local openers Cameron Rafati and Alex Boye. Proceeds will help a Utah family secure housing just in time for winter. Elevate, 155 W. 200 South, 8 p.m.
BRAMBLE
James Miska still writes letters. What's more, he writes letters in cursive. Cursive! The local artist is attentive and patient—especially in matters close to his vest pocket, as with Bramble, a new folk venture birthed during a ramshackle bike-powered tour with Chaz Prymek. The duo cooked up songs on the road and returned home to perform material with continued vagabond glee. Their sound loosely strings together a slew of instruments for an improvisational/street-busker vibe that's incredibly appealing. Listening to Bramble, one can't help but feel as free as young musicians with no strings attached. Keep an eye on these guys, starting tonight when they play with La Farsa and Samba Gringa. The Urban Lounge, 241 S. 500 East, 9 p.m.
Friday 12.11
DIMEBAG DARRELL MEMORIAL SHOW
Headbangers long considered
Dimebag Darrell Abbott
a legend—some kind of monster guitarist who started out in spandex and shredded his way to the top as one of metal's most brutal guitarists. Unfortunately, it took a crazed fan to bring his legacy above ground. Five years ago, an audience member shot the former Pantera member as he performed with his new band, Damageplan. The tragic, abrupt ending to his life resonated among members of the metal community and beyond. Abbott's legacy lives on tonight with a special tribute concert featuring Blood of Saints, Vinia, Reaction Effect, Arsenic Addiction and Skies of Redemption. Come rage in his honor.
Club Vegas, 445 S. 400 West, 8 p.m. Tickets: 24Tix. com

Sunday 12.13
GREGORY ALAN ISAKOV
Brandi Carlile is doing her best to make sure
Gregory Alan Isakov
doesn't remain a little-known secret. Carlile herself isn't exactly a household name, but she's bowled over crowds with her powerful voice and, well, a friend of hers is a friend of critics and promoters. Isakov needs only an introductory foot-in-the-door, after all—just enough leeway to showcase his many talents. The native South African/Philadelphia transplant's new LP,
This Empty Northern Hemisphere
, helps distance him from clichéd singer-songwriter territory by avoiding the type of formulaic sap that could probably land him a heap of easy money. Instead, Isakov takes an honest approach crafting stick-to-your-ribs folk with timeless appeal. His process might not lead to overnight success, but you know what they say about slow and steady.
The State Room, 638 S. State, 8 p.m. Tickets: TheStateRoomSLC.com

Wednesday 12.16
LEE SCRATCH PERRY, SISTER CAROL
Shopping around for holiday music antithetical to Yanni and John Tesh-styled muzak? Look no farther than
Lee Scratch Perry
's new Christmas single, "Santa Claus." It's absolutely bonkers. Warning: Do not play the speedy track after a stressful shopping run or at the height of family drama—heads might very well explode. The weed-powered legend's name might pop up primarily in reference to reggae, but Perry's new album,
Repentance
, whips up a strange brew of reggae, dancehall and hip-hop flavored by his wholly signature sensibility. Also on the bill tonight is
Sister Carol
, a powerful figure whose presence in a largely male-dominated field continues to inspire audience members of both genders. Carol teamed up with Jonathan Demme recently for his on-hold Bob Marley documentary. She and Demme last worked together on
Something Wild
. Put it in your Netflix queue, then head up the mountain for the real thing.
Star Bar, 268 Main, Park City, 8 p.m. Tickets: SmithsTix.com
BELA FLECK & THE FLECKTONES
For many, Bela Fleck & The Flecktones' Jingle All the Way might be the only holiday album worth streaming in December. Seriously, you haven't lived until you've heard "Jingle Bells (Reprise)" re-imagined with a throat singer. A handful of listeners might even leave it on shuffle all year long—weird looks from passersby be damned! The album is as bold, unique and quirky as the players behind it. Bela Fleck, Victor Wooten, Future Man and Howard Levy (who until this year hadn't toured with the group since '92), all enjoy thriving solo careers, but when they get together, the sheer volume of creativity and talent tend to flip every tradition on its head. The imaginative artists recorded part of Jingle in July, flocked by Christmas lights. In regards to its seasonal shelf life, Fleck told NPR's World Cafe, "We're just music heads. We were just trying to make these songs as good as we could." Kingsbury Hall, 1395 E. Presidents Circle, 7:30 p.m. Tickets: KingsburyHall.org
Coming UpUgly Duckling
(Star Bar, Dec. 17);
Potcheen
(Piper Down, Dec. 18-19);
Birthquake CD Release
(Urban Lounge, Dec. 19);
Bone Thugs N Harmony
(Great Saltair, Dec. 19);
Boomkat
(Urban Lounge, Dec. 20);
Two & 1/2 White Guys
(Star Bar, Dec. 23);
Super Diamond
(Depot, Dec. 31)