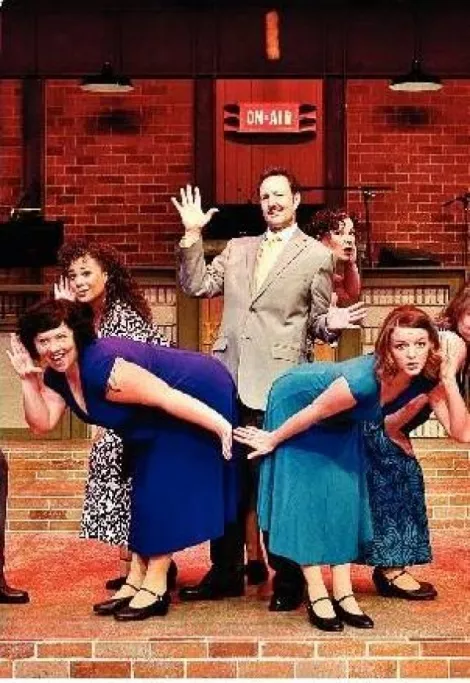 Over the course of its 31-year history, Salt Lake Acting Company's annual satirical revue has had its rough patches. Occasionally mean-spirited, smug or derivative in its takedowns of the "predominant religion/culture," Saturday's Voyeur serves its built-in audience. But has it jumped the shark?
This year's installment finds a context that actually brings out its flavor. Allen Nevins—serving as primary writer, while longtime collaborator Nancy Borgenicht provides song lyrics along with Nevins and Brenda Cowley—offers up something inspired by the radio era. And, in so doing, it accentuates what Voyeur has always been: broad, crude, almost vaudevillian comedy, coupled with the moustache-twirling villainy of melodrama.

The production's primary through-line involves a Utah County family called the Freebes and their various predictable foibles: closeted homosexuality, closeted depression, closeted financial woes. There's less topicality than in years past—except for a fascination with the controversial "Hotter Day Saints" beefcake calendar—making the "ain't Mormons weird" gags at times feel even more recycled.

But there are also plenty of highlights, even when the show is at its raunchiest. The energetic cast—notably Alexis Baigue and Jacob Johnson— makes the musical numbers pop, along with Cynthia Fleming's terrific choreography (always a challenge on the tiny SLAC stage). While this Zion Home Companion may play to the rafters, it's more fun than it has sometimes been. All it took was reminding us that old-school comedy came from the gut—and groin—as often as from the head.

Saturday's Voyeur '09: Radio Show @ Salt Lake Acting Company, 168 W. 500 North, 801-363-SLAC, through Aug. 16. SaltLakeActingCompany.org