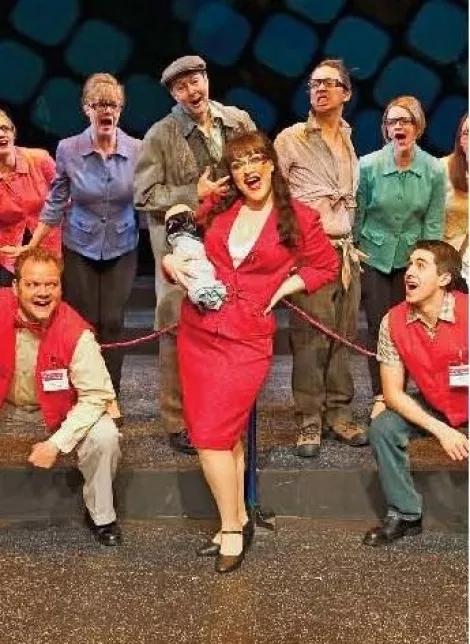 Some years, Salt Lake Acting Company's annual lambasting of Utah's foibles feels righteously angry. Sometimes it feels pissy and petty.
And sometimes its feels genuinely inspired.
While it takes a while to get rolling, the 2010 version tends a whole lot more towards the latter. Partly, that's due to the wisdom of not trying to force the production into the framework of a plot, as has sometimes been the case. Longtime writers Allen Nevins and Nancy Borgenicht opted instead for a series of blackout sketches based on news items from the last year, so we get shots at—among other topics—the Main Street "plaza kiss" controversy, Rep. Jason Chaffetz's opposition to airport body scans, Sarah Palin's Costco visit and the 2010 legislative session.
The first act tries to hit a lot of targets, and hits them sporadically. But the second act finds talented cast members getting the time to sink their teeth into juicy parts: Steven Fehr as a sneeringly judgmental Gayle "Uzicka"; Victoria Elena Nones as Sarah Palin (pictured, center) reading crib notes from her palm; Jeanette Puhich as the power-hunger wife of the new governor. The entire 12-member ensemble throws so much energy into Saturday's Voyeur that the production's charms become hard to resist.
Nevins and Borgenicht do have their quirks as creators—the arbitrary switching back and forth between referring to Utah's governor as "Herbert" and "Sherbert" is a weird choice—but they know what pushes their audience's buttons. And this year, most of those buttons are connected directly to the funny bone.

Saturday's Voyeur 2010 @ Salt Lake Acting Company, 168 W. 500 North, 801- 363-7522, through Sept. 5, $44-$54. SaltLakeActingCompany.org