Compiled by Devour Utah writers
Fall is here, heralding golden days of gorging on produce that's holding on even into September. Your hard work from the spring and summer is likely rewarding you with more tomatoes, eggplant, corn, squash, pears, peaches and apples than you can face.
Here to share favorite recipes to help you get the most from your fading gardens and your remaining farmers market spoils are local chefs Mike Blocher of Table X, Nick Zocco of Afterword, Ken Rose of Tiburon, Rob Perkins of Franck's as well as food writer Ari LeVaux. Should these recipes not inspire you, don't let your produce shrivel on the vine! Chop up what remains in the garden and make a savory veggie stew.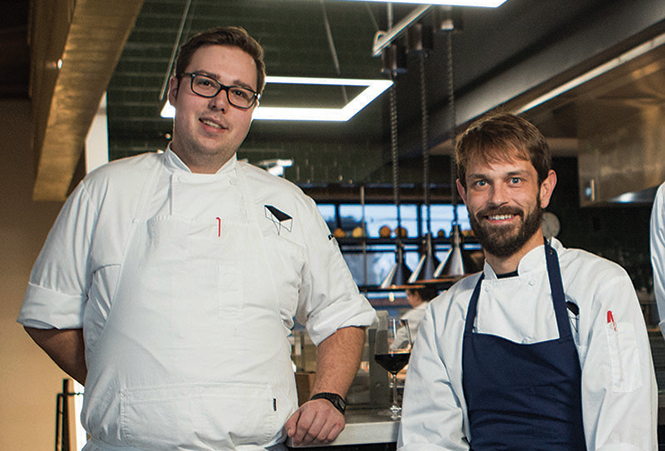 John Taylor
Chefs Mike Blocher, left, and partner Nick Fahs, of Table X
Cream and Caramel
Mike Blocher, and partner Nick Fahs, of Table X, grow a variety of seasonal items in their onsite garden located behind the restaurant, which doubles as a lovely seating area on warm days. Table X has a full-time gardener, Gwen Orchard, who assists in planning the garden each season and caring for it. The goal is to find unique items that can be incorporated into the menu. Recently, they have had great success with "husk cherries"—similar to a gooseberry, savory like a tomato but with a sweet profile, it is prepared by removing the husks and then salting for the amuse bouche course of the tasting menu. Currently, at Table X, diners can enjoy a five- or seven-course tasting menu on a daily basis.
Creamy Polenta With Caramelized Vegetables
"One of my all-time favorite comfort foods is rich creamy polenta with braised meat or caramelized vegetables in a flavorful sauce," Blocher said. "This dish is perfect for the end of summer/early fall with the warm days and chilly nights. For this recipe, you can use any veggies you have hanging around—like onions, eggplant, kale or other hearty greens, cabbage, carrots, etc. We choose mushrooms because of our long-running partnership with Adam Wong and Intermountain Gourmet Mushrooms in Ogden. His mushrooms can be found every week at the Downtown Farmers Market. Feel free to stray from the specifics of this recipe and use what you have lying around."
Soft Polenta (make first)
Ingredients
1 minced yellow onion
4 tablespoons melted butter
1 cup corn meal
3 cups water
2 cups whole milk
2 ounces grated white cheddar cheese (any melting cheese will work)
5 ounces whole cubed butter
salt and pepper to taste
1 cup mascarpone cheese or cream cheese (to serve)
Process
In a heavy bottom saucepan, sweat onions in melted butter and a pinch of salt until translucent.
While onions are sweating, in a separate cooking vessel, heat milk and water together until the mixture simmers. Make sure simmered milk/water mixture is seasoned.
When onions are fully translucent, add cornmeal to onions and mix it together for about 1 minute. Make sure polenta is coated with butter and mixed evenly with sweated onions.
Add the hot milk/water mixture to the polenta and onions in four stages, stirring with a whisk to fully incorporate at each stage.
After all the liquid has been added, bring to a low boil. Do not stop stirring until it comes to a boil or it will become lumpy and/or sink to the bottom of the pot and burn. Gently simmer for about 45 minutes, stirring occasionally.
When the polenta is fully cooked, add in grated cheese and the butter. Adjust seasoning and reserve in a covered dish in a 200-degree oven to hold while making the mushrooms.
---
Caramelized Mushrooms
Ingredients
1 shallot, sliced
8 ounces mushrooms (anything from Intermountain Gourmet at the Downtown Farmers Market)
2 ounces white wine
8 ounces chicken or vegetable stock
1 cube butter
Juice of half a lemon
Vegetable oil as needed
Kosher salt as needed
Fresh ground black pepper as needed
Garnishes: Fresh chopped herbs of choice
Process
Heat a sauté pan over medium-high heat. Add enough vegetable oil to just coat the bottom of the pan.
Sauté the shallots until they are translucent. Add all of the mushrooms and stir.
Cook down the mushrooms until they start to lightly brown and begin to stick a little to the pan.
Once they start to stick, add the white wine to deglaze the pan. Once the wine is almost completely reduced, add the chicken stock and bring to a light simmer. Season with salt and pepper.
Turn off the heat and add the butter and lemon juice and stir to combine. Add chopped herbs.
To Serve: Place a big scoop of polenta in a shallow bowl and pour the mushrooms and remaining broth into the bowl around the polenta. Top with a spoonful of mascarpone to let melt in while eating. (By Aimee L. Cook)
Table X
1457 E. 3350 South, Salt Lake City
385-528-3712
tablexrestaurant.com
Courtesy Photo
Afterword chef Nick Zocco utilizes produce from Tupelo Farm as well as other local sources.
Preserving Summer
Where possible, Afterword restaurant by Tupelo Park City utilizes produce grown on chef/owner Matt Harris' property—known as Tupelo Farm—as well as that sourced from other local producers. Currently, Chris Pyper from Rustling Aspen Farm is overseeing the land and supplying produce like kale, chards and squash, kohlrabi and beets to the restaurant. Fall is the time of year when the restaurant really highlights local farms and dictates how the restaurant will run. Chef Nick Zocco says they like to highlight raw vegetables and turn produce into dishes with a seasonal aspect. The menu will change depending on what's coming in from the farms. Peaches are one of those seasonal items.
Peach Basil Preserves
"I love this recipe because it's so versatile," said Zocco. "When the peaches are blended into more of a spread, it can become a condiment for many applications, from classic breakfast toast spread to multiple types of breads, cheese and crackers, glazed proteins and added to BBQ sauces. When chunky, it can be a nice condiment for charcuterie boards."
Courtesy Photo
Nick Zocco: Patience is key to creating peach basil preserves.
Ingredients
3 pounds (1545 grams) of fresh yellow-fleshed peaches—about 12 medium-size, local preferred. They should be ripe (but not over ripe).
2 ¾ cups (650grams) organic cane sugar
1 lemon (juice only)
6-10 fresh basil leaves (chopped fine or torn)
Canning jars (about 6-8 half-pint jars)
Process
Wash peaches under warm water.
Heat a 6-quart stockpot with water to a simmer.
Cut an (X) with a sharp knife on the bottom of the peaches. Blanch peaches in simmering water for around 5 minutes.
After 5 minutes, "shock" the peaches in cold water. This will allow easier peeling of the skin. Begin peeling.
Place peeled peaches in a separate bowl and cut them into chunks. Toss with the sugar and lemon juice.
Place the peach mix in a 6-quart heavy stockpot or enameled cast-iron (i.e., Le Creuset) pot.
Bring the peaches to a simmer, low boil for about 30 minutes. Stir every 10 minutes.
Turn off heat and let sit for at least 8 hours or overnight, covering with a lid.
After time has passed, reheat the mixture to a low boil for a second time for another 30 minutes. Turn off heat and let sit for an additional 30 minutes.
Using a pressure cooker or Instant Pot, sterilize the jars for 1 minute on the steam setting using 1 cup of water and teaspoon vinegar.
Add the basil to the peaches and mix lightly with a wooden spoon. Or you can blend the mixture for a smooth consistency. Add the warm preserves to a warm (not cold) jar. Fill to at least ¼-inch from the top of the jar. Seal the jar.
Place the sealed jar in the pressure cooker. Use 3 cups of water in the cooker. Using the steam setting with the vent valve open, cook the jars for 25 minutes. Start your time when the float valve is closed at the top. Turn off the cooker after 25 minutes.
After the pressure cooker has cooled, remove the jars carefully and place on counter to cool naturally and listen for the lid to pop closed. If the lids don't pop, place in the refrigerator and enjoy sooner.
Notes:
This recipe is time-consuming, and patience is key. Preserving is long work and takes time. Follow steps closely.
You can find steam canning techniques on YouTube.
Allow time for the peaches to cool, which releases natural pectin and the setting of the sugars. This is why I let cool and then reheat; it creates a natural texture.
Pectin can be added but should be used wisely so that the mixture sets quickly but not too stiff.
Remember, preserving is not always going to be exactly the same each time. This will depend on moisture, sugar and ripeness of the fruit used. Adjustments may be needed, such as time. (By Aimee L. Cook)
Afterword by Tupelo Park City
98 S. Main St., Heber City
435-615-7700
afterwordrestaurant.com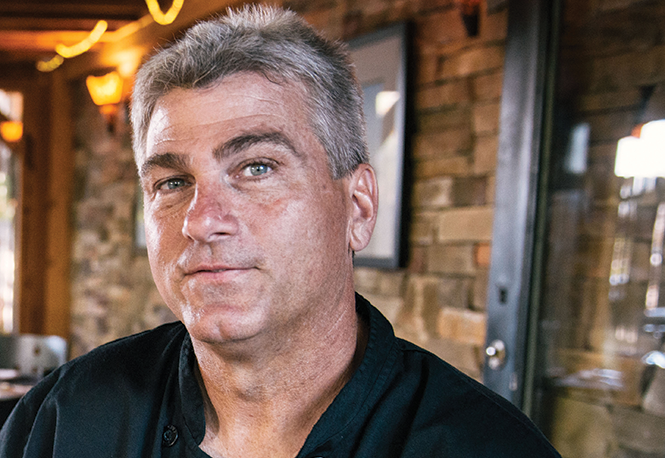 Niki Chan Wylie
Tiburon owner Ken Rose describes the restaurant's culinary garden as "a labor of love."
Pleasing Produce, Elegant Elk
Each year, when Le Potager (the quarter-acre garden behind Tiburon restaurant) starts growing, the kitchen staff gathers herbs and vegetables daily. Ken Rose, Tiburon's owner and chef, describes it as "an all-natural garden, where we grow things we use in bulk—tomatoes, peppers, fresh herbs and squash." The garden features large blackberry and strawberry patches along with an extensive herb garden. "It's a labor of love to harvest fresh herbs to use in our kitchen," Rose says.
He adds that Tiburon's biggest harvest is heirloom tomatoes. "We grow 120 plants every year—12 to 15 varieties in different sizes and colors," he says. "In addition, we throw in something fun, possibly a winter vegetable, like baby carrots or beets, every year."
He says, "We've worked for years to make our working garden an extension of our romantic atmosphere."
Diners may enjoy a stroll through the picturesque garden before or after their meal in the restaurant building which once was home to a fruit stand. Today, Rose describes this upscale Sandy eatery as elegant and approachable. He takes pride in his 22-year Tiburon ownership. "It's one of Utah's longest-lasting fine-dining establishments," he says. "It is intimate, yet surprisingly casual. High-end, but not stuffy. Stuffy is boring, if you ask me."
Just as Rose has firmly established Tiburon's classy ambiance, the signature char-broiled New Zealand elk tenderloin dish is also a lasting favorite. Rose served the smooth, melt-in-your-mouth meat dish the night Tiburon opened, and it remains perennially popular more than two decades later. Other well-liked entrees include Tecumseh Farms free-range chicken, ahi tuna, Atlantic salmon and cowboy ribeye.
"As a chef, there's nothing better than to grab something fresh out of your garden," says Rose. "I only wish our Utah growing season were longer."
Tiburon Burrata Caprese
This fresh, simple dish is also very delicious, says chef Ken Rose.
Ingredients
2 cups of heirloom tomatoes
1 teaspoon sugar
1 teaspoon salt
4-ounce ball of burrata cheese
Seasonings
Kosher salt
Black pepper
Olive oil
Balsamic reduction (or vinegar)
4 basil leaves
Sourdough bread
Process
Take heirloom tomatoes and "rough chop" them into approximately ½ inch pieces.
Add one teaspoon of sugar and one teaspoon of salt
Simmer them until the moisture reduces by half.
Let them cool until they thicken like a marmalade, for two hours or overnight.
Place the cooled tomato marmalade in a small bowl. Top with ball of burrata cheese (available at the Downtown Farmers Market, Harmons grocery stores or Restaurant Depot)
Add a generous amount of olive oil, and top with a little balsamic reduction (or a dash of balsamic vinegar)
Finish with sea salt or kosher salt and fresh-cracked black pepper. As the last step, chop four fresh basil leaves and sprinkle them over the top.
Serve with crusty sourdough bread. "Harmons has the best bread in the city," says Rose. To preserve the bread, store it in a sealed plastic container. (By Carolyn Campbell)
Tiburon
8256 S. 700 East, Sandy
801-255-1200
tiburonfinedining.com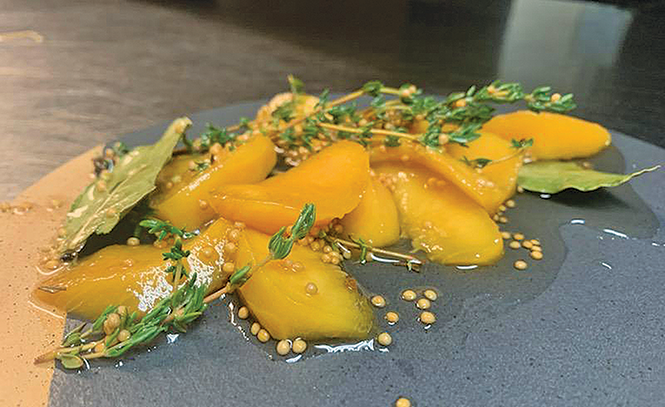 Carolyn Campbell
A Red Haven peach is firm, but "bleeds" juice, says chef Rob Perkins of Franck's.
Fresh Creativity
After local farmers' markets close to the public on Saturday nights, Rob Perkins calls to see what produce they still have available to sell. "I can sometimes get kohlrabi, beet greens, whole beets, bok choi," he says. As Franck's executive chef, Perkins uses fresh produce as a vital component of his culinary creations. "I try to use as few nonlocal farmers as possible," he says.
Perkins changes Franck's menu almost daily. "My esthetic is eclectic and fun dishes. I like to show a little whimsy in all of our food.' He smiles, "It keeps me young; I don't sleep a lot."
Perkins also enhances his culinary creativity by accessing produce from a variety of local farms. For example, he says that an impending delivery of sugar baby watermelon will soon augment the prime rib on the next Tasting Tuesday. "We inject it with a little bit of cayenne water and compress it just a bit to cook in contrast." He adds, "I like to have flavor, texture and temperature contrasts so that your palate stays motivated to eat."
His watermelon source, Mandi's Microgreens in Bountiful, "grows some wildly wacky tigger melon. It's never a musky melon; it's savory and funky rather than sweet." He adds, "We ferment that tigger melon to counterpoint the wagyu beef—it counterbalances that fatty unctuousness." Mandi's is also the source of Franck's heirloom tomatoes used to fashion their tomato appetizer. "We add fermented blackberry lavender aguachile to give it more kick and deaden some of the sweetness," he explains. "When we have a high sweetness, we tamp that down with bitterness and aggressive seasoning."
Perkins began working with the restaurant's namesake, Franck Peissel, who now works in Park City. "I worked with him for 20 years. He and I opened the restaurant in 2001, and we've been kicking ever since." Thinking back to his days as the Franck's sous chef, Perkins says, "I spend my whole life trying to hold true to what we were back then." He concludes, "We try to keep everything as local as possible. We try to have fun."
Quick Pickle Red Haven Peach
"If you eat a Red Haven peach, you'll feel like you've never had a peach before," says Perkins. "They are firm, but if you cut into one, it's so luscious and juicy, it's like it almost bleeds peach juice."
Ingredients
4 Red Haven peaches (available from Mandi's Microgreens)
½ cup sugar
1 tablespoon mustard seed
2 bay leaves
1 sprig of thyme
2 cups of rice vinegar
Process
Place vinegar, salt, sugar, mustard seed, bay leaf and thyme in a saucepot. Bring to a simmer just until the sugar dissolves, then turn off and set aside. Cut peaches in half and remove the pit. Cut peaches into eighths, then add to pickle liquid. Let the hot liquid with the peaches come down to room temperature while stirring often to rotate submerged peaches. Refrigerate for up to 10 days. Enjoy with heirloom tomatoes and burrata. Also goes great with grilled meats. (By Carolyn Campbell)
Franck's
6263 E. Holladay Blvd., Holladay
801-274-6264
francksfood.com
---
Ari LeVaux
Zucchini French toast : A "molten eggy masterpiece."
Put Up Your Zukes
By Ari LeVaux
You know the routine. Winter gives way to spring, which is followed gently by summer, which glides into the season of getting rid of zucchinis. During those tense few weeks, neighbors and even strangers are afraid to make eye contact, lest a zucchini gets tossed, like some baby that you have to catch. And then it's yours. And you, likewise belong to the zucchini.
In the northern Rockies, zucchini season often aligns with fire season. In need of fresh air last week, I took my family to the Pacific coast, where we were able to escape the smoke. But not the zucchinis.
Our friend Marilyn didn't need to shove whole zucchinis in our faces to make them go away, because we were her guests. She was feeding us. We were captive. We were hungry. We were zucchini disappearing machines, and she used us strategically, like tools.
The zucchini bread came first, with breakfast, which nobody in their right mind could turn down. The vegetable stir-fry that accompanied the salmon we had for lunch had more green zucchini, and we polished it all off.
After getting rid of several green zucchini in that manner, she switched to yellow that evening. Yellow zukes are easier to disappear into other dishes than the greens, she later confided. But that night she let her cooking do the talking, as she baked a quiche souffle out of yellow zucchini and Dungeness crab, a recipe invented by her sister, who lives on an island off the coast of Canada.
The next morning, Marilyn made pancakes with grated yellow zucchini, and they were moist and fluffy. That afternoon we stuck a green one into a batch of triple chocolate cookies, and nobody but us were the wiser. I came home with a truckload of ideas for what to do with zucchini, as well as a baseball bat-sized specimen that Marilyn snuck into the bed of the truck before we took off. When we got home I sliced it in half, lengthwise, and threw it to the chickens. As far as I know that's the only thing you can do with a big zuke.
Zucchini French Toast
When preparing zucchini for humans, the fruits should be no longer than a foot-long hot dog. If you need direction in cooking them, you could do worse than fry some slices in butter. Me, I was inspired by those pancakes. When I got home I grated some yellow zucchini and added it to a French toast batter, so the long shreds got plastered onto the bread by the egg mixture. As they cooked in the hot pan below the weight of egg-soaked bread, the zucchini strands released water, which instantly turned into steam, cooking the interior of the toast into a moist, molten eggy masterpiece that crushed the non-zucchini-enhanced control toast. They were moister and fluffier than the control group, and the kids couldn't for the life of them figure out what brought about the improvement until they looked at the stringy leftover batter. When we ran out of bread, we soaked up the rest of the egg mixture with grated zucchini and made fritters.
For four pieces of bread, I used two eggs, a tablespoon of vanilla, a teaspoon of cinnamon, a half-cup of milk, a half cup of finely grated zucchini and a pinch of salt. Mix thoroughly and coat the bread. Fry it in butter. Put a pad atop each piece before flipping it so there is plenty where it needs to be.
[Read more at arilevaux.com/inserting-zucchini]