Page 3 of 4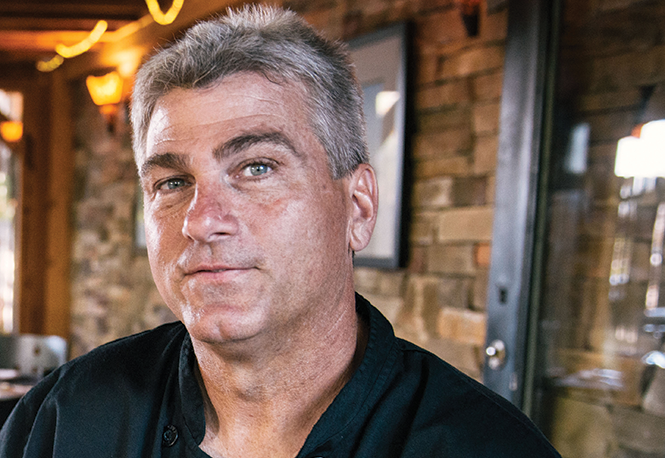 Niki Chan Wylie
Tiburon owner Ken Rose describes the restaurant's culinary garden as "a labor of love."
Pleasing Produce, Elegant Elk
Each year, when Le Potager (the quarter-acre garden behind Tiburon restaurant) starts growing, the kitchen staff gathers herbs and vegetables daily. Ken Rose, Tiburon's owner and chef, describes it as "an all-natural garden, where we grow things we use in bulk—tomatoes, peppers, fresh herbs and squash." The garden features large blackberry and strawberry patches along with an extensive herb garden. "It's a labor of love to harvest fresh herbs to use in our kitchen," Rose says.
He adds that Tiburon's biggest harvest is heirloom tomatoes. "We grow 120 plants every year—12 to 15 varieties in different sizes and colors," he says. "In addition, we throw in something fun, possibly a winter vegetable, like baby carrots or beets, every year."
He says, "We've worked for years to make our working garden an extension of our romantic atmosphere."
Diners may enjoy a stroll through the picturesque garden before or after their meal in the restaurant building which once was home to a fruit stand. Today, Rose describes this upscale Sandy eatery as elegant and approachable. He takes pride in his 22-year Tiburon ownership. "It's one of Utah's longest-lasting fine-dining establishments," he says. "It is intimate, yet surprisingly casual. High-end, but not stuffy. Stuffy is boring, if you ask me."
Just as Rose has firmly established Tiburon's classy ambiance, the signature char-broiled New Zealand elk tenderloin dish is also a lasting favorite. Rose served the smooth, melt-in-your-mouth meat dish the night Tiburon opened, and it remains perennially popular more than two decades later. Other well-liked entrees include Tecumseh Farms free-range chicken, ahi tuna, Atlantic salmon and cowboy ribeye.
"As a chef, there's nothing better than to grab something fresh out of your garden," says Rose. "I only wish our Utah growing season were longer."
Tiburon Burrata Caprese
This fresh, simple dish is also very delicious, says chef Ken Rose.
Ingredients
2 cups of heirloom tomatoes
1 teaspoon sugar
1 teaspoon salt
4-ounce ball of burrata cheese
Seasonings
Kosher salt
Black pepper
Olive oil
Balsamic reduction (or vinegar)
4 basil leaves
Sourdough bread
Process
Take heirloom tomatoes and "rough chop" them into approximately ½ inch pieces.
Add one teaspoon of sugar and one teaspoon of salt
Simmer them until the moisture reduces by half.
Let them cool until they thicken like a marmalade, for two hours or overnight.
Place the cooled tomato marmalade in a small bowl. Top with ball of burrata cheese (available at the Downtown Farmers Market, Harmons grocery stores or Restaurant Depot)
Add a generous amount of olive oil, and top with a little balsamic reduction (or a dash of balsamic vinegar)
Finish with sea salt or kosher salt and fresh-cracked black pepper. As the last step, chop four fresh basil leaves and sprinkle them over the top.
Serve with crusty sourdough bread. "Harmons has the best bread in the city," says Rose. To preserve the bread, store it in a sealed plastic container. (By Carolyn Campbell)
Tiburon
8256 S. 700 East, Sandy
801-255-1200
tiburonfinedining.com