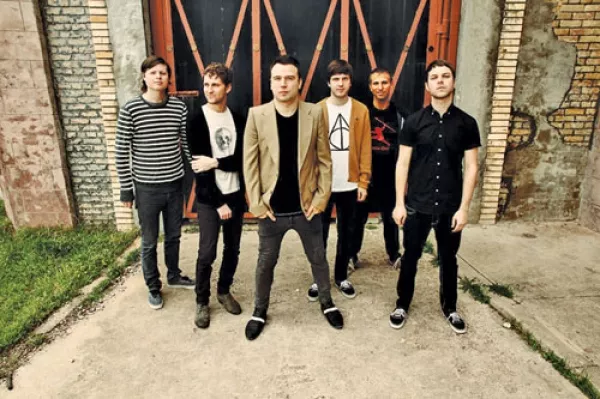 Say Anything, Hebrews

With their latest release,
Hebrews
, Max Bemis and his revolving cast of instrumentalists seem to have referred back to what fans loved about
Say Anything
: clear, organic melodies and raw vocals about self-loathing. The 12-track album was recorded without guitars—Bemis opted instead for strings—but the album still feels very much like a punk-rock record.
Hebrews
features 16 guest vocalists, including Bemis' wife, Sherri Dupree-Bemis (Eisley), Tom DeLonge (Blink-182), and Kim and Gareth Campesinos (Los Campesinos!). The personal and religious album focuses on Bemis' Jewish heritage but still feels relatable for gentiles.
The album has an upbeat but dark tone created by the catchy piano melodies and string riffs. The violin and stand-up bass that appear on most of the tracks lend an elegance that contrasts with Bemis' harsh vocals. Heavy drumbeats that appear on each track are what really make this a punk-rock album, especially on tracks "A Look" and "Kall Me Kubrick." Every concept of Hebrews comes together on the title track, when Bemis and Brian Sella (The Front Bottoms) proclaim they are a "waste of bar mitzvah" over a crashing drumbeat and violin and piano melodies. June 10, Equal Vision Records (Natalee Wilding)
Jim Keller, Heaven Can Wait


Sometimes, a one-hit wonder is not to be confused with a one-trick pony. Jim Keller, co-founder of '80s band Tommy Tutone and co-writer of their smash single "867-5309/Jenny," proves this adage with his third solo effort, Heaven Can Wait.

The album opens with the hypnotic blues-rock number "Cali Girl." Treble-heavy guitar leads to Keller's low-tone vocals telling the story of what the song's protagonist may be running from and what he hopes to run toward. The next track, "Take Me for a Ride," takes a sharp musical turn with an upbeat pop-rock feel and electronic hand-clap percussion that could be mistaken for another '80s radio hit. This isn't necessarily a bad thing, however, as Keller shows his vocal range is as diverse as his music. Continuing this varied path is the album's title track—a ballad that's as reminiscent as it is hopeful for the future: "We got so many rivers behind us/ And so many bridges to cross/ … So heaven can wait."

Although the heavy feel of the album's strong opening number doesn't return until the second-to-last song, "Crush on You," the remaining tracks are a pleasant fusion of folk rock, borderline soft-listening and bluegrass. The songs are well-produced, but not to the point of studio over-layering, as Keller's soulful approach is at the forefront. As the album title suggests, the end can wait: Keller's music has too much to offer. June 10, Elisha James Music (Keith Emerson)