Coloradoans can have their cushy backcountry hut system. Utah's cozy yurts access shred-ready terrain without unnecessary panache. The wood or propane stoves, stacked firewood, bunk beds and yurt walls keep winter camping relatively simple. Sure, it's a schlep, but waking up alpine-early to wintry mountain views and the promise of fresh tracks is more than worth the work.
Yurt permits come with detailed lists of what you'll need, but plan on hauling food, a kitchen kit, sleeping bags and pads, as well as first aid, navigation and avalanche supplies (beacon/shovel/probe/terrain-management brain). Utah's famous fluff can make for a seriously unstable snowpack, so brush up on backcountry skills and check conditions at the Utah Avalanche Center (UtahAvalancheCenter.org). These mountains don't mess around, and neither should you.
The Big Water Yurt
Wasatch Range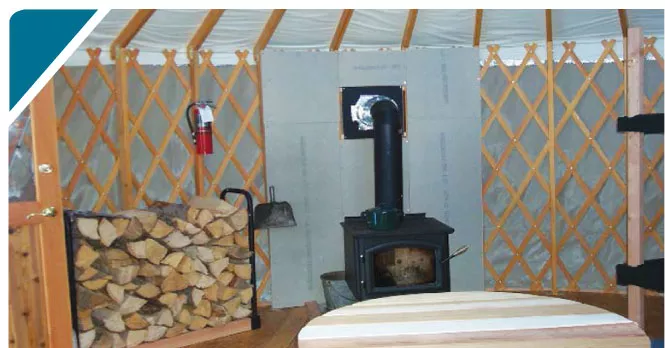 This is one popular yurt. A short 9.5 miles (only 4.5 of it skiing) from the edge of Salt Lake City, the Big Water Yurt is backyard backcountry. And the skiing is incredible. Options range from steep bowls to wide-open aspen runs. Avalanches are common, so be wary of backcountry travelers above and below. The oft-groomed main access trail is a moderate trek up Millcreek Canyon.
Reservations are granted via a lottery held around in late October or early November through the Salt Lake County Parks & Recreation Department (385-468-7275, SLCO.org/recreation/parks). After that, unfilled dates will be assigned to those on a standby list.
Lily Lake Yurt System
Uintah Mountains
Five yurts comprise the Lily Lake Yurt System, making for an excellent multi-day touring adventure. The East Fork, Bear Claw and Lily Lake Yurts are 1.5, two and three mellow miles, respectively, from the North Slope Trailhead, and are surrounded by low-angle slopes perfect for snowshoeing or cross-country skiing.
It's only after the 4.5-mile ski to the Ridge Yurt or 6.5-mile trek to Boundary Creek Yurt that the downhill options really open up. The "choose your own adventure" area provides options from intermediate to advanced. Watch the steep drops from Ridge Yurt to the Bear River, as recently downed trees there need a lot of snow cover. Boundary Creek provides outstanding tree skiing with numerous clear-cut shots.
Make reservations with the Evanston Recreation Center (307-789-1770). An optional orientation is provided by the Bear River Outdoor Recreation Alliance (BRORAYurts.org).
Tushar Mountain Yurts
Tushar Mountains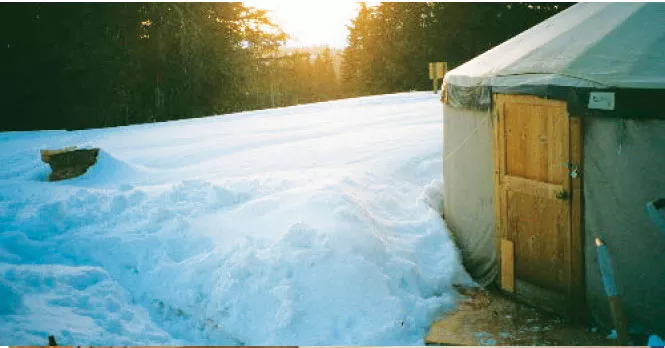 Snorkeling Elk and Puffer Lake Yurts are seated at over 10,000 feet and surrounded by some serious terrain. Both provide glade-skiing access from the front steps while sitting less than half an hour from expert-level adventure. This area has it all: trees, bowls and above-tree-line touring (plus outhouses!).
The trail from Big John Flat Road to Elk Yurt covers 1,800 feet in 4.6 miles, while the trek to Puffer Lake from Puffer Lake Trailhead covers just 700 feet in 2.7 miles.
Tushar Mountain Tours (435-438-6191, tushartelemark@yahoo.com, SkiTushar.com) operates the yurts in the winter from Nov. 20 to June 1, depending on the snow. Guide, haul and meal services are all available.
Tuna Yurt
Uintah Mountains
The Utah Nordic Alliance (UtahNordic.com) runs the Tuna Yurt, which is available to the general public around Dec. 1. Sporty 30- to 35-degree slopes surround the yurt, which is perched on a tree-lined bench, providing mellow glades for snowshoeing or touring. A covered deck offers excellent views of Beaver Creek and several ponds. Three mellow miles up Norway Flats Road from Mirror Lake Highway and 1,000 feet of elevation gain grants you access.
E-mail the Utah Nordic Alliance (yurt@utahnordic.com) for reservations.
Blind Hollow Yurt
Uintah Mountains

Blind Hollow is a great bet for beginner backcountry travelers. Though the terrain demands solid intermediate ski/ride skills—there are some steep wide tree sections and above-tree-line runs—the area has fairly low avalanche danger, and Utah State University, which manages the yurt, requires a mandatory pre-trip orientation, where avalanche conditions and no-go areas are discussed. A yurt host also skis ahead to dig out the hut, start a fire and get the water running.
Access the yurt through Tony's Grove or Blind Hollow Trail. Call 435-797-3264 for reservations (students get preference).
Powder Ridge Yurts
Bear River Range
The Bunchgrass and Green Canyon Yurts are great for cross-country touring and intermediate riders while offering excellent expert strike missions (the steep shots off Mount Jardine and Beirdneau Peak are sure to satisfy). Though there are low-angle runs, the terrain surrounding Steam Mill Yurt is fairly full on and should be visited only by very experienced backcountry travelers.
Reserve the yurts with Powder Ridge Ski Touring (powderridgeyurts@gmail.com, Facebook.com/PowderRidgeSkiTouring).
Dead Horse Point Yurts
Dead Horse Point State Park
For the snow-challenged, three plush yurts at Dead Horse Point offer the comforts of home plus incredible views of the Colorado River the sky-lining La Sal Mountains. Plan on hiking or mountain biking (unless an errant dump provides some quick cross-country skiing).
Call Utah State Parks for reservations (800-322-3770, DeadHorsePoint.Utah.gov).

JeffEJensen
East Fork Yurt