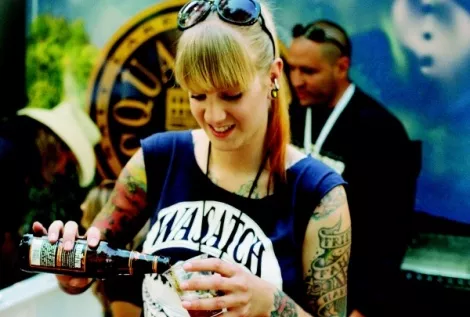 In 2009, Utahns raised a glass to freedom and to the downfall of outmoded private-club memberships. Two legislative sessions later, Utah liquor licenses are becoming as rare as a gray hair on Gary Herbert's head. Furthermore, a proposed liquor bill would expand restaurant licenses but not club licenses, while adding "new" license categories that alcohol officials say won't actually relieve the license strain. On top of that, the bill would increase law enforcement over drinking crimes, despite recent declines in both drunken-driving fatalities and DUI arrests, and it gives the governor and Senate more control over the Department of Alcoholic Beverage Control. Talk about a buzz-kill.
But Sen. John Valentine, R-Orem, sees his Senate Bill 314 as a cocktail of balanced enforcement and license relief.
"I'm trying to take a balanced approach," Valentine says. "I realize that people on both fringes are not going to be happy, but I think Utahns generally will be very pleased with what we're doing with this bill."
The bill would smooth out some existing inconsistencies in Utah liquor laws. It would allow hotel room service to offer a single alcoholic beverage—currently hotel patrons may only purchase a bottle. The bill would also standardize alcohol service hours for all restaurants, starting service at 11:30 a.m. instead of noon.
Still, these concessions pale in comparison to enforcement measures aimed at curbing drunken driving and overconsumption. Those measures include a provision that would prohibit event licenses from offering "unlimited" alcohol service for a set period of time. This would appear to be directed at City Weekly's Beer Festival, the first held in September 2010, where patrons used 3-ounce tester cups to sample an unlimited amount of beers.
"Overconsumption is the issue," Valentine says. "And we're having more problems coming in with public safety on the beer festival." The festival attracted roughly 3,200 patrons to downtown Salt Lake City on Sept. 11, 2010. City Weekly event planners were surprised at the lawmakers' concern over public safety since there were no arrests made or citations issued at the festival.
"I don't think we felt overconsumption was an issue," says City Weekly Publisher Jim Rizzi. "When you have that many people, there are some isolated incidents we wish we could have avoided, but overall, it was a very successful event. Should this bill get passed, we will continue forward with the event; we will just restructure the format," Rizzi says, referring to a format where patrons would buy tokens to exchange for beers—a change not welcomed by some in the beer community, including Mark Alston, owner of the Bayou, a bar and Southern restaurant.
"Didn't it feel great last summer, being part of a real beer fest where you could sample the brewer's wares without the need of tokens or chips?" Alston writes on the Bayou's blog. "Well, Senator Valentine noticed you enjoying yourself and decided to put a stop to it."
The bill also would create a trigger that would automatically increase the number of compliance officers as the number of liquor-license holders increases.
"We had 398 fewer DUI arrests last year than the year before," Valentine says. "We've got a situation right now where the number of licenses are increasing but the number of enforcement officers are going down because of budget cuts.
"If it was the same number of hours [of enforcement], and same number of officers were being used for the prior year and our arrests were down, I'd say 'great,' " Valentine says. "But what's happenings is we're having fewer enforcement hours and fewer officers out doing the enforcement."
According to the Commission on Criminal and Juvenile Justice's 2010 DUI report to the Legislature, however, statewide there were more special overtime DUI enforcement blitzes in 2010 compared to 2009, with 2,235 five-hour DUI shifts worked compared to 2,180 five-hour shifts worked in 2009. These blitzes were orchestrated by 91 different statewide, law-enforcement agencies ranging from sheriffs, police departments, Utah Highway Patrol and even offices like Utah State Parks and Recreation.
While there aren't comprehensive numbers showing decreased staffing levels for local police officers, staffing levels of Utah Highway Patrol have actually remained static. In a special budget session of the 2008 Legislature, cuts to the Department of Public Safety eliminated 21 vacant positions—but did not take existing troopers off the streets. With those trooper levels, the Utah Highway Patrol increased DUI arrests by 32 percent since 2008, says UDPS spokesman Corporal Todd Johnson.
According to the DUI report to the Legislature, sheriffs' and local police departments' DUI arrests dropped a combined 30 percent from 2009 to 2010, but in that same span the Utah Highway Patrol picked up most of that slack by increasing its DUI arrests by 26 percent.
"Quite frankly, it burned our troopers out," says Col. Danny Fuhr, who oversees all uniformed highway patrol divisions. He doesn't expect such a focus could be sustained in 2011, which is why he welcomes Valentine's bill.
"The perception that we don't have a DUI problem in Utah is absolutely wrong," Fuhr says. "On New Year's Eve, I personally responded to two DUI arrests, and the third one I encountered had gotten into a collision. Drunk driving is a problem in Utah." Still, Utah's drunken-driving fatalities have continued to decrease, with reports showing 235 fatalities in 2010 compared to 244 in 2009.
David Trenton, president of the Utah Hospitality Association, has no problem with troopers keeping Utahns safe; he just wishes licenses would be added to balance out the beefed-up enforcement.
"He's increasing enforcement but yet the liquor licenses are not in equal proportion by any way, shape or form," Trenton says. While bar owners had hoped club licenses might be added this session, Valentine explained that miscounted population numbers meant licenses were already over-allocated. His bill would add 40 licenses, but only for restaurants. He also expects that his bill's creation of new licenses for recreation facilities like bowling alleys and ski resorts and "beer-only" licenses for food-selling establishments will also ease the license strain.
Still, Vickie Ashby, spokeswoman for the DABC, is confused by that idea. She says the commission already has a limitless allowance for on-premise beer licenses. She says the DABC was not invited to collaborate on Valentine's bill.
"We were able to read the bill when it was released to the public," Ashby says. She would not comment on other aspects of the bill, such as a change that would make it so the DABC commission chair would be appointed by the governor instead of elected from within the commission, as it is currently. The bill also proposes the commissioner and the commission appoint the DABC director at the "advice and consent of the Senate." Valentine says this provision just mirrors the practice for appointing the director of the tax commission, while Utah Hospitality's Trenton calls it a political power grab.
Ashby was willing to speak about the one topic not being addressed by the bill— club licenses. On Feb. 24, the DABC had to deny 14 applicants seeking club liquor licenses that simply weren't there. "In the real world today, they walked away empty-handed," Ashby says. "[This bill] would not have helped them."