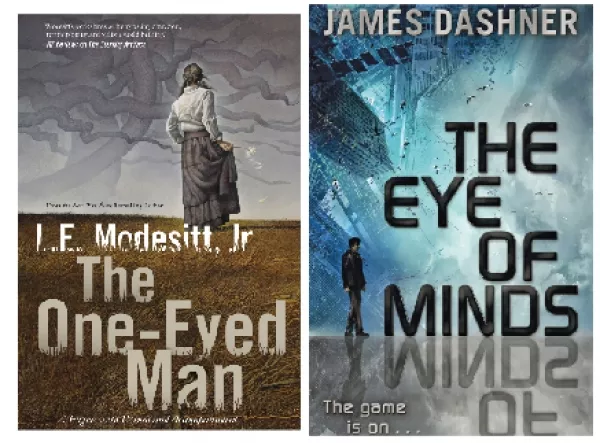 Here's the thing about genre fiction: It's not really as generic as the designation would suggest.

Readers of literary fiction may look askance at fantasy, detective stories, science-fiction and the like, but even within those broad categories, it's not always easy to nail down what makes a specific example work. And there's an even more complicated "work for whom" question: If it's doing more or less exactly what fans of that specific genre expect, that may qualify as "working" on a different level than something that gets a little bit audacious.

Two new novels by Utah authors aim for completely different audiences and goals, though both are fundamentally science-fiction novels. The Eye of Minds, from best-selling author James Dashner (The Maze Runner), targets his young-adult fan base with the story of Michael, a teenager living in a future society where people spend huge chunks of their lives plugged into the VirtNet, an all-encompassing, multi-sensory virtual reality universe. It's supposed to be a safe place, but Michael finds gruesome evidence to the contrary when he encounters a woman in the VirtNet who, after an apparent psychotic episode, digs the security device that's meant to protect her physical self from harm out of her virtual head, then commits suicide.

Back in the real world, Michael learns that a cyber-terrorist calling himself Kaine has apparently killed multiple people within the VirtNet, and the government is looking for a unique solution. So they recruit expert gamers like Michael to seek out Kaine within the VirtNet, and Michael brings his online friends Bryson and Sarah along on the dangerous mission.

Actually, "unique solution" isn't an entirely accurate description. There's certainly a whiff of Ender's Game in the use of tech-savvy young people as soldiers against a societal threat, and Dashner relies on a protagonist dynamic—the male hero and his male and female best friends—that has propelled Joseph Campbell-riffic youth-oriented series from Harry Potter to Percy Jackson. A wise artist knows what and how to steal from the best.

What's a bit more surprising is that, for a story about an intricately-constructed virtual universe, The Eye of Minds keeps its world-building to a bare-bones minimum. Though there are ultimately some plot reasons for providing little detail about the book's "real world"—setting up the next book in the series—Dashner isn't particularly interested in exploring why the VirtNet has all but become the real world for the inhabitants of his future society. He's focused on propulsive plot dynamics, and he's good at them, essentially turning The Eye of Minds into a novelized video game where Michael and his friends are required to face a threat, solve the problem, and move on to the next level. As a page-turner, it's pretty effective stuff. As science-fiction of ideas … well, we'll see what the next book brings.

Ideas are in much more ample supply in The One-Eyed Man, from prolific Cedar City-based novelist L.E. Modesitt, Jr. (The Imager Portfolio). Set thousands of years in the future, it follows environmental consultant Dr. Paolo Verano on an assignment from the Unity government. On the distant colony of Stittara, pharmaceutical corporations have gotten rich from the native flora and fauna that generate life-extending drugs, but there's growing public concern about the possible impacts on the Stittaran environment. It's Dr. Verano's job to report back on whether the corporations are following the rules—even if there may be some people who clearly won't like what he finds.

It's one of Modesitt's sneaky-smart touches that Dr. Verano's assignment is, at its core, an exercise in futility. With Stittara distant enough to require "trans-space" interstellar travel, Dr. Verano's results won't get back to the government for 146 years. The One-Eyed Man builds a rich allegory for the climate-change controversy—full of people whose financial interests are built into looking away from any possible catastrophic consequences—yet also gives his protagonist a mission that merely allows the government sufficient political cover to suggest that they're doing something.

Modesitt does a fantastic job of folding real-world politics and corporate "spin" into his world-building, yet his main drawback is that he doesn't seem to know when enough world-building is enough. Dr. Verano's first-person narration spends an inordinate amount of time on the particular suit he has chosen to wear on a given day, or the menu items at the various restaurants he attends, or the bureaucratic minutiae of his workday. And while it makes a certain sense for a scientist to be so obsessively detail-oriented, The One-Eyed Man starts to feel maddeningly filled with information that just doesn't matter.

Somewhere in the balance between James Dashner's fast-paced storytelling and L. E. Modesitt, Jr.'s rich exploration of how a future world tells us about our own, you might just find perfect science-fiction.
Twitter: @ScottRenshaw