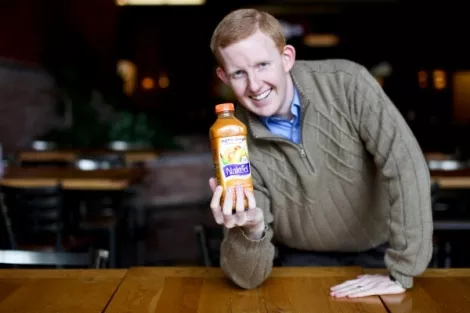 Who would want to work with Charlie Sheen? Scott Cowley does. Cowley, a BYU grad who is currently an Internet marketer for Zagg, is 1 of 50 finalists—and the only Utahn—selected from a pool of more than 82,000 applicants for a summer internship with Sheen. City Weekly caught up with Cowley before his inevitable celebrity flameout to ask about his experience.

What has the process been like so far?
The very first, and only, requirement to enter was a 70-character pitch. I said, "Behind every winner lies a secret-weapon posse. I want to lead that posse." Second round was a traditional résumé/application process. Third round, I had to make a YouTube video answering a question about social media and how I would use social media in the event of a world catastrophe. I took it seriously, and I think that's one of the reasons that I managed to go on.

What's the next step?
Internships.com has been running the show, and their agreement with Charlie Sheen was to pare it down to 50. And now that it's at 50, they're handing it over to Sheen. His people are going to call my people and let me know what's next. It's been pretty normal up to this point, but I'm sure it's about to get crazy when they take the reins. I think at first they just wanted to see if someone was qualified, but now they want to see if someone is insane enough to be part of the group.

What's your favorite Sheen-ism?
Probably "winning." Those who know me know that I won a lot of stuff through social media last year. I even put "winning" on a business card before this Charlie Sheen thing came about, so it was kind of apropos.

Have you been dreaming of a chance like this your whole life?
Nobody's been dreaming of this because celebrities haven't done this. This is a first. I'm trying to stay somewhat reserved as far as getting emotionally invested. I've got a great family. I've got a great job; I love what I do. I don't need a Charlie Sheen internship for my planned career path. [Zagg and I] haven't discussed what happens to my job if I actually end up making it or if they have me do any off-site Survivor-style elimination rounds. They're great people so I suspect it shouldn't be a problem.

Would you try to reform Charlie Sheen?
I think he should come out here. I think Utah is the place for Charlie. I think he would love the planetarium and the Salt Lake City nightlife. I'd definitely give him a tour of Temple Square—that would be a major win. I'd show him around. That is ideal for him getting his mind back in a good state. I don't know how much contact the social-media intern will have with Charlie Sheen. Best case scenario, we're hanging out and sharing a house, but I strongly suspect that that's not the case with this particular internship.

Do you have a thirst for fame now? Any endorsement deals lined up?
No, I'm still waiting for those phones to ring. My whole goal for this is minimal investment, and maximum exposure for the company I work for. My parents don't even know.
How would you fit into Sheen's team?
I'm sure he's got publicists, but there's no indication of who would be doing what at this point, or what the intern would even be in charge of. I ran into an article today that speculated that the pay for the internship was $10 an hour. I don't know what would be expected from a $10-an-hour social-media intern for a celebrity.

Are you a fan of his?
I saw my first episode of Two & a Half Men just two nights ago. I was in the gym, and it wasn't by choice. There's no disputing that he's a good actor. He has the ability to "turn it on" even while he's got all these other life issues. I think he's a great actor. I honestly have not followed too much on his career since the '90s. But he's back in the limelight, and he obviously knows how to turn heads and draw attention to himself.

Do you think he needs help?
He is obviously not behaving too rationally for the position he's in and for the fan base he has. But maybe that's why he's got so many fans, who knows? He's not taking full advantage of the opportunities he has as a celebrity to bring exposure and visibility to stuff that truly matters. Whether that's related to his mental state is not my place to judge. But it's obvious that he could and should be doing more than he currently is.

Why'd you decide to apply?
More as a joke than anything. 80,000 other people jumped on the bandwagon. It was pretty easy to do. I thought, "Hey, why not." A friend showed it to me. There's nothing lost by trying.

What would you do if Sheen asked you to buy some illicit substances?
I trust Charlie Sheen's publicist with my life to know better than to let [Sheen] do something like that. I suspect that Charlie has some very intelligent people helping him stay in the spotlight, and the same people are also the type that would protect those working around him.