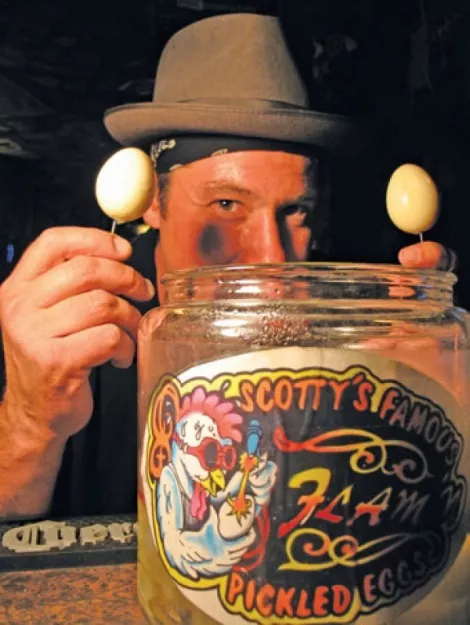 Three years ago, Burt's Tiki Lounge bartender and New York City native Scotty Kerbein was lamenting the lost days of pickled eggs, usually served out of pickle jar at any bar. Luckily, Kerbein soon after launched Scotty's Famous Pickled Eggs.
The notion comes with a long history: "My German grandfather used to make them; our family loved his crazy cooking habits," says Kerbein, who uses the family's simple recipe. The first batch sold in two days, and since then, he's pickled a peck of eggs to be sold to friends or drunks on dares. Kerbein believes opinions of the eggs diverge because of "a generational thing. We get young guys in here and they're like: 'What the hell are those?' And, it's geographical; we get East Coasters passing through and they love it."
The brand's logo, drawn by Big Deluxe Tattoo Studio artist John Pratt, features a colorful throwback to the '90s—a blowtorch-wielding, mohawked chicken torching an egg. The fiery ovals are garnished with a slice of pickled onion and a pepper—from Anaheim to habanero for spiciness adjustment—with a dash of salt to complement the vinegar flavor. Once you overcome the eggs' plastic-looking appearance, you'll find that the inside is smooth and delicious—overall, it packs a tasty punch that pairs nicely with a cold beer.
The eggs are sold for $2 each at Burt's Tiki Lounge, The Republican, Junior's, The Tap Room and a smattering of other bars. The public can buy jars of 30 for $30. Kerbein's other pickled concoctions—asparagus, okra and green beans—also are found in The Tin Angel Cafe's Sunday Bloody Mary. 
SCOTTY'S FAMOUS PICKLED EGGS
Burt's Tiki Lounge
726 S. State
801-521-0572