Page 3 of 3
"Off the Record"
Shortly after Ida Smith's conversion to the sealed portion, her brother Hyrum asked her if she would talk to LDS apostle Holland, whom she had known since the 1970s, about Nemelka. "Many 'crazies' have come and gone and the Church has kept silent on them," Hyrum Smith noted in an e-mail. "I think that is wise, because they all die eventually of their own weight."
On June 12, 2007, Ida called Holland, who told Ida their conversation had to be "off the record, […] Jeff to Ida." This was for her, he said, "because I love ya." He told her several times there could be no "bugging of telephones." She agreed but recorded it anyway, not at Nemelka's behest, she says, but to protect herself legally if it were ever to come down to her word against Holland's.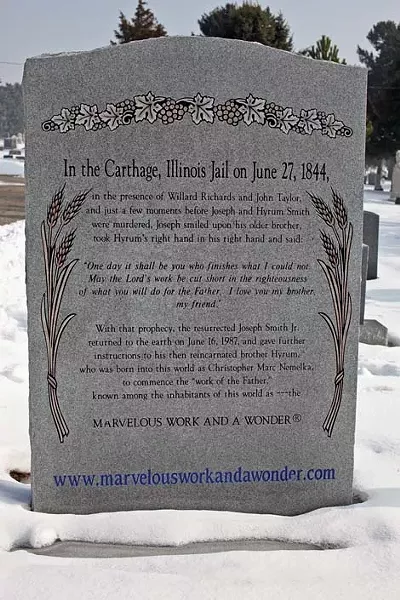 "This guy is a wacko," Holland told her, "he's just not in touch with reality." While Holland agreed with her that it would be "wonderful" for the LDS faithful to receive the sealed two-thirds of the gold plates, it would not be coming from "somebody down at Joe's Bar and Grill," he told her. "If we really believe there's an order and a priesthood in the church, it's gonna come to the president of the church," in the form of prophecy.
Holland wasn't the only big gun her family rolled out. Longtime family friend Sen. Bennett asked her to read a book he had recently written about his journey to prove that Joseph Smith translated the Book of Mormon, Ida says. She in turn asked him to read the sealed portion. In a five-page letter dated Aug. 27, 2007, Bennett wrote, "I am convinced, beyond any reasonable doubt, that [Nemelka's works] are forgeries." Although the Book of Mormon celebrates that "Jesus is the Christ," he noted, "Christopher's central message is that a Christian church is unnecessary," an interpretation Ida Smith agrees with. "Christopher is the person who has been called upon to give you real truth in the latter days, and is the only true messenger in the world today," she says.
By the time Ida Smith had joined the ranks of those convinced, as Taggart says, that Nemelka has "the keys to unlock the mysteries of life," Nemelka was mired in a series of legal battles largely of his own making. In 2007, following instructions, he says, from his immortal mentors, he filed 11 lawsuits, targeting past critics including Judge Lindberg, a psychologist, former plural wives and even several of his own siblings who had, he alleged, slandered him.
For one of the 11 lawsuits he filed, Nemelka used Smith's recording of her conversation with Holland to source his claims he had been defamed by the LDS Church, apostles Holland and Smith's cousin Ballard, Ida's brothers, Hyrum and Denis, all of whom he named as defendants.
Friends No More
Nemelka filed a motion seeking a judge who was not LDS to hear his cases. Judge Paul Maughan, in a July 13, 2007 ruling—while noting that Nemelka's motion to exclude LDS-member judges would disqualify "a substantial percentage of the 3rd District bench"—denied it. Several months later, after Maughan was assigned Nemelka's lawsuit against the LDS Church, he recused himself, citing "personal and familial relationships" with one or more of the defendants.
When, on Nov. 2, 2007, 3rd District Court Judge Constandinos "Deno" Himonas heard initial pleadings from Nemelka, who represented himself, and the church's lawyers, Himonas raised the allegation that Nemelka was a "deceiver" with regard to his claims he had translated the sealed portion.
"I could prove without a doubt to the court, to the jury that in fact I had that calling, just like Joseph Smith did, no difference," Nemelka said. Taggart recalls she and other supporters in the courtroom, "held our breath, hoping the judge would say, 'Yes, prove it to us,' allow us to see how Chris would have proved that, have the record before us." But they were disappointed. The court didn't want to look at the issue, Nemelka said, and "I don't want to go there."
After just over an hour of legal arguments, Himonas abruptly ended Nemelka's lawsuit, dismissing all charges against the defendants.
Ida Smith's involvement with Nemelka's lawsuit against the LDS Church cost her dearly. While she says her excommunication in 2008 did not trouble her, she wrote in her autobiography, "My family have isolated me and think I have been either deluded, deceived, or have lost my mind."
She also lost a close-knit group of female friends she had had since the 1970s. In late August 2008, she received a letter from seven friends, all, according to Nemelka's blog, senior and well-connected figures in the LDS Church, that stated, "We are aware you have made choices that prevent us as covenanted, Temple-recommend-holding members of The Church of Jesus Christ of Latter-day Saints from associating with you at this time."
Smith says the letter, "made me smile. I wasn't devastated. I felt so sure." While she cried, she says, it was only for her friends. "They cut themselves off."
In late 2009, Nemelka suffered a similar loss of support as Ida Smith did when, he says, his large, mostly devout Mormon family, turned their backs on him. This followed the death of Nemelka's 19-year old nephew, Pfc. Aaron Nemelka, one of 13 gunned down by U.S. Army Major Nidal Hasan in Fort Hood, Texas, on Nov. 5, 2009.
Christopher Nemelka gave several media interviews, which angered his family, his brother Joel says. Christopher Nemelka, however, says he had every right to inform the media that his nephew, who he claims was told by his family to either join the military or go on a LDS mission, "died a victim of his family, of his religion, of his country. I did not use that as the platform to publish Human Reality: Who We Are and Why We Exist." The book, whose author Nemelka declines to divulge, came out around the time of Aaron's death.
At Aaron Nemelka's funeral, on Christopher Nemelka's instruction, Taggart and several young male followers handed out a press release to the media, he says, "which strongly disagreed with the LDS Church's involvement with my nephew's funeral." Someone from Nemelka's group placed several of these releases on a table dedicated to Aaron Nemelka's memory. One of Christopher Nemelka's brothers "reamed him," he says, in an e-mail demanding to know how he could have sanctioned such behavior.
Because of his stance on Aaron's death, Christopher Nemelka says, "I've alienated my entire family, OK?" That's a perspective his brother Joel agrees with. "He used his nephew's death as a marketing tool," he says.
An Empty Grave

On June 16, 2010, at 6 p.m., Ida Smith and a crowd of around 50 onlookers gathered in the Salt Lake City Cemetery in the lower Avenues, a few feet from the 18-foot obelisk dedicated to the memory of Hyrum Smith that looms over his family plot. They were attending the dedication of a gravestone recently placed on Ida Smith's own burial plot, which she had donated to Nemelka.
Nemelka did not attend the dedication of the gravestone that proclaimed him as the reincarnation of Hyrum Smith, along with boasting two trademarked Websites inscribed in bright blue at the base of the plinth, which promote his work. He says the gravestone is not meant to mock. "It stands as a contrast to the falsehoods that the LDS Church has been giving the world for a long time, OK?"
Nemelka's stand-in, his attorney Rodney J. Vessels, told the crowd that Ida Smith, "will be known in history, throughout all generations of time, as one of the greatest protectors and progenitors of her great, great grandfather's true legacy. "
The plot was not all she gave him. Nemelka is the executor of her will and her estate. Ida set up a trust, he says, called The Marvelous Work and Wonder Trust, to which she signed over all her assets. Others, he says, have also signed over their wills to Nemelka's "work." His message, he continues, "has freed" many people up. "It has given them a whole different view of life, and knowledge."
Ida Smith's generosity did not go unnoticed. In 2010, Nemelka says agents representing the Office of Recovery Services and in pursuit of allegedly between $40,000 and $50,000 the state says he owes in back child support, knocked on Ida's door. They wanted to know why Ida had signed over her home to Nemelka's wife, Sheri. Ida Smith says she told them to ask Nemelka and sent them away. Nemelka says the IRS has also investigated the Worldwide United Foundation, and, he says, "closed the case."
According to a close friend of Ida Smith's family, her family continues to hope she will one day, as Hyrum Smith e-mailed Ida in 2007, "discover that this is false and come away from it." Kammerman took that path two years ago and says her life "is so much happier" now. When she dies and stands before her creator, she knows what she'll do if she's told Nemelka's "work" was indeed, as she says he claims, the only way to find truth, peace and happiness, on the earth. "I'm going to call bullshit," she says.
For now, Ida Smith stands at the center of Nemelka's peculiar universe, her search for a spiritual truth she can embrace having led her to become a beacon for Nemelka's message that the LDS Church is false. "This is real truth in your face," she says about the gravestone. "Let the chips fall where they may."