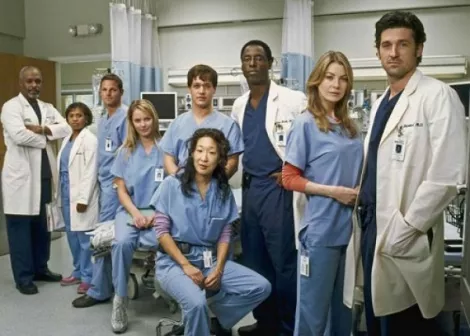 Thursday, May 14
Grey's Anatomy (ABC) The only character I can almost stand, Izzie (Katherine Heigl), is going to die (read: get fired from the show), thus eliminating any chance I'll ever try to watch Grey's Anatomy again. Oh, who are we kiddin'? Wasn't going to happen, anyway.

CSI, CSI: NY (CBS) While investigating a poker-chip scam, Langston (Lawrence Fishburne) throws down some deadly force—and he's not even a real cop! On NY, a hostage situation puts a CSI's life on the line! Oh, again?

My Name Is Earl, Parks & Recreation, The Office, 30 Rock (NBC) Earl & Co. get ready for cancellation and/or life on Fox; broke-leg Andy's band rocks Pawnee; Holly's back for the Dunder-Mifflin picnic; Sherri Shepherd, Sheryl Crow, Mary J. Blige, Elvis Costello and Clay Aiken drop by 30 Rock for no good reason—pure comedy!

Bones, Hell's Kitchen (Fox) Motley Crue drop by for no good reason, and Booth bones Bones—pure dramedy! On Hell's Kitchen, Gordon Ramsey chooses which chef will get the gig at a New Jersey casino restaurant … that's the winner, right?

Smallville, Supernatural (The CW) Clark faces the tough decision to kill Doomsday, despite the fact that he's, you know, Doomsday. On Supernatural, Sam and Dean attempt to stop a completely unrelated Satanic apocalypse. Damn, The CW's dark on Thursdays.
Friday, May 15

Ghost Whisperer, Flashpoint, Numb3rs (CBS) Spooks spook Melinda's baby; the response unit tackles a hospital hostage emergency for the eighth time this season; Charlie's girlfriend is abducted by a cult that hates math.
Prison Break (Fox) Series Finale: Didja know there is/was a character named Ralph Becker in the final season? Yeah, he didn't do much here, either.
Saturday, May 16

Saturday Night Live (NBC) Will Ferrell hosts, Green Day play, cowbells are abused.

Mad TV, Talkshow With Spike Feresten (Fox) Series Finales: Alex Borstein, Mo Collins, Will Sasso and Debra Wilson drop in for the final Mad TV; as usual, no one you've heard of guests on Spike Feresten's farewell.
Sunday, May 17
Desperate Housewives (ABC) Honestly, I had no idea this was still on.

Survivor: Toncantins (CBS) The only Survivor contestant ever to match host Jeff Probst in pure smarm and douchebagnacity, "Coach," wins. Just a guess. On the subsequent reunion special, Utah's Tyson strangles Sierra. So really, everybody's a winner.

Sit Down Shut Up, The Simpsons, King of the Hill, Family Guy, American Dad (Fox) One of these won't be back next season—not just a guess.
Monday, May 18

How I Met Your Mother, Two & a Half Men, Rules of Engagement, CSI: Miami (CBS) The "mother" is revealed … or not; Charlie Sheen shatters the prime-time dick-joke record; David Spade valiantly attempts to catch up to him; Horatio's creepy relationship with his sister-in-law reaches a new level that stuns everyone— including Charlie Sheen and David Spade.

24 (Fox) Jack's heart finally explodes, totally ruining Janis' purple blouse.

Gossip Girl, One Tree Hill (The CW) Couldn't care less.
Tuesday, May 19
NCIS, The Mentalist, Without a Trace (CBS) The team's visit to Israel goes awry, as most visits to Israel do; Patrick Jane fears a trap—and split ends; Martin Landau pitches a movie about The Ramones to the FBI … wait, no, that's not right …
90210 (The CW) Revision: Now I couldn't care less.
Wednesday, May 20

The New Adventures of Old Christine, Gary Unmarried, Criminal Minds (CBS) Old Christine bones New Christine's dad; Gary bones his ex-wife Allison; the team tracks a serial killer who targets hookers (or bone-ees, if you will).

American Idol (Fox) America's newest musical footnote is crowned.