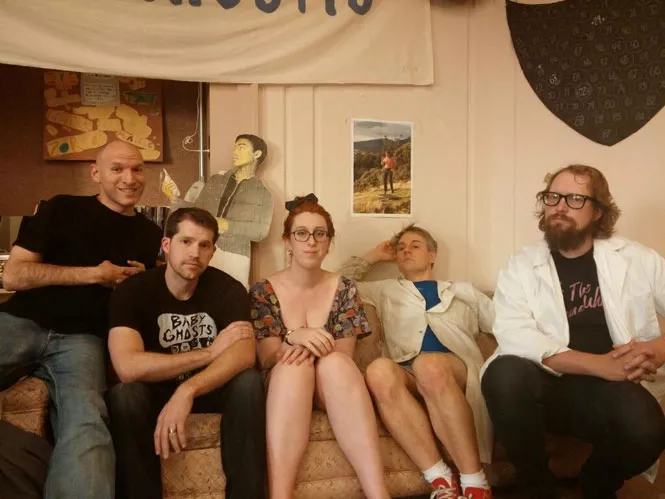 Secret Abilities at Dub Narcotic Studio with Calvin Johnson
However wonderful it is in the beginning, love sure bites when it ends. Whether your former significant other broke up with you over the phone and then wouldn't return any of your stuff, or just flat-out stopped returning your calls (not speaking from personal experience at all), the pain that usually accompanies the end of a relationship can be acute enough to make you wish your ex would get eaten by a swarm of the poison-spitting dilophosaurus from Jurassic Park.
And except in rare cases, breaking up is "something everyone can relate to, in a way," says Davin Abegg, songwriter, guitarist and co-lead vocalist of Salt Lake City "awkward-rock" band Secret Abilities. As a result, it's also the topic of hundreds of songs, usually not without plenty of running mascara, angst and feeeelings. But when Secret Abilities decided to write an album titled Music to Break Up By—out Nov. 22—Abegg didn't want it to be clichéd, full of "silly love songs or even silly breakup songs," he says. "I wanted them to be at least interesting."
So instead of stereotypical songs about puppy love and heartache, Music to Break Up By is made up of "spooky stories mostly about dying or getting killed by the person you love," Abegg says. "Or killing the person you love, but in a fun, goofy way—like a cartoon about it," he adds, laughing.
The recording of Music to Break Up By—Secret Abilities' fifth official release and their first on vinyl—marks a lot of significant benchmarks in the band's seven-year career. The band was invited to record the album at K Records' Dub Narcotic Studio in Olympia, Wash., and got the opportunity to work with K Records' owner and producer Calvin Johnson, all of which Abegg says was "honestly a dream come true." The trip to the Pacific Northwest also gave them the opportunity to do their first tour outside of Utah, in May.
Getting to create in a professional studio motivated Secret Abilities to buckle down on their sound. When they were first starting out as a band, "I was super into really lo-fi, crappy sound," Abegg says, but for Music to Break Up By, "I decided it was kind of time for us to grow up a little bit." They made the album as high-quality as possible, while keeping their "homemade" style, "because I don't think we'll ever lose that," he says.
This attention to detail certainly can be heard on Music to Break Up By, but it still has the endearingly ragged edges and dorky energy that makes Secret Abilities such a fun band to listen to. Featuring vocals by Abegg and the fabulously brassy-voiced Tink Safeer, as well as drums by Dave Todd and bass by Justin Behling, Secret Abilities' combination of pop-punk, surf and throwback rock & roll is the perfect accompaniment to the strange tales of Music to Break Up By.
The album begins with "Creepy," a lusty, lurking number about a guy not keeping his eyeballs to himself. On primal punk track "Werewolf Love," some unfortunate soul turns into a werewolf and unknowingly chomps the life out of its paramour. The oddly satisfying "Blame Game" is about a girlfriend who catches her fella cheating on her, and after he blames her for what happened, she gets fiery, murder-y revenge ("Now you'll never make me cry!").
Not all of Music to Break Up By is tongue-in-cheek. Abegg wrote one song on the album, "Bad Desire," as a sincere reflection of his own past heartbreak—now far in the past since he's been married for 10 years. But most of Music to Break Up By puts a lighthearted spin on the way that dealingwith a breakup can turn people into monsters. After all, joking about something awful is the best way to not let it drag you down.