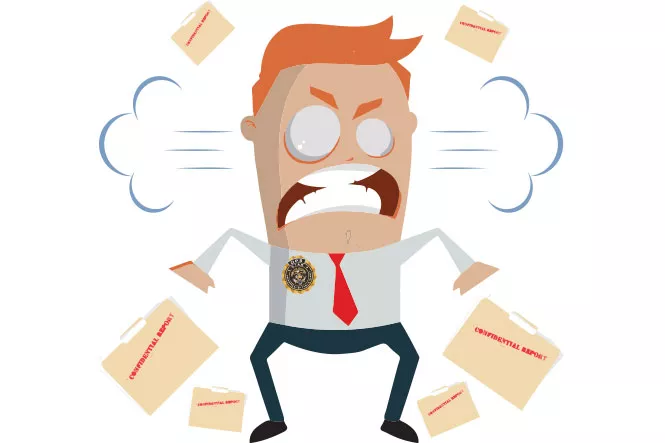 When a prosecutor presents his or her case, a key initial witness often is the detective or investigator who assembled evidence that a judge deemed sufficient to warrant a trial. That investigator lays out a map for the jury, detailing how they came to the conclusion that the defendant committed a crime.
In the trial of former Utah Attorney General John Swallow, the Salt Lake County prosecutors put FBI Agent Jon Isakson on the stand. He was not their only possible choice of investigator to explain the case against Swallow; there was also State Bureau of Investigation's Agent Scott Nesbitt. Nesbitt attended much, if not all, of the trial which saw Isakson implode on the stand when he testified as to why the Department of Justice declined to prosecute Swallow and former AG Mark Shurtleff. Implode, because Judge Elizabeth Rhuby-Mills had ordered that topic was not to be broached before the jury.
Isakson suffered for his error, as Swallow's lead defense counsel Scott Williams tore into his credibility and accused him of perjury. All the while, Nesbitt sat behind the prosecutors, in many ways the author of the two investigations, since he wrote many of the affidavits and search warrants that judges signed so investigators could search, among others, Shurtleff's and Swallow's homes.
Shurtleff's attorneys disputed Nesbitt's affidavits in their motion to dismiss, arguing that the warrants contained dozens of "material omissions, misleading statements and outright mistruths." Shurtleff filed a misconduct complaint against Nesbitt with the Department of Public Safety late last year, and shortly after Swallow's acquittal also filed misconduct complaints against Isakson and his boss, Michelle Pickens.
Well before Swallow's trial, concerns about Nesbitt's approach to investigating cases circulated among defense attorneys, painting him as an aggressive go-getter who would retaliate if he felt someone wasn't cooperating with him.
Businessman David Buttars went to prison in January 2017 for 1-15 years, only after Nesbitt pursued him and Buttars' former girlfriend several times through the courts with cases that still leave defense attorneys scratching their heads.
Cara Tangaro was co-counsel with Williams and Brad Anderson on the Swallow case and represented two other clients who found themselves in Nesbitt's crosshairs—one of them Buttars. After reading "hundreds, if not thousands of pages of reports," on the three cases, Tangaro says, "My concern with Nesbitt is I believe he picks the narrative and then does anything he can to move that narrative forward without taking into consideration evidence or interviews or people who go against that narrative. And the power that he has when he does that is extremely dangerous."
City Weekly sought to discuss with Nesbitt concerns that had arisen with four of his cases—Buttars, Buttars' onetime girlfriend, Shurtleff and Swallow. The Department of Public Safety (DPS) responded that the threat of a Shurtleff lawsuit meant they couldn't comment on his case. A complaint filed by Buttars with DPS against Nesbitt was investigated twice internally, as well as by the Utah AG and the Park City PD, the latter two investigations "reviewed" by the Utah County Attorney's Office. "Agent Scott Nesbitt was cleared in all," DPS spokesperson Marissa Cote writes in an email.
According to court transcripts, Nesbitt began his career at the Davis County Sheriff's Office, spent 10 years with Midvale PD as a patrol officer and detective, and the past seven at the Department of Public Safety's State Bureau of Investigation. At SBI, he investigates cases in Utah, extending to seemingly run-of-the-mill stalking issues.
In Buttars' complaint about Nesbitt, which he provided to City Weekly prior to going to prison, he outlined how Nesbitt filed a criminal stalking charge against him based on allegations in a prior civil action by a former girlfriend of Buttars that a judge found lacked credibility and threw out of court. Nesbitt was case manager on the criminal stalking prosecution of the same allegations by the Salt Lake County DA's office. Buttars' attorney Skye Lazaro found Nesbitt's driving of a class A misdemeanor stalking case, "really, really weird." Buttars was acquitted of the criminal stalking charge.
Shortly after the acquittal, the AG's office filed security fraud and theft charges against Buttars and a second man, with Nesbitt again the lead investigator. Buttars' partner, Mark LaCount, took a plea deal on a misdemeanor and $10,000 in restitution. Buttars, however, was hit with felonies. "Nesbitt was out to get me; there was no question," Buttars said in a November 2016 interview shortly before going to prison. "They offered LaCount a deal. They came after me with no deals and nine felony counts." A jury found him guilty of fraud, but not guilty of theft. He has to pay restitution of $25,000.
Several attorneys who worked on Buttars' securities case characterized DPS' pursuit of the first-time offender as a "witch hunt." Rather than what often happens with white-collar crimes—victims complaining to the Attorney General's Office—in Buttars' case, investigator Nesbitt sought out investors. "The case didn't come because people went to the AG and said they were defrauded; it came because the agent went to victims and said you were defrauded," attorney Robert Cummings says.
In what some saw as a crusade by Nesbitt to incarcerate Buttars, the ailing, middle-aged entrepreneur wasn't the only one in the agent's sights. Buttars filed his Nesbitt complaint with DPS in October 2014. A letter to Buttars from an SBI official dated Jan. 5, 2015, stated that his concerns "had been addressed and investigated."
Two-and-a-half weeks later, Nesbitt filed a charge of perjury against Renee Hieftje, an actress who'd appeared in numerous commercials and LDS films, including Saints and Soldiers. Hieftje dated Buttars for 18 months.
Nesbitt alleged she had lied on the stand in Buttars' criminal-stalking case while testifying for the defense. That testimony was on May 9, 2013—19 months prior to him filing the false-testimony charge. Such was the interest at DPS in this case, a "Wanted" poster for Hieftje was created for "false or inconsistent material statements," with her personal details and address. "If found, please book into jail," it stated, above Nesbitt's office phone number. DPS' Cote says the document was produced "for internal purposes only."
In a June 2015 motion, Hieftje's defense attorney wrote that Nesbitt's own investigative report proved that she "testified truthfully," about driving Buttars' car. Nevertheless, while the judge admitted to "serious concerns" about the case, she bound it over in August 2015, only for it to be dismissed shortly after. Hieftje declined an interview request.
When it came to Nesbitt's work on the Shurtleff and Swallow cases, Salt Lake County DA Sim Gill says he was initially brought in on the investigation into the late Utah County political operative and Shurtleff friend, Tim Lawson. He wasn't put on the stand in the Swallow case, Gill says, because it would have been "duplicative" to Isakson.
What surprised Davis County attorney Troy Rawlings, who ultimately dismissed charges against Shurtleff, was that Nesbitt was not called to the stand after Isakson had taken such a pummeling. "They rest their case after there were a number of witnesses clearly favorable to the defendant without putting their lead agent on to try and clarify and bolster their case to the jury," he says.
DPS says Nesbitt was ready and willing to take the stand; he just wasn't called. Nesbitt had been "authorized" by both the DOJ and the FBI to testify for the defense and prosecution. "Nesbitt was in court each day and was not called to testify by either side," Cotes writes in an email.
Tangaro remains deeply skeptical. "As someone who used to prosecute cases, I don't think I would feel comfortable using Nesbitt as a witness or an investigator in any prosecution," she says. "And I feel like prosecutorial agencies should know, if they haven't already been put on notice, of Agent Nesbitt and his tactics."