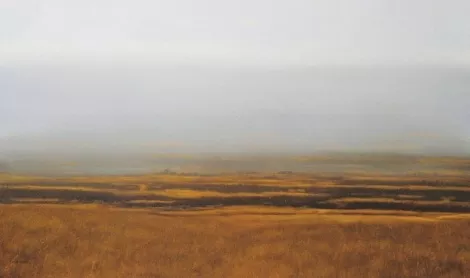 The poetic impulse is a mysterious thing. A work of verse has its genesis somewhere in the mind's eye, the poet gazing off into the distance at something indistinct that makes its presence felt nonetheless. As much as poems are known for their power to evoke artistic visions, the tradition of poets finding inspiration in visual art seems more sporadic as of late, with many contemporary poets preferring to anchor their words to concrete experiences in the "real world," as though the experience of works of art were too abstract.
Joel Long—English teacher at Rowland Hall-St. Mark's and a recipient of a master's degree in creative writing from the University of Utah—has found that looking at paintings for subject matter and looking at the wider world didn't create a dichotomy. But then, Long's writing has recently been informed by the oil paintings of Dave Hall, a former Rowland Hall teacher who quit 10 years ago to paint.
Long recognized in the subtle colors and panoramic contours of Hall's work the forms of the land near where he grew up in Montana—rivers gouging the hills, astounding bluffs and cut-banks. He looked at Hall's paintings and "found them opening into memory, opening my understanding of mystery in that landscape that is the heart of who I am."
Long didn't merely take inspiration from Hall's artworks, but formed a collaboration with the artist. The path that collaboration took was as circuitous as a Montana river. Hall's son was one of Long's students, and the poet and painter had met through that connection. Long was reading a poem he had written for the birthday of another friend at a gathering, and Hall joked, "What does a guy have to do to get a poem written for his birthday?" The result was that last July, at the Gallery Stroll opening for Hall's exhibit Moving Water at Phillips Gallery, Long presented him with three poems, just weeks away from Hall's 60th birthday.
That night, they decided to collaborate. Long recalls, "I admire his sense of color, and developing sense of textures." Hall says of the collaborative impulse, "One of my favorite stretches of water in the world is just downstream from Wolf Creek, Mont., on the Missouri, north of Helena on the way to Great Falls. Joel is from Great Falls, and I realized that, while he's not a fisherman, he has a love for that same stretch of water. He sees rivers and the country around them like fly fishermen do. It's the poet in him, and speaks to the poetry in rivers and moving water."
Long's collection Knowing Time by Light, recently published by local Blaine Creek Press, is composed of 46 poems, 12 of which he wrote in response to Hall's paintings. As the title implies, Long is fascinated by the land and what it has to tell us. In the title poem, he describes this poetic place:
"Nothing quiet here, everything makes noise, even stones beneath the field shift, take the body Of evening, heavy As being, gilded, fringed with brilliance That makes me Believe the heart of things, The kind of heft we can almost bear."
Long and Hall decided on a core group of poems/paintings for the show. "What I liked most about working with Joel is that I was more inclined to paint in a more abstract way," Hall explains. "I tend toward that direction, and I think it worked well for this poetry collaboration."
The poems in the show are also informed by the loss of Long's friend, poet and professor Craig Arnold, who died while hiking in Japan last year. "The poems force you to see loss, then see life as vibrant before you," says Long.

SEVEN POEMS & SEVEN PAINTINGS: JOEL LONG & DAVE HALL
Evolutionary Healthcare
461 E. 200 South
801-583-2303
Through April 12