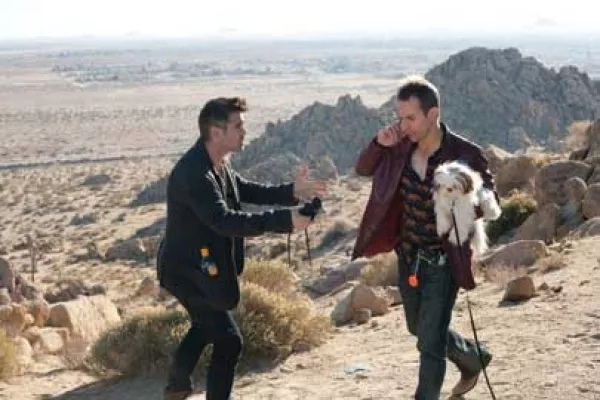 Maybe you don't know the name Martin McDonagh yet. Maybe even if you saw his 2008 feature debut, In Bruges, you didn't register the filmmaker. But please put this guy on your list of the most brilliantly inventive comic filmmakers in the world.

His new film, Seven Psychopaths, starts from an embarrassing simple premise: Screenwriter Martin (Colin Farrell) is experiencing a bit of writer's block fleshing out a script that he has sold with the provocative title … Seven Psychopaths. What spins off from that point involves a wild collection of characters: Martin's struggling actor friend, Billy (Sam Rockwell); Hans (Christopher Walken), who helps Billy run an operation kidnapping dogs to return for reward money; and Charlie Costello (Woody Harrelson), a criminal whose beloved shih tzu is among those kidnapped dogs and who shows himself to be a prime candidate for one of the titular psychopaths.

For much of the running time, the plot is purely episodic, highlighting individual anecdotes that may become part of Martin's script—including the tale of a vengeful Quaker and a couple who go on a killing spree targeting other serial killers—or Billy's over-the-top notion for the film-within-the-film's climactic shootout. It's not the same kind of marvelously cohesive narrative In Bruges was, with its sharp focus on bad guys who still drew moral lines in the sand, but its situations are so hilariously goofy that it generally doesn't matter.

And the character moments … oh, the character moments. Like Quentin Tarantino, McDonagh makes simple conversations into smart, explosively funny exchanges. The terrific cast certainly helps; Rockwell, in particular, steals the show with Billy's demented brand of creativity and his odd manner of repeating phrases, and it's hard to imagine anyone who could make simply saying the word "no" as hilarious as Walken does. Seven Psychopaths is violent, profane, offensive and almost relentlessly funny. Anyone who can make you laugh this hard is a name worth remembering.

SEVEN PSYCHOPATHS



Colin Farrell, Sam Rockwell, Woody Harrelson
Rated R