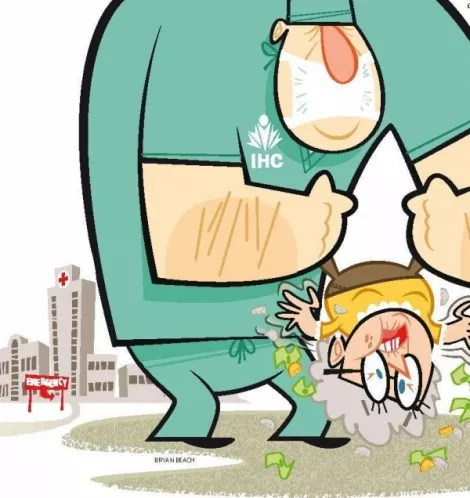 Everybody needs help sometime, and sometimes when least expected. Wilhelmine Loertscher, a 71-year-old commissary manager at Hill Air Force Base, realized she needed help the morning of her car accident in October 2008. In fact, "help me" was the only thing she could say as emergency rescue crews went to work with the Jaws of Life to extract her from her crumpled car. Loertscher couldn't say she didn't see it coming. The last seconds before the impact stand out in terrifying contrast to the rest of her day. She got a call at 7 a.m. to come into work on her vacation to receive an employee appreciation award. She was thrilled as she left the base with a nice plaque and a $100 gift certificate.

But driving home shortly before 9 a.m., Loertscher experienced one of those nightmare moments that play out in slow motion. She saw a car deviate and make a beeline from the other side of the road toward her on State Highway 93. She couldn't move fast enough to defend herself. The car crossed two lanes of traffic on its side of the highway, then a sizeable median and two more lanes of traffic on Loertscher's side before ramming into her.
"I thought, 'Oh, my God!'" Loertscher recalls. "By the time I thought this, the passenger side of the car was gone." Loertscher was wrapped between twisted steel and airbags—for how long, she couldn't tell—until paramedics lifted her out and rushed her to Intermountain Healthcare's McKay-Dee Hospital Center in Ogden.
Loertscher suffered multiple broken ribs and a fractured sternum. Her right wrist required a metal plate and numerous physical therapy sessions in order for her to re-learn the use of her hand. During legal proceedings over insurance payments, Loertscher discovered the other motorist, a 24-year-old woman, was driving under the influence. More astonishing still, the woman was also trying on a new pair of shoes when she veered across four lanes and a median to collide with Loertscher.

Loertscher felt confident her attorney would easily clear the case and recover the insurance money she was due. She would move on. The problem she never expected was that her case was too clear-cut.

The other party was so clearly at fault that IHC, instead of billing Medicare or Loertscher's employment-based health insurance that she has contributed to for 16 years, placed a hospital lien on the at-fault driver's insurance payment. This meant IHC, which charged Loertscher $34,579 for her week at McKay-Dee, was claiming 100 percent of the $25,000 she stood to gain from the other driver's auto-liability insurance.

Had IHC billed Medicare—which Loertscher earns as an older, taxpaying citizen—or her private insurance, the bill would have been significantly smaller. Loertscher would have had money left over to compensate for the more than two months she couldn't work and to replace her destroyed vehicle.

This hospital lien practice has been a part of Utah's legal statutes for many years, but only in the past few years have hospitals realized it could be leveraged to recover much more money, say trial lawyers who have rallied to fight the practice. Medicaid or Medicare patients are likely to have an IHC-affiliated collection company, Cardon Healthcare Network, clamp a lien on potential payments they stand to receive from responsible parties' insurance. While the lien option is open to all hospitals, lawyers say health-care giant IHC most agressively pursues the practice.

A growing number of personal-injury lawyers claim Cardon latches onto clients' possible settlements like a bulldog and doesn't let go until IHC gets 100 percent of its payment—even if it means patients get nothing to cover their other expenses while recuperating: lost wages, debt, transportation and other costs. The lien practice, they say, is especially hard on the elderly and poor—recipients of government insurance coverage from Medicare and Medicaid. But representatives of IHC—the state's largest and most visible health-care network—say the stink being raised isn't coming from accident victims like Loertscher, but from their personal injury attorneys whining over cuts to their own healthy contingency fees.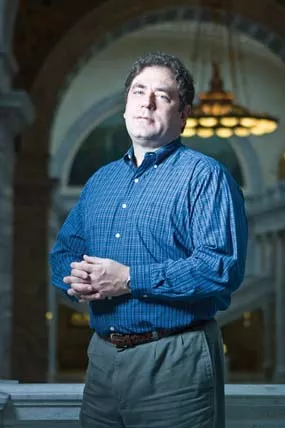 The fight is heating up at the 2009 Utah Legislature. "[IHC] has said this is just a trial lawyer's bill meant to fatten their own wallets," says Rep. Brian King, D-Salt Lake City, an attorney himself and former president of a trial lawyers´ lobby group, the Utah Justice Association. King is sponsoring House Bill 135 to force hospitals to reduce their fees in scenarios like Loertscher's. "No way. This is money [saved] that goes straight into the injured person's pocket."

Everybody needs help sometime. And sometimes, that means putting your faith in the services of strangers. This is a story about the people behind the billing statements—the hospitals, lawyers and collection companies scrambling to make sure they get paid and their clients are satisfied. The battle between lawyers looking after their clients and Cardon looking after its major client—IHC—could be a rumble indeed. Most likely, the fight will occur behind closed doors, in the back rooms of the Legislature and in IHC administrative offices in downtown Salt Lake City.

The end goal of this fight may be impossible to reach: A state law that essentially requires somebody do the right thing and cut accident victims some slack. Personal injury lawyers say it's shameful that hospitals aren't required to reduce their fees, and hospital lobbyists level the same charge against the attorneys and their contingency fees.

In the meantime, accident victims like Loertscher struggle to comprehend how they could be hit with such restrictive liens. All they can do is wait while the experts argue over who should be the first to get the money.

"I worked all my life. I pay my taxes, I earn my money and somebody like this runs me over," Loertscher says. [Now] I'm stuck here, and the hospital will not release the bill."

Wilhelmine's World

Wilhelmine "Anita" Loertscher sits in the kitchen of her South Ogden home, furrowing her brows at something her lawyer, Dustin Lance, has just told her. At her feet, a gray toy poodle named Tasha looks on.

"If you had caused the accident," Lance says, "IHC would have no problem sending the bill to Medicare and Tricare." Tricare is Loertscher's private insurance company, which covers military civilian personnel and their families. "That makes no sense!" Loertscher exclaims. "It wasn't my fault; she hit me!"

It's hard for Loertscher to get past the feeling she's being punished for using her Medicare benefits, even though she has private insurance. This doesn't compute well in Loertscher's black-and-white, right-or-wrong world. Loertscher, a transplant to the United States, could not be more of a red-blooded American success story. Growing up in war-torn Nuremberg, Germany, her life from sunup to sundown was split between school and working in a factory. She immigrated to the United States when she married in her early 20s. Having spent more than 50 years in the United States, Loertscher speaks English fluently, though her accent betrays her origins when she pronounces the word "hospital" as "hoshpital."

Her house is filled with family pictures, porcelain dog figurines, and Southwestern artwork, which her husband Richard collected when they were stationed in Arizona (Richard is retired from 25 years in the military and now manages a buffet restaurant in Layton). On one table is a picture of Loertscher in the hospital surrounded by the stuffed dogs her friends and co-workers brought her. "Can't believe I end up in the hospital like that," she says shaking her head. The toughest thing for Loertscher was not being able to work for weeks.

She doesn't believe in welfare, and when she divorced her first husband and was raising two children on her own in Fort Lewis, Wash., she says she worked 60 hours a week in a hair salon to support her family. She spurned the idea of government assistance. She doesn't believe in taking sick days or retiring at 65, either. At the base commissary, Loertscher manages 16 employees, handles deposits and works as a cashier. She's also got a pretty fierce reputation for a 5-foot-1 71-year-old.

"I'm a fighter, not a lover," Loertscher says proudly. "And when I'm right, I go all the way."

That's why she's lawyered up and is fighting the lien. But how she ever got hit with such punishment is exactly what frustrates her attorney, Lance. He says IHC capitalizes on vague legal statutes to go after 100 percent of money that could be reclaimed in an accident settlement, and refuses to negotiate. IHC, he says, argues that federal law requires it treat Medicare and Medicaid as the "payer of last resort." Translation: If there is a third party involved in an accident with a Medicare or Medicaid recipient, and the at-fault driver's insurance will likely pay damages, then IHC has no choice but to impose a lien on that possible settlement.

Lance, for one, isn't buying it.

"My opinion is that this is a problem of greed," he says. He's suspicious of IHC, arguing that it is relieving the Medicare burden by imposing a lien on the third party, especially when in Loertscher's situation, the health-care giant refused to bill her private insurance. If the bill goes to Medicare, IHC may get compensated 40 to 50 cents on the dollar. But if IHC imposes a lien, it can take the entire sum of recovered money. Loertscher has not only earned Medicare after having paid into the system for half a century but also had her own private insurance. Neither plan was billed. And that will end up costing her.

Lance explains the standard procedure is that Medicare or Medicaid would be billed. And because these entities have the weight of the federal government behind them, they would pay only on average half of what hospitals charged. Lance believes that hits a truer mark of what the services should cost. "Does it really have to cost you $10,000 a day to have a bed in the hospital?"

Typically, the accident victim would retain a lawyer to go after the third party. If the attorney reaches a settlement with the at-fault driver, the money gets split between the victim, the lawyer and Medicare or Medicaid. In these cases, the lawyer isn't just going to bat for the client, but is also working for Medicare or Medicaid, since any damages recovered go to pay back the federal insurers. In return, Medicare and Medicaid's general policy is to reduce their fees by a third. It's a good-faith gesture to the lawyer for doing all the legwork in getting the money back.

In the hospital lien procedure, this professional courtesy is deleted. Lance says IHC has taken to imposing liens and, instead of reducing its fees by one-third, will stonewall the attorney, asking for the full 100 percent and only rarely reduce the bill—leaving only a pittance for the attorney and client. If a person incurs a $25,000 hospital bill and can only hope to recover that much from an at-fault driver ($25,000 is the Utah minimum mandatory insurance coverage for auto liability) the accident victim would have nothing to pay her lawyer. In turn, the lawyer who gets hired before the lien is applied soon learns (when Cardon locks on with its lien), payment will be only a fraction of the standard 33 percent contingency fee. And the client will get even less.

All about the Benjamins
"Lawyers are like nuclear warheads," opined Danny Devito, playing the part of a corporate raider in the 1991 film Other People's Money. He described them as a necessary evil with a specific drawback: "Once you use them, they fuck up everything." Lawyer jokes aside, the same could be said for insurance companies, bill collectors and hospital bean counters. Add to the mix lawyers representing hospital collection agencies versus lawyers representing groups of lawyers, and you have the makings of an epic battle.

David Gessel, vice president of the Utah Hospitals & Health Systems Association, is feeling the pushback from irate trial lawyers. Keeping a close eye on King's bill, the lobbyist sums up his feelings pretty simply:
"The hospitals are trying to get paid and that's cutting into what some of these [lawyers] are getting paid. We can sugarcoat it if we want, but that's what's going on." Gessel himself is an attorney who specializes in lobbying, but he doesn't mince words on the fundamentals of the argument. "If there's a source of funding or a settlement out there, we're going to try to get paid, because we provided a service. That's really where the rubber hits the road."

IHC spokesman Daron Cowley denies there is any controversy to the hospital liens. "It's a standard practice," he says. "That's why you're required to carry that [auto liability] insurance." Cowley says that if liens don't recover the most possible for medical bills, then everyone suffers. "If you receive a settlement to cover those expenses [but the full bill goes unpaid], then that just causes the cost of care to rise for everyone."

Not too surprisingly, Gessel argues Utah hospitals are already footing a pretty big bill. Under a federal law known as the Emergency Medical Treatment and Labor Act, hospitals must stabilize patients who come through their doors—regardless of their ability to pay. As a result, Gessel says, in 2007 for example, Utah hospitals took a $255 million hit on bad debt that people either couldn't or wouldn't pay. That, he says, is on top of the $197 million in pure charity care hospitals spend on intentionally free services. Cowley says that IHC alone, in 2007, offered $154 million in charity care along with $153 million in bad debt. He also expects that with the current economy, the numbers for 2008 will likely be 20 to 30 percent higher. Ultimately offsetting these costs means sometimes using a lien to recover the most possible for the hospital (Cowley could not as of press time provide data on the number of hospital liens IHC has in place).

Gessel concedes that liens don't follow the Medicare and Medicaid standard of reducing their fees by a third, because there's no law requiring it. At least for now. But he points out that doesn't mean hospitals will always take all of the settlement money. "It's true the hospital isn't saying, 'We'll take a third off,' but in almost every case, there's going to be negotiations between the hospital and the attorney."

King argues the client is the real loser.

"The effect of using the lien the way they've been using it and not compromising on the attorney's fee is to take money out of the client's pocket," he says. He adds that, traditionally, attorneys are first in line for payoff, because they do most of the work. But with the use of hospital liens in Utah, predominantly by health-care juggernaut IHC, hospitals have found a way to slide in front of the attorneys in getting paid.

In either scenario, the last person in line is the victim. But King believes since legal contingency fees are, by contract, at least a standard one-third of the recovery, the hospital deprives clients of money that is rightfully theirs. HB 135 would require hospitals to reduce their bills and require them to investigate the probability of a third-party settlement before filing a lien. Hospitals would also be banned from placing liens on people like Loertscher who have private or group insurance.

King expects serious resistance against his proposal (as of press time, the bill is stuck in the House Business and Labor Committee). The question of a conflict of interest surfaced early on, because of his own history as a trial lawyer. He denies a conflict exists, because he no longer practices personal-injury law and says the bill doesn't pad personal-injury attorneys' pockets, even though critics claim otherwise.

Do the math and see who wins
"If you can have other parties reduce the amount they're claiming, that doesn't help the attorney directly," King says. "That's money that goes straight into the injured person's pocket." As an example, King says, if a driver "T-bones" another motorist by running a red light, and the victim incurs $15,000 in medical bills, that victim will likely sue the other driver for the maximum liability coverage of $25,000. Under the current system, IHC directs Cardon to place a lien for all $15,000 in medical bills to be recovered from the at-fault driver. But before the victim or her lawyer realizes a lien will be placed, she signs a standard contract agreeing to pay the lawyer a third of the settlement.

So the attorney settles the case and gets the maximum $25,000. But according to the contract, the attorney gets his third out of the $25,000—and not the $10,000 remaining after the lien is paid off. The lawyer gets roughly $8,333; the client gets $1,666.

Under King's plan, however, the hospital must cut its fee by a third. In that scenario, the hospital gets $10,000 instead of $15,000, and the lawyer still takes $8,333. The client picks up the extra $5,000 and walks away with around $6,666 to cover lost wages and other debt accrued while laid up.

But even in the first situation, King argues, the lawyer is likely not to take so much of the money. "The attorney dealing with this situation is going to feel tremendous pressure—if he's got a conscience—to say, 'I can't do this [take the full third]," King says. "You do find that the trial lawyers voluntarily throw some extra money towards their client."

The UHA's Gessel just doesn't see the generosity among trial lawyers that King does. "Up front, there's a federal law that says we have to treat these people, whether we want to or not," Gessel says. "But for all the Siegfried & Jensens (a personal injury firm) of the world, they turn down 99 cases for every one they take."

Let's All Get Paid
Everybody needs a helping hand sometime. Unfortunately, good help is hard to find, and it seldom comes cheap. With a shrinking economy, IHC's critics allege the corporation is just making up costs by squeezing more from Medicare and Medicaid patients, especially those who have their own private insurance. IHC spokesman Cowley counters that medical services must take priority. "Do you pay your attorney first or do you pay your medical expenses first?" he asks rhetorically.

Yet IHC has no trouble billing Medicare and Medicaid or private insurers in cases where the company can't place a lien, such as medical bills where there isn't an at-fault party. Attorneys say this practice ignores the fundamental reality that lawyers have to get paid, too. And some attorneys say if they have to deal with Cardon refusing to budge on a lien, they're going to find ways to get their payment.

Some lawyers, like attorney Lance, have found that if they delay settling their case until close to a year after the accident, Cardon risks losing its window of opportunity to bill Medicare and Medicaid and will often, at the 11th hour, bill the federal insurers after all. This deadlock strategy may occasionally pay off. Yet in other cases, the hospital may be so confident that a settlement will pay off, it simply won't let go of the lien.

Salt Lake City attorney Roger Hoole remembers such a case, one he believes should have been open and shut. His client, now deceased, was an 84-year-old woman struck by a car while crossing a street. She suffered serious head injuries and was paralyzed. Hoole says the most insurance he could find on the at-fault driver was $75,000. The hospital bills totaled $78,000.

"They refused to bill Medicare," Hoole says. "Even though she contributed to the system, they held her claim hostage, demanding 100 cents on the dollar. It took years for them to agree to discount the bill so she could receive some compensation," he says.

Some attorneys have found they have no choice but to avoid any kind of settlement and try to outlast Cardon's desire to claim all of IHC's bill. Attorney Lance says this practice carries many negative side effects—especially for Medicaid patients, who may have to wait years longer for compensation—all the while racking up debt and even straining social services to cover food and housing needs.

Loertscher is ready to battle IHC on principle. She still has her job, and with other means of covering her expenses, she won't be out of house and home waiting for a settlement to be released. Just the same, she's mad. She's angry, for instance, at how little control she's had in her own settlement recovery. She earned two separate safety nets by paying into Medicare and Tricare. To have IHC ignore both insurers, only to freeze her payment with a lien, makes her blood boil.

Loertscher says she can't really recommend IHC medical care to her friends anymore. Then again, she realizes that when others need help, they may be stuck with whatever they can get.

"I didn't ask for that bill," Loertscher says. Nor did she ask to go to IHC, which is where the ambulance transported her after her accident. "When you're getting cut out of your car," she asks, "how do you know where you are going?"