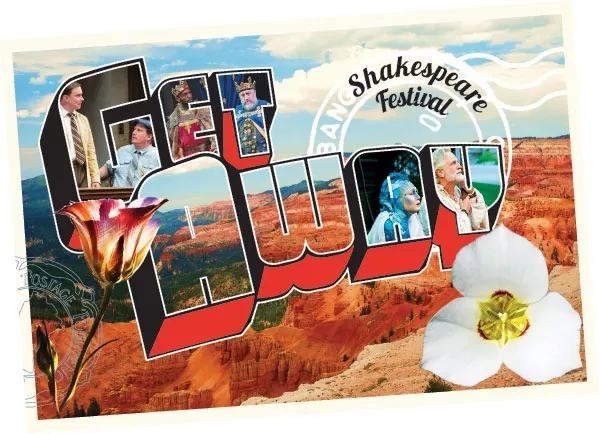 For the 52nd consecutive summer, the Tony Award-winning Utah Shakespeare Festival will draw theater-goers to Cedar City for non-Shakespeare plays and musicals performed indoors by day, followed by the masterworks of the Bard himself outdoors at night. Here's a guide on where to go, stay and play when you're not taking in the theater.
We've also covered new developments at the festival and have tidbits of info to add to the experience, plus our take on this season's crop of productions after seeing all six premieres.
Kathleen Curry and Geoff Griffin blog as The Travel Tramps at CityWeekly.net and host the Travel Brigade Radio Show. Follow them on Twitter @TravelBrigade.
The Play's the Thing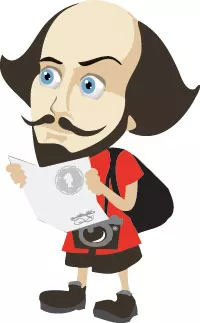 Reviews & recommends for this year's festival.

The 2013 edition of the Utah Shakespeare Festival offers three Shakespeare plays at the outdoor Adams Theatre, and three productions of contemporary plays at the indoor Jones Theatre. The plays themselves are the thing at USF, so here's our take on the summer season's six main productions.

Contemporary Plays

Peter & the Starcatcher
Through Aug. 31 for summer season; also presented in the fall season, Sept. 6-Oct. 8
The winner of five Tony Awards is making its regional premiere at the festival. The musical is the origin story of how Peter Pan got to Neverland and how—and more importantly, why—he became the boy who never grew up.

Quinn Mattfeld provides a not-to-be-missed performance as "The Black Stache," the artist not yet known as Captain Hook. He finds the perfect balance of fearsome, funny and fab-u-lous in leading the cast in an over-the-top romp, while looking like Frank Zappa after raiding Prince's closet.

The script races at a sometimes furious pace, mixed with humor ranging from fart jokes to Ayn Rand references. Director Brian Vaughn keeps the cast moving all over the stage—partly because they are the ones hauling, and sometimes even being, the props. All of that motion is so well-executed that you'll come away believing that a rope can be a doorway, a ship's bow or even an ocean.

Despite all of the farcical humor and madcap antics, the script still delivers a touching story that asks, "What would you want to be if your dreams came true?"


12 Angry Men
Through Aug. 31
12 Angry Men got its start on the screen in 1954 before moving on to the stage, and it's easy to see why: It's a very tough play to stage. You've got 12 guys, sitting in one room, talking about a trial the audience didn't see. To overcome these obstacles, director David Ivers finds ways to keep the cast in motion, and makes use of the emotion running through the room as 11 jurors initially vote for a conviction in a murder trial, only to be upset that the 12th won't go along.
The 12 characters live up to the play's title by showing that, in a time gone by when personal and family pride meant everything, any insult required a response of a threat or action. There are several times throughout the play when jurors have to keep one man from physically attacking another. That energy, combined with the interactions that develop between the ensemble cast, keeps things humming along in the jury room.


Anything Goes
Through Aug. 30
The only thing better than a Cole Porter tune is hearing it sung by someone with the talent to belt it out while expertly phrasing Porter's wonderful lyrics. Melinda Parrett does just that in the lead role of Reno Sweeney, and it's a privilege to hear her sing classics such as "Anything Goes" and "I Get a Kick Out of You," all while not missing a choreographed step.
This musical, which premiered in 1934, features Parrett as just one of the characters trying to help a stowaway win the heart of an heiress while on an ocean liner heading from New York to London. Along the way, we get to hear Parrett team up for duets with Max Robinson as Moonface Martin on "Friendship," Aaron Galligan-Stierle as Lord Evelyn Oakleigh on "The Gypsy in Me," and Robert Adelman Hancock as Billy Crocker on "You're the Top."


Shakespeare Plays
Love's Labour's Lost
Through Aug. 31
Love's Labour's Lost shows that Shakespeare was more than 400 years ahead of the reality-TV trend when he published this play in 1598. Start with four eligible bachelors who take a vow not to be involved with women for three years. And after everybody signs their oath, let the temptation of four beautiful women show up.
Of course, what Shakespeare does with this premise in the 16th century is far better than anything you'll see on TV in the 21st. The beautiful language contained in the witty barbs and protestations of love is a pleasure to listen to. The Bard also throws in supporting characters and subplots that add comedy to the mix. Matt Zambrano is one of the highlights as Don Adriano de Armado, a Spaniard who, much like Karl Malone, is a delightful butcher of the English language. Other notable performances include Matt Mueller as Berowne, the most reluctant of the no-ladies oath-takers, and Melinda Pfundstein as the quick-witted Rosaline.


The Tempest
Through Aug. 31
Magic? Check. Fairies? Check. Shipwrecks? Check. Monsters? Check. The Tempest, Shakespeare's final romance, takes audience members to the island ruled by Prospero, who is scheming to restore his family to its former glory by luring his brother to the island. The shipwreck brings his brother, but also Ferdinand, who has his eye on Prospero's daughter, Miranda.
Despite all of the different subplots, the theme of the play—and what makes it so timeless—is Prospero struggling between his desire for revenge and his hopes for the future. No wonder Dr. Phil has been able to make a career out of asking, "Do you want to be right, or do you want to be happy?"
Melinda Parrett as the otherworldly Ariel, a spirit controlled by Prospero, transforms herself to such an extent that the viewer is willing to suspend the belief that there's an actual human behind the extraordinary makeup and costume, in a performance as eerie as it is captivating.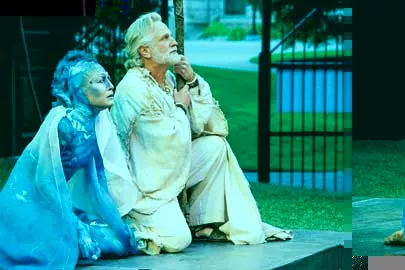 King John
Through Aug. 30
This seldom-performed play is presented as part of the Festival's Complete the Canon project that will perform all 37 of Shakespeare's plays. (See p. 18.) The rare chance to see the first play in the Bard's history cycle is reason enough to go, but so is Corey Jones' turn as the title character. As a complex swirl of schemers and warriors unfolds around him, we see Jones go from strong and proud to confused and confounded, and Jones lets us see the character gradually come undone strain by strain, piece by piece, scene by scene.
The experience is made all the better by having the best ensemble cast in the entire festival, with strong performances by Steve Wotjas as Philip the Bastard, Fredric Stone as Philip King of France, Melinda Pfundstein as Constance, Jeanne Paulsen as Queen Eleanor and the young Bailey W. Duncan as Arthur.


The Other 18 Hours

There's plenty to see & do in Cedar City when you're not Bard-watching.

Even if you're a Bard die-hard who attends two plays a day at the Utah Shakespeare Festival, that still leaves you another 18 hours to eat, drink, relax and recreate. In addition to some of our own picks for things to see and do in Cedar City, we sought out the advice of the locals—in this case, some actors and directors who call Cedar City home during the festival.

"He hath eaten me out of house and home." —Henry IV, Part 2

One of the great things about Cedar City in the summer is that you can see somebody committing heinous crimes at night in a Shakespeare play, then they turn up at the table next to you at a restaurant the following morning, looking like just another person enjoying a cup of Joe. Everybody has to eat, and many places are easy to access from the festival.

Actors and other festival workers are constantly running in and out of The Grind Coffeehouse (19 N. Main, 435-867-5333), a family-owned shop located on Main Street, near the festival's indoor theater. "They keep the actors alive during the festival," jokes actress Betsy Mugavero. The shop also has free Wi-Fi, and sandwiches and salads starting at $4.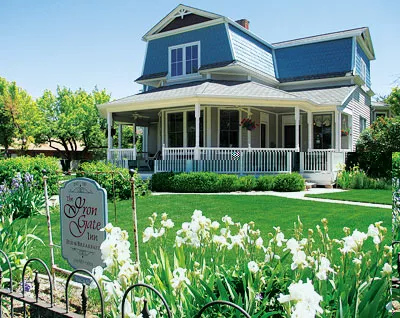 A popular newer restaurant near the theaters is Centro (50 W. Center St., 435-867-8123), which features wood-fired pizza creations such as pancetta with fontina cheese and sliced grapes and the classic Margherita. Artistic Director David Ivers notes the place has "a whole different vibe" to go along with a "killer wine and beer list." The owner has been known to stay open late after the evening plays end to accommodate the actors, which in Cedar City is about as close to an afterparty as you're going to get. Pies start at $10.
The Garden House (164 S. 100 West, 435-586-6110) is aptly named and has fun tie-ins with the festival in dishes such as the "The Tempest shrimp Genovese orchetta" and "Romeo & Juliet dusted artichoke hearts." Lunch entrees start at $7, and dinner at $16.
The long-time Cedar favorite Pastry Pub (86 W. Center St., 435-867-1400, CedarCityPastryPub.com) is a quick walk from the festival theaters and features tasty sandwiches and salads in a great atmosphere. Don't forget to try one of the fresh-made shakes. Sandwiches start at $5.
If you're looking for some "Q," hit Sonny Boy's Barbecue (126 N. Main, 435-867-8010, SonnyBoysBBQ.com), where they invite you to "put some South in your mouth." Full plates start at $10.
Don't forget the festival's sweet shop for tarts galore. They serve up seven flavors, from lemon to summer berry. Can't decide which one? We went with a strategy of grabbing a different pick for each one of the six shows and then taking one for the road. Festival picnic and dinner packs are also available for purchase at the Green Show. Tarts are $2.50 each and picnic packs start at $8.
"Talking isn't doing." —Henry VIII
When it comes to what to do when you're not at the theater, Cedar City is hard to beat for outdoor recreation. Sunday is the one day off for festival folks, and actor Jeb Burris says, "We like to get out and hike as much as possible." Ivers says groups of USF actors and workers will often head to Zion National Park for a day of hiking or biking on Sundays. There are many other close outdoor options, including Cedar Breaks, Brian Head Resort and Kolob Canyons.
You can also enjoy a glass of wine now that Cedar City has opened a new winery. The Iron Gate Winery (102 N. 200 W., 435-867-9463, IGWinery.com) sits on the same property as the Iron Gate Inn Bed and Breakfast (see below). Try some vino in the tasting room, or enjoy a glass out on the patio. Tastings start at $10.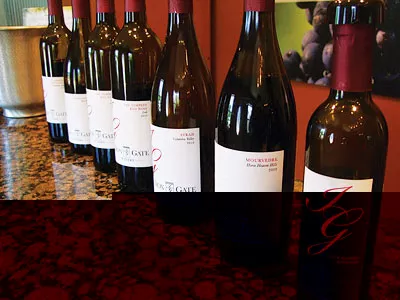 Find out why the county Cedar City sits in is called "Iron" by heading a few blocks north of the festival to the Frontier Homestead State Park Museum (635 N. Main, 435-9290, FrontierHomestead.org) to check out what it was like to live in a pioneer cabin or print on a 19th-century press. Admission is $3 for adults and $1.50 for kids.
If you'd rather see some man-made beauty, the Southern Utah University campus, where the festival's Adams outdoor theater sits, has a number of notable sculptures located in beautiful settings around the campus. There's even a free, self-guided Sculpture Stroll you can take. Just grab a brochure on campus or at the Iron County Visitor Center (581 N. Main, 435-586-5124).
"Parting is such sweet sorrow, that I shall say good night till it be morrow" —Romeo & Juliet
The Iron Gate Inn (100 N. 200 West, 800-808-4599, TheIronGateInn.com) makes you feel right at home in a bed & breakfast built in 1897, and the location is within easy walking distance of the festival theaters. The Iron Gate has a variety of room types and a housemade breakfast that changes daily, with offerings such as quiche and stuffed French toast served with lemon muffins and blueberry coffee cake. Enjoy breakfast in a beautiful dining room or outdoor terrace. Late-afternoon wine receptions are held after the matinee performances and give guests an opportunity to hold their own post-play discussions. Rooms start at $109.
After seeing stars at the Adams Shakespearean Theatre at night, keep the under-the-stars theme going by driving just over 30 minutes up Cedar Canyon to try "glamping" at Summit Mountain Lodge (855-765-8824, SMLResorts.com), which just opened in June. The property is near Brian Head Resort, and worth the trip when you check into a forest yurt that has been custom-decorated with designer items. Yurts start at $75.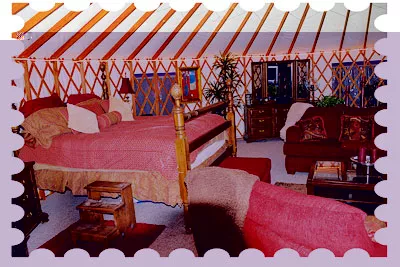 Those traveling with extras in their cast might be looking for a little more room and will like the Springhill Suites (1477 S. Old Highway 91, 435-586-1685, Marriott.com), which has a variety of room options that include multiple beds, fold-out couches and a separate living-room area. There's a full breakfast bar in the morning, and on your way out to the plays, stop by the front desk to grab one of Springhill's cool Chupa Chups lollipops they keep on hand for guests. Rooms start at $129.
As Hamlet noted, "the play's the thing" when you're attending the Shakespeare Festival. But beyond the stage, there's still time to enjoy many different amusements in and around Cedar City.

Curtain Call

Fest directors are keeping Adams Theatre's history in mind as they prep to break ground on a new venue.

One way to think of the Adams Shakespearean Theatre at the Utah Shakespeare Festival is as a beautiful old baseball park. Charm? Loaded with it. Character? Off the charts. History? It was dedicated when disco ruled the charts. It's even loaded with ghosts: Banquo, Hamlet's father, pretty much anybody Richard III ever knocked off. After all, they are doing Shakespeare every night.

Its design duplicates the experience of being at the Globe in the 16th century. Every one of the 819 seats is close enough to the stage that you'll never miss an actor raising a dramatic eyebrow. The acoustics are so good that a stage whisper can actually be a whisper. Topping it all off, just like at a baseball park, you're sitting outside on a beautiful summer evening and, when you're not watching the action, you can look up at the stars overhead.

"I love being able to be outside when you're talking to the stars," says Betsey Mugavero—a cast member this year in Love's Labour's Lost and Peter & the Starcatcher—on performing at Adams. "To be able to look up and see them is so special. It's not like looking up and seeing rafters. It's great because you can see the people and see if they're enjoying it. You get to talk right to the audience."

However, there can be limitations to a place built in the 1970s. Need to use the restroom? Go over to the building next door, walk down some stairs and be prepared to wait in line a while. The behind-the-scenes technical people are trying to do cutting-edge lighting and sound in a place built before there were computers. Even a place loaded with memories can lose some of its luster if it's not updated.

Historic Yankee Stadium in New York City was torn down and a new one was built next door that kept many of the historic touches—and even threw more history in—while making the entire experience much more fan-friendly. The end result is a place where fans of the Bronx Bombers can still be just as passionate about their team, while enjoying the game in much more comfortable surroundings.

The Utah Shakespearean Festival will try to pull off a similar feat when it breaks ground in 2014 for a new outdoor venue scheduled to be ready to go for the 2016 season. The new theater will be outdoors, have 885 seats, be up-to-date technologically and, just like a modern-day baseball field, have a retractable roof in case it rains.

But will there still be room for the ghosts, not to mention the night sky and the actors' expressions?
"The most important thing on the artistic side is to not compromise the audience experience with the stars in the sky and the relationship with the actors," says the festival's artistic director, David Ivers. "But we also want to have more creature comforts for our audience, and lighting and sound capabilities that pull us into a competitive place for our designers."
The new theater will move off of the Southern Utah University campus and across the street to sit on the same block as the Randall Jones Theatre, an indoor space where non-Shakespeare plays are performed during the festival. The new theater will be just one part of the Beverly Taylor Sorenson Center for the Arts, which will also include an art gallery and a 200-seat studio theater.
The festival's executive director, R. Scott Phillips, says, "We'll be able to do a lot more with [the new theater] and put a lot more technology into the building, but what we're really trying very hard to do is to not lose that ambience—that same actor-audience relationship where you're very close in the surroundings because of how it's designed. We want you to still be able to see the subtleties of what the actor is trying to do with their face. We want you to still be able to hear a stage whisper."
Jeb Burris—performing this year in King John, Love's Labour's Lost and The Tempest—says keeping that same intimate feel is important to him as an actor. "It feels like there's just 50 people sitting around you," he says. "It keeps you on your toes because there's always somebody at some angle that can see you directly."
Ivers hopes that in at least one physical sense, part of the Adams Theatre will live on. "There's a wall in the back upstairs," he says. "It's plywood and probably has 30 years of actors' writing on it, signing their name and what part they played what year, writing little messages, things like that. I'm hoping we'll pull it out and put it in a light box at the new place."
By the time 2016 rolls around, the Adams Theatre will have hosted plays in five different decades, and go down in history as a trendsetter of sorts. In 1981, the British Broadcasting Company filmed a series of Shakespeare plays there because, according to Phillips, "At the time, it was the closest thing they could find in the world to what Shakespeare's plays would have originally been performed in." The Royal Shakespeare Company would go on to build its own replica Swan Theatre in Stratford-Upon-Avon in 1986.
"It's pretty amazing when you think about any theater surviving that long, especially in a rural setting in a town of 30,000," Phillips says.
Fest Tips
Shakespeare Showoff
Starting in 2012, the festival made a commitment—Complete the Canon—to do all 37 of Shakespeare's plays by 2022. There are about 20 plays that Shakespeare companies do over and over, while the others tend to get left on the shelf. This summer, the "not-often-done" entry is King John. "If you stick with us, you can see all 37 plays in the same place," says Artistic Director David Ivers. "That's pretty unique."
Bard Babies
While the festival doesn't allow children under 6 to attend the plays, it does offer child care during the plays for children up to 10 years old and children with special needs. The cost is just $20 while you go do your thespian thing. For more information, go to Bard.org.
Going Green
Every night outside the Adams Theatre, the "Greenshow" features entertainers singing and dancing, starting at 7:10, to get you ready for the main show at 8. It's a continuation of a tradition dating back to Shakespeare's time, when performers would engage theater-goers outside the Globe. There are also fun Elizabethan-style treats to enjoy. Don't you dare leave without getting one of the tarts.
Know Your Cross-Dressers
One of the great Shakespearean traditions is characters cross-dressing to try to fool their lovers. Having a hard time keeping track of who wears the pants in the relationship? Find out by attending one of the play orientations held daily. Check Bard.org for the schedule.
Behind the Scenes
Backstage tours are held daily throughout the summer, giving guests a chance to learn about sets, costumes, lighting and how it all comes together to create magic on the stage. Summer tours are scheduled for Tuesdays, Wednesdays, Fridays and Saturdays. Tickets are required, $8 at the box office.
Trivia: Art Imitates Life— and Vice Versa
Actors Jeb Burris and his fiancee, Melisa Pereyra, get married in two of the three Shakespeare plays they appear in this summer. "We have story after story of people meeting their spouse or partner here," says Ivers, who also met his wife, Stephanie, while both were working at the festival. Forget Match.com: Apparently, the place to find love is Cedar City in the summer.