Page 2 of 4
The Other 18 Hours

There's plenty to see & do in Cedar City when you're not Bard-watching.

Even if you're a Bard die-hard who attends two plays a day at the Utah Shakespeare Festival, that still leaves you another 18 hours to eat, drink, relax and recreate. In addition to some of our own picks for things to see and do in Cedar City, we sought out the advice of the locals—in this case, some actors and directors who call Cedar City home during the festival.

"He hath eaten me out of house and home." —Henry IV, Part 2

One of the great things about Cedar City in the summer is that you can see somebody committing heinous crimes at night in a Shakespeare play, then they turn up at the table next to you at a restaurant the following morning, looking like just another person enjoying a cup of Joe. Everybody has to eat, and many places are easy to access from the festival.

Actors and other festival workers are constantly running in and out of The Grind Coffeehouse (19 N. Main, 435-867-5333), a family-owned shop located on Main Street, near the festival's indoor theater. "They keep the actors alive during the festival," jokes actress Betsy Mugavero. The shop also has free Wi-Fi, and sandwiches and salads starting at $4.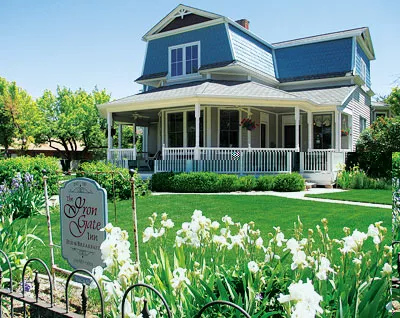 A popular newer restaurant near the theaters is Centro (50 W. Center St., 435-867-8123), which features wood-fired pizza creations such as pancetta with fontina cheese and sliced grapes and the classic Margherita. Artistic Director David Ivers notes the place has "a whole different vibe" to go along with a "killer wine and beer list." The owner has been known to stay open late after the evening plays end to accommodate the actors, which in Cedar City is about as close to an afterparty as you're going to get. Pies start at $10.
The Garden House (164 S. 100 West, 435-586-6110) is aptly named and has fun tie-ins with the festival in dishes such as the "The Tempest shrimp Genovese orchetta" and "Romeo & Juliet dusted artichoke hearts." Lunch entrees start at $7, and dinner at $16.
The long-time Cedar favorite Pastry Pub (86 W. Center St., 435-867-1400, CedarCityPastryPub.com) is a quick walk from the festival theaters and features tasty sandwiches and salads in a great atmosphere. Don't forget to try one of the fresh-made shakes. Sandwiches start at $5.
If you're looking for some "Q," hit Sonny Boy's Barbecue (126 N. Main, 435-867-8010, SonnyBoysBBQ.com), where they invite you to "put some South in your mouth." Full plates start at $10.
Don't forget the festival's sweet shop for tarts galore. They serve up seven flavors, from lemon to summer berry. Can't decide which one? We went with a strategy of grabbing a different pick for each one of the six shows and then taking one for the road. Festival picnic and dinner packs are also available for purchase at the Green Show. Tarts are $2.50 each and picnic packs start at $8.
"Talking isn't doing." —Henry VIII
When it comes to what to do when you're not at the theater, Cedar City is hard to beat for outdoor recreation. Sunday is the one day off for festival folks, and actor Jeb Burris says, "We like to get out and hike as much as possible." Ivers says groups of USF actors and workers will often head to Zion National Park for a day of hiking or biking on Sundays. There are many other close outdoor options, including Cedar Breaks, Brian Head Resort and Kolob Canyons.
You can also enjoy a glass of wine now that Cedar City has opened a new winery. The Iron Gate Winery (102 N. 200 W., 435-867-9463, IGWinery.com) sits on the same property as the Iron Gate Inn Bed and Breakfast (see below). Try some vino in the tasting room, or enjoy a glass out on the patio. Tastings start at $10.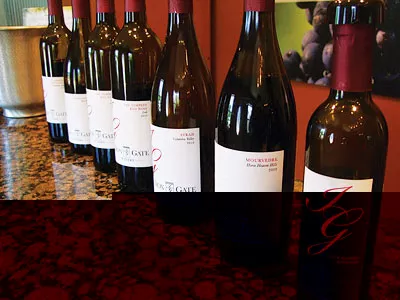 Find out why the county Cedar City sits in is called "Iron" by heading a few blocks north of the festival to the Frontier Homestead State Park Museum (635 N. Main, 435-9290, FrontierHomestead.org) to check out what it was like to live in a pioneer cabin or print on a 19th-century press. Admission is $3 for adults and $1.50 for kids.
If you'd rather see some man-made beauty, the Southern Utah University campus, where the festival's Adams outdoor theater sits, has a number of notable sculptures located in beautiful settings around the campus. There's even a free, self-guided Sculpture Stroll you can take. Just grab a brochure on campus or at the Iron County Visitor Center (581 N. Main, 435-586-5124).
"Parting is such sweet sorrow, that I shall say good night till it be morrow" —Romeo & Juliet
The Iron Gate Inn (100 N. 200 West, 800-808-4599, TheIronGateInn.com) makes you feel right at home in a bed & breakfast built in 1897, and the location is within easy walking distance of the festival theaters. The Iron Gate has a variety of room types and a housemade breakfast that changes daily, with offerings such as quiche and stuffed French toast served with lemon muffins and blueberry coffee cake. Enjoy breakfast in a beautiful dining room or outdoor terrace. Late-afternoon wine receptions are held after the matinee performances and give guests an opportunity to hold their own post-play discussions. Rooms start at $109.
After seeing stars at the Adams Shakespearean Theatre at night, keep the under-the-stars theme going by driving just over 30 minutes up Cedar Canyon to try "glamping" at Summit Mountain Lodge (855-765-8824, SMLResorts.com), which just opened in June. The property is near Brian Head Resort, and worth the trip when you check into a forest yurt that has been custom-decorated with designer items. Yurts start at $75.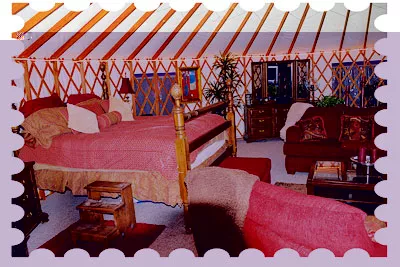 Those traveling with extras in their cast might be looking for a little more room and will like the Springhill Suites (1477 S. Old Highway 91, 435-586-1685, Marriott.com), which has a variety of room options that include multiple beds, fold-out couches and a separate living-room area. There's a full breakfast bar in the morning, and on your way out to the plays, stop by the front desk to grab one of Springhill's cool Chupa Chups lollipops they keep on hand for guests. Rooms start at $129.
As Hamlet noted, "the play's the thing" when you're attending the Shakespeare Festival. But beyond the stage, there's still time to enjoy many different amusements in and around Cedar City.