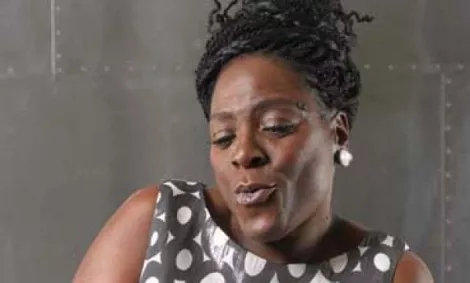 Ladies and gentlemen, it's time to introduce the star of the show, the super-bad soul sister who's been to every corner of the land to spread funk like it was butter, a woman who puts 110 percent into everything she does. She's the Diva of Dance, the Queen of Funk, the one who brought you 100 Days, 100 Nights and I Learned the Hard Way. The one with the magnetic, majestic je ne sais quoi ...
And so on. That's how I'd introduce Sharon Jones on stage. However, that job is already taken by Dap-Kings emcee and guitarist Binky Griptite.
"It just gets you goin'. It makes you feel good. I'll be in the back room and be like a boxer getting ready to go out and get into the ring," Jones says of her hype-man's intro.
And the 55-year-old diva gives an audience a one-two punch night after night. Backed by the Dap-Kings, she evokes late-'60s and early-'70s soul and funk—a time when James Brown's hip-shakin' funkadelia reigned supreme and when R&B acts like Mary Wells, Aretha Franklin, Patti LaBelle and Otis Redding were all the rage. "I got to see [Brown] once, when I was little. He just came on stage and he did something: I thought he was just floating on stage," Jones says.
Perhaps a seed was planted, because when Jones takes a stage, she takes it, and shakes it—dancing like someone half her age and belting notes that are part James Brown, part Tina Turner, yet all her own. However, that stage presence might not last forever. "While I got the energy and the health, I want to do it, but I don't plan to keep on continuing that. I really hope to cut all that stuff down as time goes on," she says.
Whatever she does, there's got to be some showmanship. After all, that's part of the lure of the suit-wearing Dap-Kings and the infectious swagger of their music. Jones says those key ingredients are lacking in music today. "Nowadays, it's all different. They got smoke and crap and lights and setups, and they're flying through the air and flippin' upside down. You don't need all that smoke," she says. "They use all that other stuff to get away from themselves."
Jones doesn't need to get away; she wears a difficult past like a badge—from growing up in the ghetto to working many an odd job to get by. One job that many latch onto was her stint as a corrections officer at Riker's Island. "It was such a short time; it wasn't that big a part of my life," Jones says, adding that other gigs were more fundamental in her trajectory.
For years before her break with the Dap-Kings in the '90s, she would sing Tina Turner tunes to brides and grooms. "We were called Good & Plenty, it was an Italian wedding band," says Jones, who planned her exit strategy when requests started coming in for Christina Aguilera and Jennifer Lopez songs. She kept her backup singers, though. "Believe it or not, the young ladies behind me now, Star and Saundra, my Dapettes, they was in the wedding band with me. I didn't see them after all these years and, now, here we go," Jones says.
And even before those inglorious days, Jones learned to sing in gospel choirs and eventually directed some, although she never really knew what she was doing, she claims.
"I never took any kind of music background," Jones says. "Everything I've done has just come naturally to me. You know, you just get up there and do it."

SHARON JONES & THE DAP-KINGS
w/ Buckwheat Zydeco
Red Butte Garden
300 Wakara Way
Sunday, July 17, 7 p.m.
$40
RedButteGarden.org