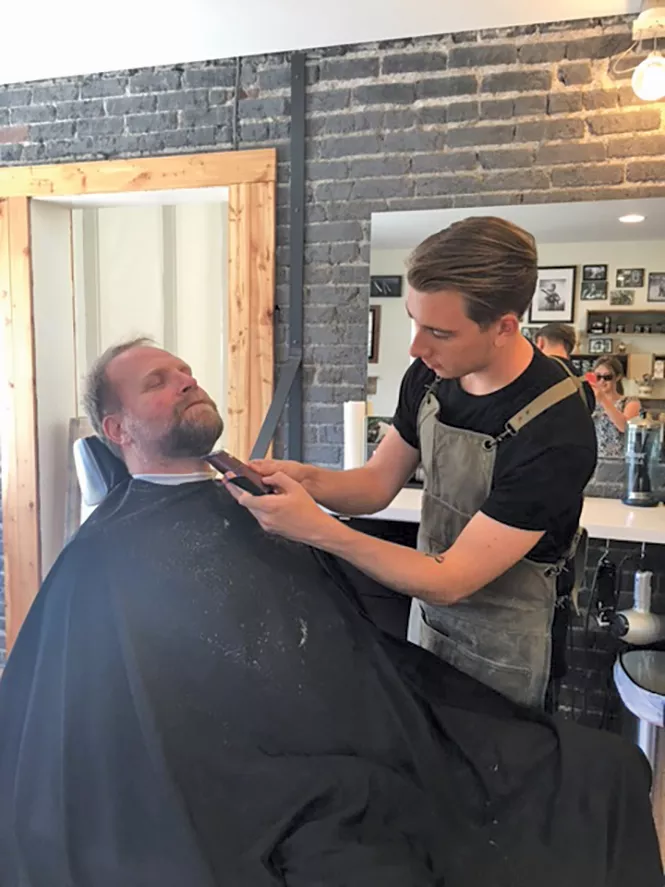 Barbershops have come back into vogue in recent years. If you're looking for the classic experience, but don't know where to start, check out Stefahn's Barbershop. With five barbers, it offers services at a reasonable price. Recently celebrating their first anniversary in business, these barbers are excited about what the future holds.
When you step through its doors, you might feel like you've gone back a few decades. With hardwood flooring, exposed brick, white countertops and leather-and-chrome barbershop chairs, Stefahn's feels old-fashioned with a contemporary edge. "We renovated it ourselves from the ground up," owner Stefahn Looney says. Black-and-white photographs from another era cover the walls, as do rustic wooden bookshelves displaying grooming products for sale. The shop frequently plays music while customers relax, waiting to be groomed.
Looney graduated from The Barber School in Midvale (TheBarberSchool.com) in 2011. He says the shop is special due to the strong sense of community and history of the surrounding areas. It opened "to provide the Marmalade, Rose Park and Capitol Hill neighborhoods with a community barbershop that hadn't been there before," he says. As part of that mission, he supports local artists and businesses.
Local resident Nick Oakey had high praises for the business. He recently got a haircut, straight-razor shave and beard trim. "Stefahn really knew what he was doing," Oakey says. Normally picky about how his hair is cut, he says he loved his experience—not only did he like how he looked and how fast it was, but he enjoyed the steamed towel treatment and neck massage. "Everyone was really friendly as well," he says. "I will definitely be back."
According to Looney, each employee has worked for several years in different shops around town before coming together in this new venture. "It feels like home," he says.
Barber Shea Ledesma agrees that the shop definitely has a familiar, friendly vibe. Ledesma has worked here for about a year, having done his barbering apprenticeship with the shop. "I love getting to hang out with my dudes all day," he says.
In addition to services, the shop sells high-quality grooming products from Proraso, Bona Fide Pomades, Sixty8 Provisional Co. and Crown Shaving Co. It caters to all hair types and all genders. Appointments are recommended and can be made on the website, though walk-ins are always welcome.