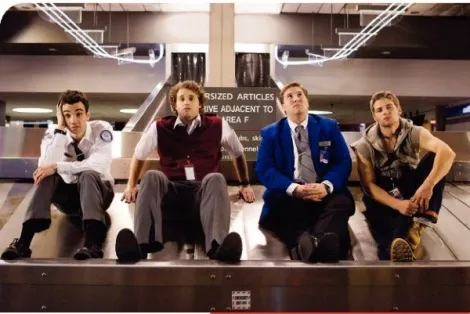 For decades, it seemed, cinematic comedy had become the domain of the one-man show.
She's Out of My League
arrives to continue a much more appealing and hilarious recent transition: the rise of the true ensemble comedy.
It shouldn't have taken so long to figure out it was a formula worth pursuing. In the 1970s, Mel Brooks turned out classic comedies packed with talented comic performers like Madeline Kahn, Gene Wilder, Marty Feldman and Harvey Korman; on television, the most beloved sitcoms—Mary Tyler Moore, Cheers, The Simpsons, Seinfeld, etc.—always have been built around comedic teamwork.
But in the 1980s and '90s, Hollywood comedies became obsessed with the cult of the star and built vehicles around people like Eddie Murphy, Jim Carrey and Adam Sandler that left little space for anyone else to be funny. It took the success of raucous comedies from Judd Apatow (The 40-Year- Old Virgin, Knocked Up) and the Will Ferrell/Adam McKay team (Anchorman, Talladega Nights) to make ensemble comedy cool again—and to remind us how much funnier comedies can be when a variety of styles and personalities contribute to the mix.
She's Out of My League, purely from a conceptual standpoint, probably doesn't look like it should be mentioned in the same sentence with the words "style" and "personality." It's a familiar nerd-plus-hottie setup, this one focusing on a Pittsburgh airport security officer named Kirk Kettner (Jay Baruchel) who's still mooning over Marnie (Lindsay Sloane), the girl who dumped him two years earlier. He's a decent guy, but kind a scrawny, no-ambition dweeb—which makes it amazingly improbable that a drop-dead, head-turning blond bombshell like Molly (Alice Eve) would be pursuing him. There has to be a catch, Kirk and all his friends assume; there's a reason certain things seem too good to be true.
Sure, this sort of odd-couple premise has been a part of everything from Can't Buy Me Love to Knocked Up, but She's Out of My League clearly isn't about merely riding that premise into the ground. At times, it does seem as though it's about including as much unabashed crudity as you can slip through an R-rating, building set pieces—and at times wonderfully, repulsively funny set pieces—around such not-for-the-dinner-table topics as premature ejaculation and pubic shaving. Sometimes, comedy writers do just seem to get off on pushing the envelope.
But, part of what makes She's Out of My League so surprisingly funny so much of the time is that it doesn't rely on any one comedic approach, including the gross-out gag. Much of that variety can be credited to a terrific cast, and directing by British sketch-comedy veteran Jim Field Smith that squeezes every drop of comedic potential out of the script by Sean Anders and John Morris (Sex Drive). T.J. Miller gets the most prime material as Kirk's intense best friend Stainer, firing his withering, profane insults with laser precision. Nate Torrence offers a change of pace as Kirk's married pal Devon, whose more romantic nature has him rhapsodically comparing Kirk's life to Disney movies. From Jasika Nicole (as Molly's tart-tongued friend and business partner) to Kyle Bornheimer (as Kirk's lunkheaded brother) to Lindsay Sloane's she-devil preening as Marnie, it's the kind of supporting cast without a weak link.
In fact, if there is a weak link, it may be the central storyline. Baruchel's a fairly appealing performer, but his variation on the sensitive schlub doesn't really kick his scenes into high gear, nor does Eve have much to do besides look spectacular. The screenplay does a perfectly serviceable job of explaining how their relationship happened in the first place, but that's not the same as providing a real reason for us to care about whether Kirk and Molly really should be together.
It's fortunate, then, that you may be far too busy laughing yourself stupid to worry about such happily-ever-after details. That's one of the benefits of this kind of ensemble comedy, and why many of them in recent years have felt even more satisfying than the sum of their jokes. She's Out of My League provides a comedic dim sum buffet, offering a slightly different flavor every few minutes so that you're bound to find something, eventually, that's just your style.

SHE'S OUT OF MY LEAGUE



Jay Baruchel, Alice Eve, T.J. Miller
Rated R