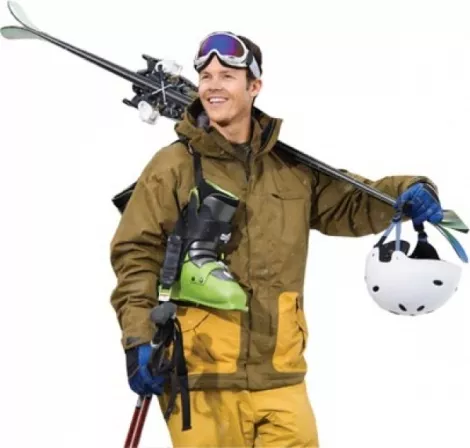 It's ski-swap season, the time when you can—if you know how to buy smart—score incredible bargains. If you know how to sell smart, you can even make cash from stuff you no longer use.
First, the "buy smart" part. Go with a solid idea of what you intend to purchase and how much you want to pay. The temptation to impulse buy is, unfortunately, amplified by the adrenaline-filled atmosphere as everyone rushes around looking for bargains, but it can mean credit-card death. If you're just looking for a snowboard, don't tempt yourself by trying on jackets. Remember, when you buy something at a swap, you're stuck with it—there are no returns.
When purchasing skis or a snowboard, examine the base carefully. A coat of wax may hide a gouge that will need an expensive base weld. Examine the metal edges; run your fingers over the edges to make sure there's no bulging or pulling away from the base—a sign of the dreaded delamination—and check that there are no spots where the edge is missing, which is a delamination waiting to happen. The base should be smooth, with no ripples or bubbles. Place snowboards on a flat surface and check at eye level to make sure there's no warping; do the same examination on skis by putting them together and seeing that there's no unusual twist at the tip or tail.
Swaps are a prime place to buy clothing and gear for kids. Olympian Holly Flanders—mother of freestyle slopestyle star Alex Schlopy and his snowboarding younger brother, Tyler—has always used swaps to buy her children's gear. "Parents should know beforehand the right sizes of skis or snowboards and boots to buy," she says. "It's fine to get used boots for kids. They don't weigh as much as adults, so they don't break their boots down as fast. Absolutely have them try on the boots." She adds that it's a good idea to talk with an expert at a shop to find out what kind of gear would be right for your child, taking into account his or her current ability and desire to improve.
Think of a swap as a used-car lot: trust, but verify. When buying clothing, check all the snaps to see that they open and close easily. Separate the zipper, then zip it up again several times. If it's difficult in any way, don't buy the item; you'll hate having to fuss with the zipper every time you wear it.
Also check every seam in any piece of clothing, especially at the crotch and underarm. Stretch the sleeve and leg cuffs to see that the elastic is still good, not stretched out. If you're buying an unlined garment, like a sweater or race suit, hold it up to a light and check for holes or worn spots.
Never, never buy a used helmet at a swap. You have no way of knowing its history; if a helmet has been in a hard crash, it's no longer useful protection. In fact, it's a good idea to avoid buying any helmet at a swap; vendors often sell models that are three or four years old for the price of new merchandise.
Beginners, or those looking to move up in their skiing, can find used boots on the cheap, then have them custom fitted. But Flanders has important advice: "Look at the heel of the boot to see if it's worn down. Don't buy boots with worn heel edges, because that could interfere with how well the binding works."
You can also make money at swaps. Those old skis or boots you haven't used in the past few years, the jacket you no longer love, even your old goggles—take them to a swap on check-in day. You'll have to pay a percentage of the sale price to the organizer, but it's a great way to cash in on winter stuff that's just taking up space.
For a list of upcoming swaps, visit the Ski Utah Website: SkiUtah.com/winter/blog/authors/yeti/2011-ski-swaps