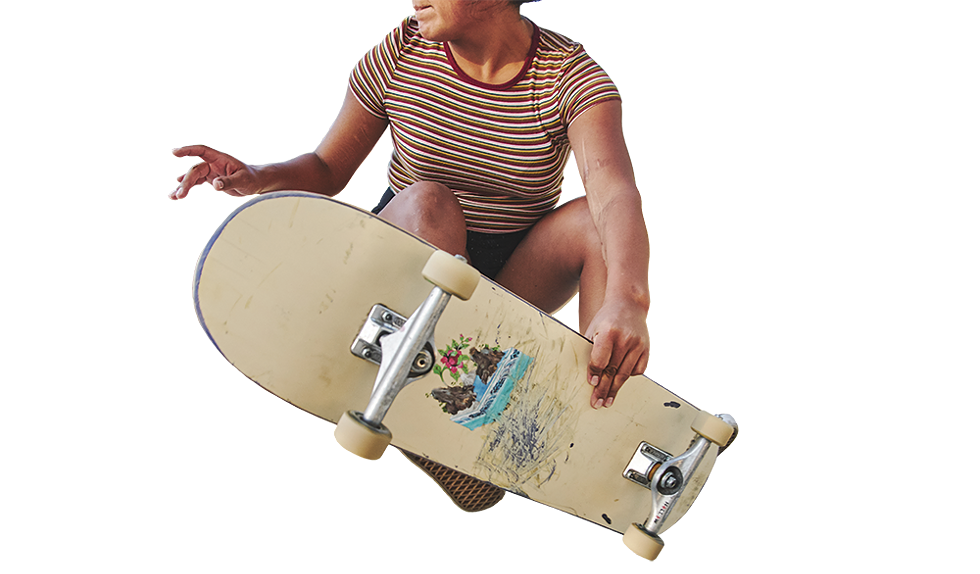 If the women felt any fear, standing at the edge of the bowl's deep end, some 20 feet above the cement bottom, skateboards by their sides, they didn't show it—not even a little.
The goal was to be the first to perform a frontside grind in the deepest part of the Park City skatepark bowl. To perform the trick, a skater faces the pool wall and grinds their back truck on the tubular coping, whether it's made of metal or concrete, that lines the bowl's edge. The move is relatively standard, but it becomes especially daunting on pool coping—which is harder to grind on than metal because it's not as slick—when it lines the top of a towering, mostly vertical wall.
Nevertheless, the women dropped in, one after the other.
Lily Azure completed the challenge first on a fish-shaped board, with big old-school-style wheels and wide trucks—a setup that was the standard in the vert competitions of the '80s. She dropped into the deep-end without any trepidation and approached the opposite wall. When she reached the top, she pivoted on her back truck, then stalled on her board's tail. She teetered above the bowl, while onlookers began to cheer, slapping the tails of their skateboards on the ground and letting out thunderous whoops in anticipation of a make. She steadied herself and dropped back in. The crowd erupted as she rolled away. Beneath the roar, someone asked if the trick counted, since she'd been stationary on the coping and didn't perform a grind, at least technically. The persistent cheers answered that question.
Although the challenge had been completed, fellow skater Kallie Hancock continued to slash at the pool coping as the crowd urged her on. Her wheels sounded off like they'd hit a rumble strip as they passed over tile below the coping. The sound meant she was right there, on the edge. After a few more passes, she got it—the frontside grind. Showing the same excitement as before, the crowd cheered, shouted and slapped their boards on the ground.
Any talk of technicalities was pedantic, a buzzkill. Questions of who did what first were high-school-jock bullshit. Both women got their tricks. Both of them were stoked—and so, too, was the crowd. That's all that mattered.
The bowl challenge was one of a variety of competitions at the July ladies' skate day, staged by the Salty Bitches, a for-women-by-women group that during the past year and a half has helped to promote and connect women skateboarders in Utah. The group began assembling in February 2017, when Fern Hardin, Tori Havlik, Kylan Nanney, Noelle Sanders and Jessie Trumbo created an Instagram account as an easy way to connect women who wanted to skate together in a non-hostile environment. Sanders, who moved to the Beehive State about two years ago from Connecticut, says when she first arrived, she "felt like there was a decent amount of girls that skated," and there was already a women's skateboarding community, but "it was super loose."
"I wanted to skate with everyone," she says, "but there was no way." Soon that would change.
The thriving account now boasts more than 1,800 followers and has become a content hub for all things specific to local women's skateboarding. It also serves as a platform through which the community connects in real life. What began as low-key ladies' skate nights has evolved into full-fledged skate days, with sponsors like Skullcandy and the sport's premier magazine, Thrasher.
During the past summer, the Salty Bitches put on four consecutive monthly skate days. Featuring games and competitions, the events attracted throngs of lady skaters of every age and ability level. As witnessed during that July day in Park City, these gatherings are one of the key ways the Salty Bitches bring women together, give them a spotlight and a judgment-free skateboarding environment.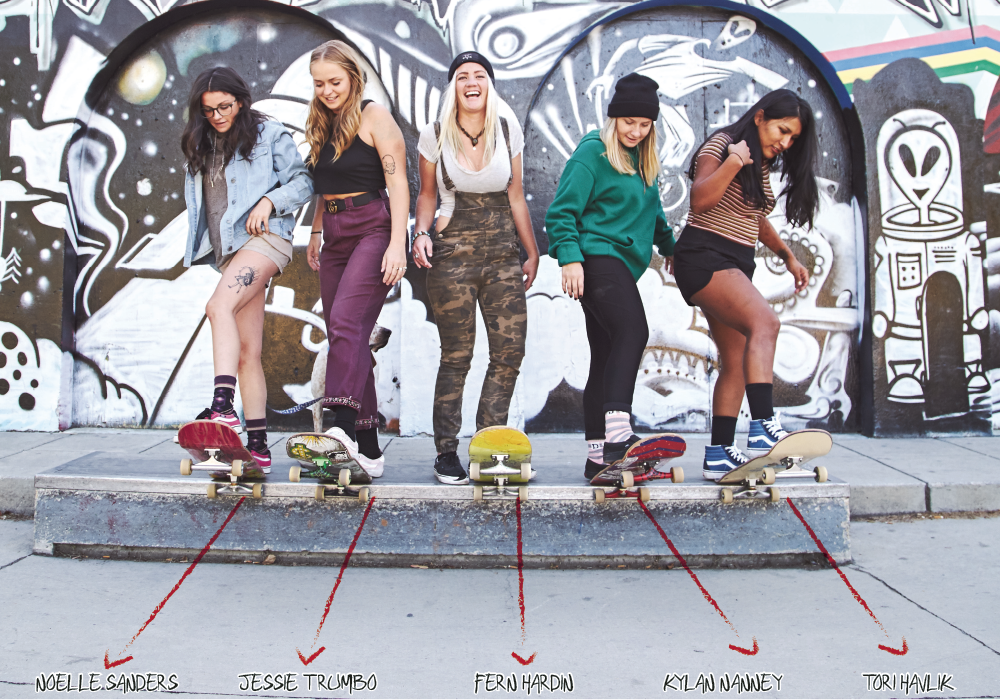 'Not for girls at all'
Confirming the vein of male toxicity that runs through the sport, current Nike skateboarding pro Nyjah Huston told Thrasher in 2013 that he believed "skateboarding is not for girls at all. Not one bit."
The then-19-year-old apologized quickly afterward, citing what he called the "wrath of the concrete" as the reasoning behind his statement. "I don't like the thought of girls [like my little sister] getting hurt," Huston wrote on Twitter.
Five years later, Huston's words still characterize the way women have been involved in, or kept out of, skateboarding. Regardless of recent strides, women continue to be tasteless props in skateboard companies' ad-campaigns and product lines. Pro skater Jeremy Klein's brand Hook-Ups sells products—ranging from decks to T-shirts—that almost exclusively feature manga-rendered women in gratuitous, bare-it-all poses. Similarly, Rob Dyrdek's Street League Skateboarding (SLS) contest series has long employed the services of women, dressed in official Monster Energy outfits, for cheerleading-like roles.
Ironically, the marketing ploys belittle the very nature of the sport's origins.
Since the dawn of skateboarding, women have been part of it—whether upright on a board or, yes, prostrate on the ground next to their board, having fallen off. The Jeff Ho Surfboards and Zephyr Productions skateboard team, which often is cited as the beginning of modern-day skateboarding, included Peggy Oki, the lone female on the Z-Boys team. Elissa Steamer, who is perhaps one of the more notable pioneers in the women's skateboarding movement, garnered a wealth of attention in the '90s as a sponsored skater for Toy Machine skateboards—a brand that featured some of the most adept and influential skaters like Jamie Thomas, Ed Templeton and Bam Margera. Later on, Steamer even had a spot on the roster of Tony Hawk's Pro Skater video game.
At the end of Steamer's video segment in Toy Machine's 1996 full-length skateboard movie Welcome to Hell, she falls directly to her side, onto the bottom steps of a stair set with some six or seven steps in total. The video slows and she lets out a distorted and pained, "Fuck."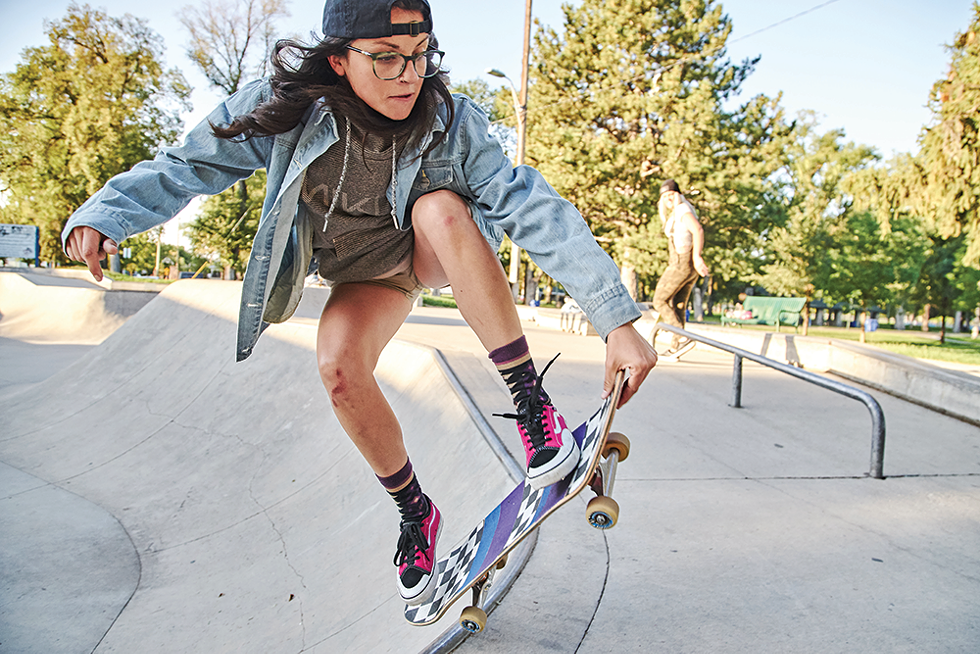 Sarah Arnoff
Noelle Sanders
For women, by women
Through the Salty Bitches, Sanders hopes to carry an empowering torch for the next generation. From its inception, the group and its outings, Sanders says, were designed as an opportunity "for women; for people who identify as women—no matter what [their] ability as a skateboarder is."
Sanders recalls her conversations at Milosport Snowboarding and Skateboarding, where she currently works, about why women don't frequently attend competitions or events the shop sponsors.
"Some people don't feel comfortable skating in front of a lot of people," she says. "Some girls feel intimidated, and honestly, a lot of the skill level is different."
Providing equal footing and a safe space for them, was key. "I wanted to create an event where [women] could compete against each other equally and still feel challenged," Sanders says about the monthly meetups. "A lot of girls in the city are dedicated to skateboarding, and they should be recognized. They should have an environment where they feel challenged and where they can receive free things"—such as contest prizes or event giveaways—"because a lot of that opportunity isn't there."
Sanders & Co.'s efforts are starting to gain momentum, as Salty Bitches—along with similar groups that have sprouted across the country—are starting to make a noticeable dent on the sport's estimated $4.8-billion market. A lifetime after its "sidewalk surfing" start, women skateboarders have begun to catch corporate America's eye. Shoe giants now feature women on their skateboarding teams: Lacey Baker (Nike), Nora Vasconcellos (Adidas), Lizzie Armanto (Vans) and Alexis Sablone (New Balance). Each also has professional skateboard decks with their own graphics and their name emblazoned on the bottom.
"Women have been skating since the beginning of skateboarding, and there's always been less recognition, though that applies everywhere," Baker told Vogue in a 2017 profile. "Statistically speaking, people are starting to respect and appreciate our side of things. We're going to be in the [2020 Tokyo] Olympics, so now there's value to women as skateboarders. The progress is coming from that, and the fact that there are a lot more female skaters."
Sanders echoes Baker's sentiment. "I've always believed that women can do whatever men do," she says. She goes on to note the ample evidence that established competitions are beginning to value women's skateboarding. The women's portions of the X Games, Dew Tour and Street League Skateboarding, for example, have grown in size and popularity over recent years. Beginning this year, the Vans girls combi competition awarded prize money in its women's division that was equivalent to the men's division. Sanders calls these developments "big steps" and says she believes "women's skateboarding right now is thriving."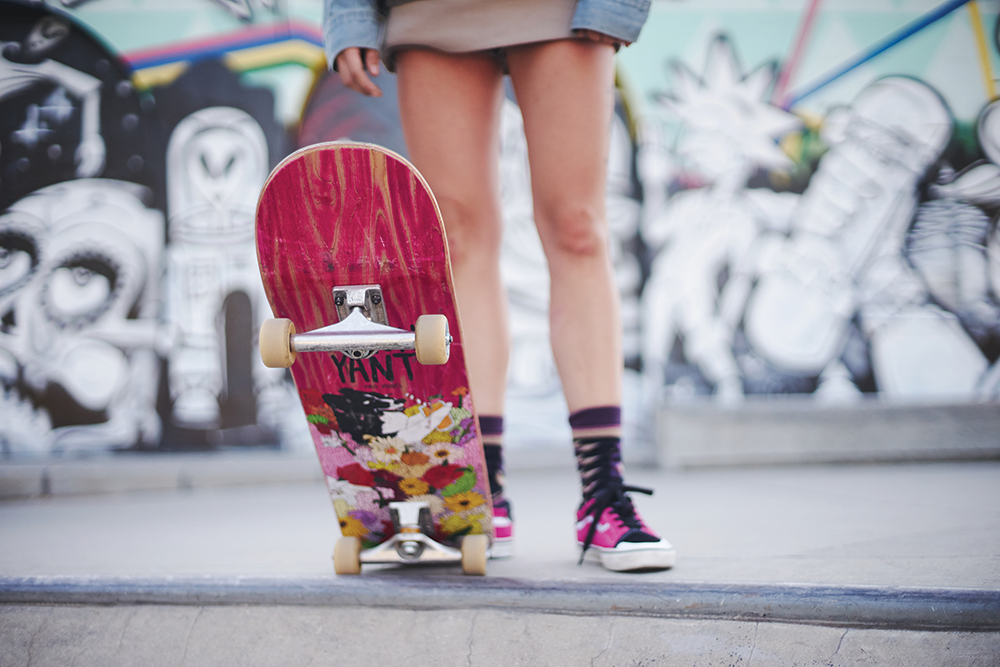 'More doable'
Having experienced skateboarding's "boys club" mentality first hand, Utah Valley University student and head of Strive Skateboards, Katie Lou, says Salty Bitches' philosophy is in tune with her and her boyfriend's brand, so supporting it was a no-brainer. Underscoring her company's mission of "just really trying to help women's presence in skateboarding," Strive has done just that, donating a variety of merchandise from shirts to boards for prizes and giveaways at the skate-day events.
Lou, who arrived in the area from Denver a year ago, can relate to that little girl, too intimidated to give it her all at the skatepark. "After moving out here, skating, and not knowing anybody, I was a little shy," she says. When she first heard about Sanders' initiative, she was "so stoked to meet some other girls that skateboard and like to have fun."
Along with local supporters, and making strides in disrupting the four-wheel patriarchy, Salty Bitches also have garnered the attention of larger women's skateboarding groups like Cindy Whitehead's "Girl Is Not a 4 Letter Word" and "Skate Like a Girl." Both initiatives, which are devoted to bolstering the women's skateboarding community through their own events, have sponsored one or more skate days.
Kallie Hancock, a long-time skater, Brigham Young University graduate and one of the few women in the state to work at a skate shop, views the Salty Bitches' Instagram account and ladies' skate days as "really empowering for women."
"You could just be learning and feel like you'll never get good. It can be very intimidating," Hancock says. "Having another girl do something you want to learn makes it feel more possible—more doable."
Lou agrees. Having other women at a skatepark, or, perhaps, having a park filled with women for a skate day, elicits a sense of confidence in her, and allows her to think, "OK—if she's doing it, I can."
Rolling forward
During the summer skate day, there were many visible instances of what Hancock and Lou describe. Nanney said she mustered courage to drop into the deep end of the bowl for the first time, after witnessing Hancock and Azure push their own boundaries, attempting to front-side grind. Nanney completed the feat on her third try thanks to the support from women she'd never met. "Having this many girls [at the skatepark] is supreme for all of us," she said. "I've barely met these girls and I'm like, 'Dude, you just killed it; I love you so much."
Looking ahead, Sanders and crew plan to spread the feeling of connection and inclusivity by continuing the skate days, putting on other events and making tweaks to the Bitches' brand. She says the group will soon go by the moniker Salty Skate Collective, under which the they and the newly formed Salty Buddies, which aims to cater to younger skaters, will coexist. The name change, Sanders says, will help "create a community where kids feel welcome," given Utah's generally conservative culture. Sanders also says the group plans to organize free skate clinics for youth regardless of gender.
On the business side, Sanders says she's working on creating a website and, in line with the group's for-women-by-women ethos, is sourcing the design work from women developers. Additionally, Sanders aims to turn the collective into a nonprofit so it can "put money back into the community."
She plans on realizing those lofty objectives, while balancing 60-hour work weeks between her two jobs—administrative work for clinical research studies and as an associate at Milosport. "This is what I like doing best, and what I care most about," she says, reinforcing the importance of groups like this.
"I believe the women's skateboarding scene right now is thriving," she says. "If I can continue to help push that movement by helping the state of Utah thrive—that's my goal."