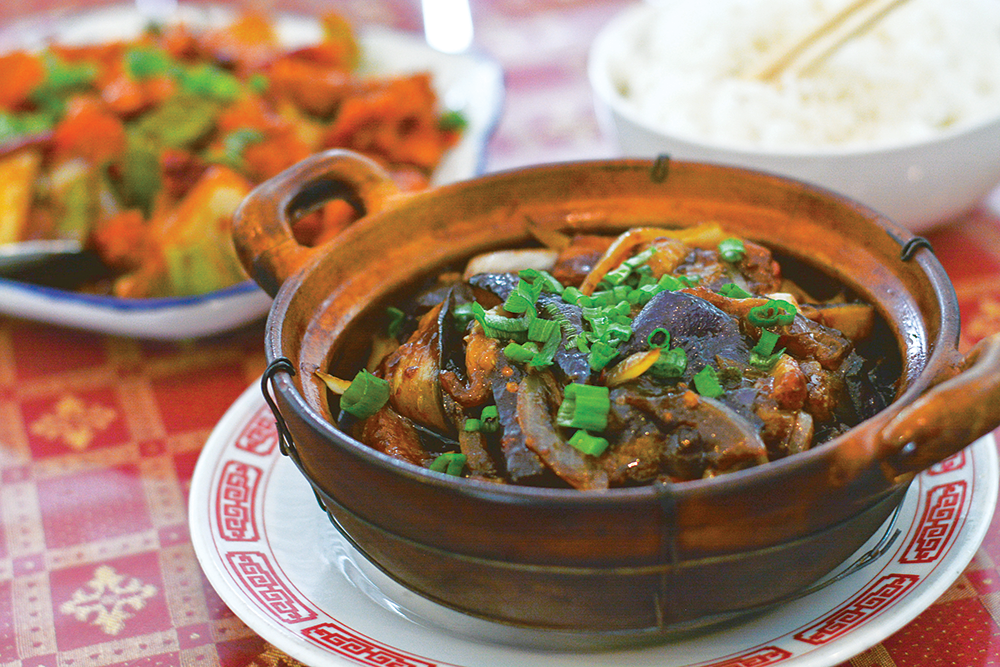 While I have yet to try all eight great regional cuisines of China, I know that the Sichuan region's food is currently the one to beat. It's a cuisine renowned for its deep exploration into the wonders of pungency and heat, perhaps most prominently displayed by the Sichuan peppercorn. These small, berry-like peppercorns are famous for imparting a boozy, numbing sensation to the entire mouth, which takes a little time to get used to. I like to see these as a primer of sorts—something that helps prepare the taste buds for an onslaught of smoky heat that would otherwise overwhelm the senses.
If all this talk of mouth-numbing culinary foreplay gets your engine revving, then Szechuan Garden (1275 E. 8600 South, Sandy, 801-233-0027, szechuangardensandy.com) needs to be on your 2019 must-visit list.
In the event that my recommendation isn't enough, perhaps that of a former ambassador to China will do the trick. I'm talking about Jon Huntsman Jr., whose accolades are immortalized on a plaque in the dining area. This establishment, it turns out, is a favorite of Utah's former governor, which is high praise considering he's a connoisseur of local flavor and a world-traveling diplomat. While it's a good bet that he and I wouldn't see eye to eye on political matters, I can't help but think we'd get along when it comes to food. I've seen a similar plaque at Curry in a Hurry, which has made me start to see Huntsman's seal of approval in the same way that I'd view one of those signed posters of Guy Fieri from Diners, Drive-Ins and Dives.
Szechuan Garden shares a building with Bhutan House, and it's put the unassuming eastside strip mall they both call home on my radar. The Garden's interior is awash in deep reds and greens—a sneak preview of the colors that will inevitably end up on your plate, with red chiles and green scallions omnipresent. Gigantic displays of 3D wall art dominate the main dining room, and curtains separate this room from a smaller banquet area used for private parties and the karaoke nights that appear and vanish based on a seemingly unwritten calendar.
For those after a quick, concentrated jolt of Sichuan flavor, start with the minced meat with bean curd ($7.95). This is otherwise known as mapo doufu—or pockmarked grandmother's tofu if you prefer—and it's one of the region's flagship entrees. It's a bowl of cubed tofu, softened to a silky texture from its time spent wok-frying with a spicy gang of ground pork, chile oil, Sichuan peppercorns, garlic and bean paste. It arrives slathered in an angry-looking red broth that almost dares you to snag a cube of quivering tofu and pop it into your mouth. The moment that the mixture hits your tongue, your sense of taste gets hijacked by those peppercorns. At first you resist, but once the chile oil starts to seep into your taste buds, you're grateful for that extra layer of numbing protection.
Zipping around the menu, anything with the word "Szechuan" in the title is going to be a safe bet. The fish fillet in Szechuan chili sauce ($14.95) is perhaps one of the more luxurious options. The thin slices of fried fish fillet are doused in that same chile oil and peppercorn mixture and served with green peppers, onions and dried chile peppers. I dug into this after my time with the mapo doufu, so my mouth was already primed for the extra dose of heat that the dried chiles impart. The fish is tender, and its fried outer layer is the perfect texture for sopping up all that delicious sauce. Additionally, the eggplant with Szechuan garlic sauce ($7.95) is yet another balanced mix of heat, flavor and texture. It's served sizzling in a clay pot and looks deceptively like barbecued spare ribs.
Based on my experience, ordering multiple items in one sitting has an interesting effect on the taste buds—those numbing peppercorns like to play tricks on the senses. Some bites felt spicier than others, some were smokier and still others highlighted a pleasant saltiness. This experience of surrendering your tastebuds to the magic of that Sichuan chile oil is perhaps what makes the Sichuan cuisine so desirable. Each bite is just a little different, and there's really no way to predict when you're going to be hit in the back of the throat with some unexpectedly pungent heat. If you appreciate spicy food that prefers subtlety over trying to burn a hole in your chest, it's time to take a trip down Sandy way.